Chrissy Teigen Crying While Talking About John Legend Is Sweet & Funny At The Same Time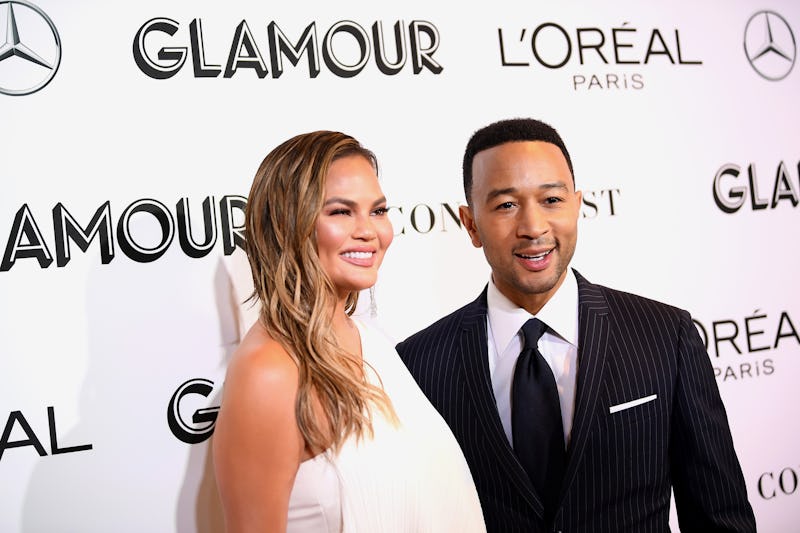 Dimitrios Kambouris/Getty Images Entertainment/Getty Images
For fans who follow them on Instagram and Twitter, it's easy to feel like a part of Chrissy Teigen and John Legend's adorable relationship. And after a speech the cookbook queen made when she was honored with the 2018 Glamour Women of the Year award on Monday night, it's official: These two have the sweetest love. In fact, Teigen cried while talking about Legend, and her whole speech was so adorable and funny at the same time.
It seemed like Teigen was having an emotional night to begin with, because as soon as she took the stage, she was already in tears — which is totally understandable, because after all, she was being named one of the Women of the Year. But when she started talking about her husband, the floodgates truly opened as Legend stood off to the side of the stage, beaming as he watched his wife speak.
Teigen said:
"I joke about it a lot, but I truly have the most incredible husband on the planet. You are our everything, you completely made me a woman, we've grown together, our family's grown together, our careers have grown together."
And at that point, Teigen interrupted herself to say, "This is so sappy. I'm sorry. I hate it. I didn't cry during our wedding. I hate you, John. I really do," which, of course, drew a lot of laughter from the crowd.
But why was Teigen so choked up to begin with? Oh, that's simple: Because Legend was the one who presented her with the award with the sweetest speech that just so happened to also be a major tearjerker. After he introduced himself as "Chrissy Teigen's trophy husband," he went on to explain exactly why his wife was so deserving of the award, saying:
"In her Glamour profile, she talked about a time we were at this big event and she was crying in a dressing room because she felt so overwhelmed. She was in such illustrious company, we were celebrating the Time 100 and she felt like she didn't belong, like she didn't belong in the company of people like Oprah and Michelle Obama and Christine Lagarde. Well I'm here to say that you belong here, and I think it's become very clear to Glamour magazine and many millions of people around the world that you're more than worthy of this honor tonight. I am amazed by the woman that you have become and I'm truly glad that the rest of the world has finally found out about it, too."
By the time he got to the end of his speech, he was crying — and it's not like crying often is Legend's thing, either; like Teigen said when she took the stage: "Honestly, John didn't cry when I gave birth. Actually, you cried during Benjamin Button, and then you cried for Miles, and then something else — something for Sesame Street."
Seeing how emotional they got talking about each other is just proof of how true their love is, and watching Legend and Teigen's relationship and family grow through the years has been so much fun for fans, especially because of moments like this one. Can they please make more speeches like this?