Chrissy Teigen's IG Post About Being One Of 'Glamour's Women Of The Year Is A Must-Read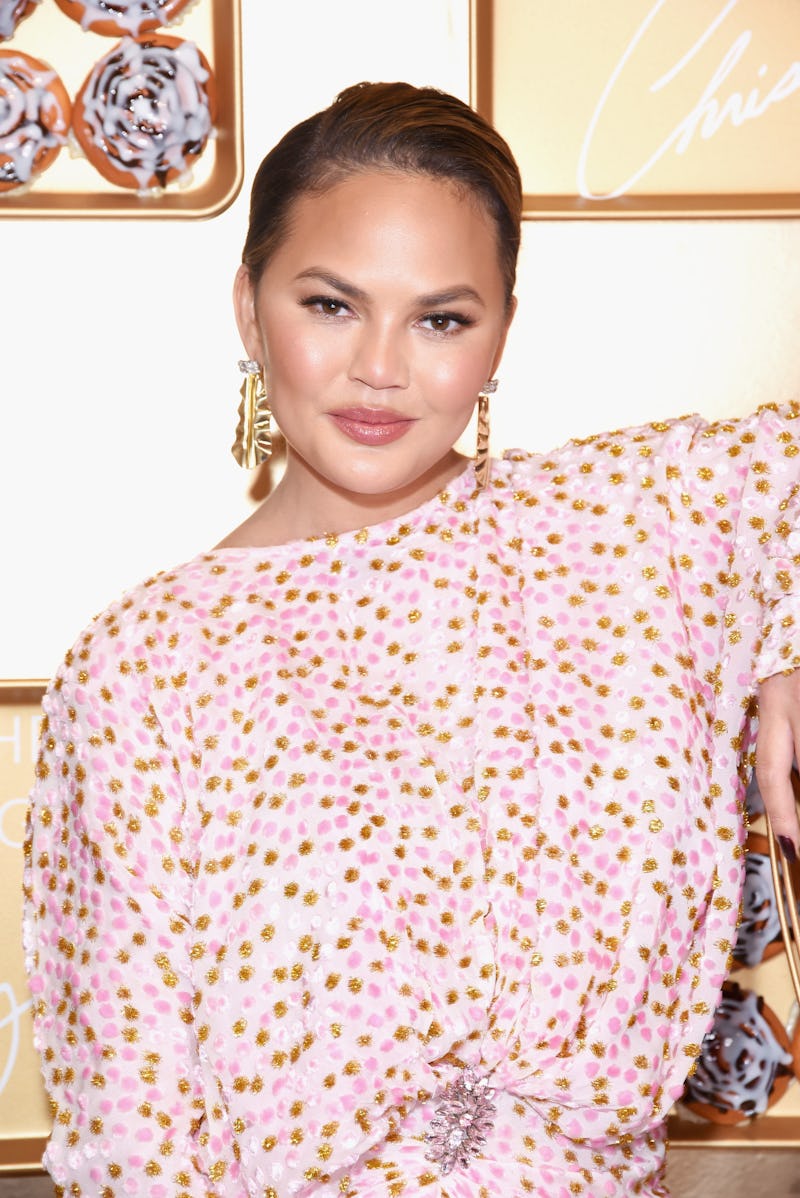 Presley Ann/Getty Images Entertainment/Getty Images
If you follow Chrissy Teigen at all on social media, you would already know that she's pretty amazing. So, it's no shock that Chrissy Teigen was chosen as one of Glamour's Women of the Year. To celebrate such an amazing honor, the Lip Sync Battle co-host wrote a lengthy caption to go along with an image of herself on the cover of Glamour, in which she conveyed an important and strong message to her followers.
Teigen first wrote about how honored she felt to be included in Glamour's Women of the Year line-up (other honorees included Viola Davis, Janelle Monáe, the activists from the March For Our Lives movement, Senator Kamala Harris, and more). According to the magazine, one thing that all the honorees have in common, besides being inspirational women, is that they've all refused to wait for someone else to make things in the world better.
The Cravings author then described some of her feelings in relation to the current events in the country:
"Honored to be one of Glamour's Women of the Year amongst other women I admire and adore so much. I've never been the most eloquent person and lately I've noticed myself going quiet - consumed by the news of the day, and not quite knowing what to say. Or wanting to say something but not really having the mental strength to handle the inevitable backlash. But I end up feeling worse."
Teigen continued to say that she's going to stand up for what she believes in and she's going to do what she can "to live up to this title." She wrote,
"I want to speak up for those that can't, for people that feel smaller or less-than because of the big talk of a small man. I PROMISE I am going to do what I can to live up to this title and live up to the bar set by incredible women like Kamala, Viola, and Janelle. I am not worthy but I will continue to try to make you laugh, give love through food, and wad the panties of assh*les trying to keep you down."
The mom-of-two ended her powerful message with, "I love you guys and am so appreciative of the platform you have bestowed upon me!! Thank you to @glamourmag for this incredible honor."
You can always count on Teigen to keep it real and speak up for what she believes in, especially on social media. She frequently voices her opinion on Twitter and Instagram, especially when it comes to causes she is passionate about. Back in June, she attended a rally in order to protest President Trump's immigration policy at the "Families Belong Together" march in Los Angeles. By the way, she did it all with her newborn son, Miles, by her side. Her family also donated $288,000 to the ACLU that same month in support of immigrants.
Fans know that the outspoken star isn't afraid to share what's on her mind. And with her latest pledge to live up to the Women of the Year title, it's incredibly clear that she will continue to stand up for others and for what she believes in.