Chrissy Teigen's Reason For Making Faces At Award Shows Will Make You Giggle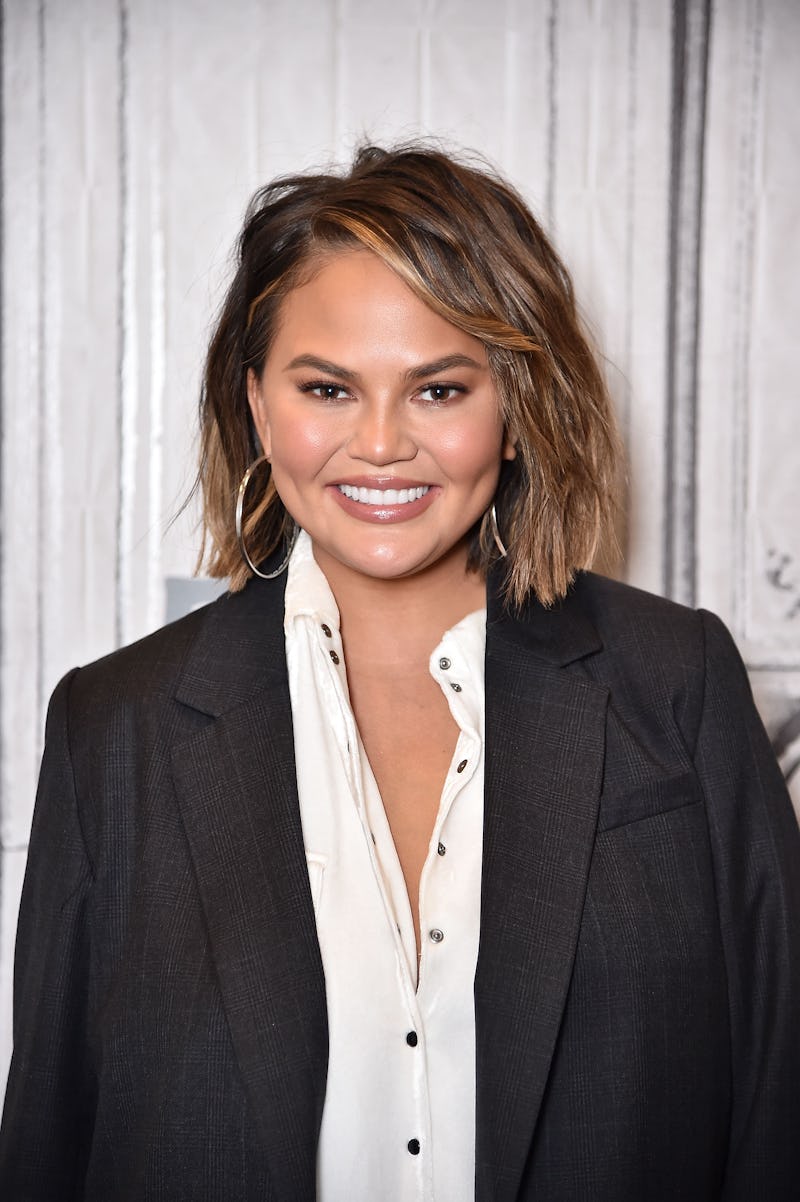 Theo Wargo/Getty Images Entertainment/Getty Images
It's no secret that Chrissy Teigen is one of the unofficial meme queens of Twitter, and the star is speaking out about her viral status. On Saturday, Chrissy Teigen explained why she makes faces at award shows, and the reason is honestly relatable. The star's silly award show expressions have been caught on camera over the years, and more than one has gone viral on social media. During an appearance on Late Night With Jimmy Fallon, Teigen explained that her legendary reaction shots are not intentional and can't be helped.
When Fallon brought up her recent reaction at the Emmy Awards, the model and cookbook-author had the perfect explanation. The silly face she made when the camera panned over to her and John Legend was captured by fans, and the picture, of course, went viral. Teigen even retweeted the shot writing "this is a setup." The star explained the story behind the reaction shot, and it turns out she didn't mean to make the face. "That was me trying not to react at all. Because you know how it works at these things. The camera's, like, two feet in front of you, and the red light goes on, and as soon as that light goes on, I'm like, 'Be normal!'" she told the host. "I can't help it. I swear, leading up to that red light, I'm OK. Like, I'm really good, and then, I don't know."
Fallon also brought up some of the star's most iconic expressions from the past. At the 2017 Oscars, Teigen appeared to fall asleep on Legend's shoulder during the awards. According to Teigen, the taping of the award show is long, and the author had started drinking wine too early in the night. Of course, this didn't stop her from waking up from the nap just in time to witness the notorious "Best Picture" envelope mix-up at the end of the evening. She said: "Red wine — that was early on in the show, too, so by the time they got to the whole La La Land snafu, I was like, 'Oh, he won!' and I woke up a little bit, and then he lost, and I was like, 'This is the funniest thing I've ever seen happen in my entire life. I'm so glad I woke up for that.'"
Teigen also opened up about the photo that started it all. The picture and GIF of Teigen reacting to Legend winning an award at the 2015 Golden Globe Awards is still used as a meme on Twitter today. In the picture, the cookbook author appears to be grimacing, but Teigen told Fallon that isn't exactly what was happening. Instead, the picture was again the fault of drinking too much red wine, as well as feeling overwhelmed by the award Legend was receiving. "There's a lot of things happening here, Jimmy. Also red wine, but also a flood of emotions for my husband's award," she said. "To me, I looked beautiful! I'm just kidding. It was red wine too."
It makes perfect sense that a star would panic when the camera zooms in during an awards show, and it's surprising more celebrities aren't caught making silly expressions. Of course, Teigen isn't the only one whose expressive faces are a favorite on social media. Meryl Streep's reaction shots are also a favorite for meme makers online, so the Lip Sync Battle co-host is in good company.
Over the years, Teigen has established a hilarious presence on Twitter, and her candid award show expressions are just one part of that. It's these human moments that make her so relatable. Her honest and funny explanations behind these moments make total sense, and it will be exciting to see what faces she makes at future awards.