Chrissy Teigen Got Bangs After Her Twitter Poll & She Doesn't Regret A Thing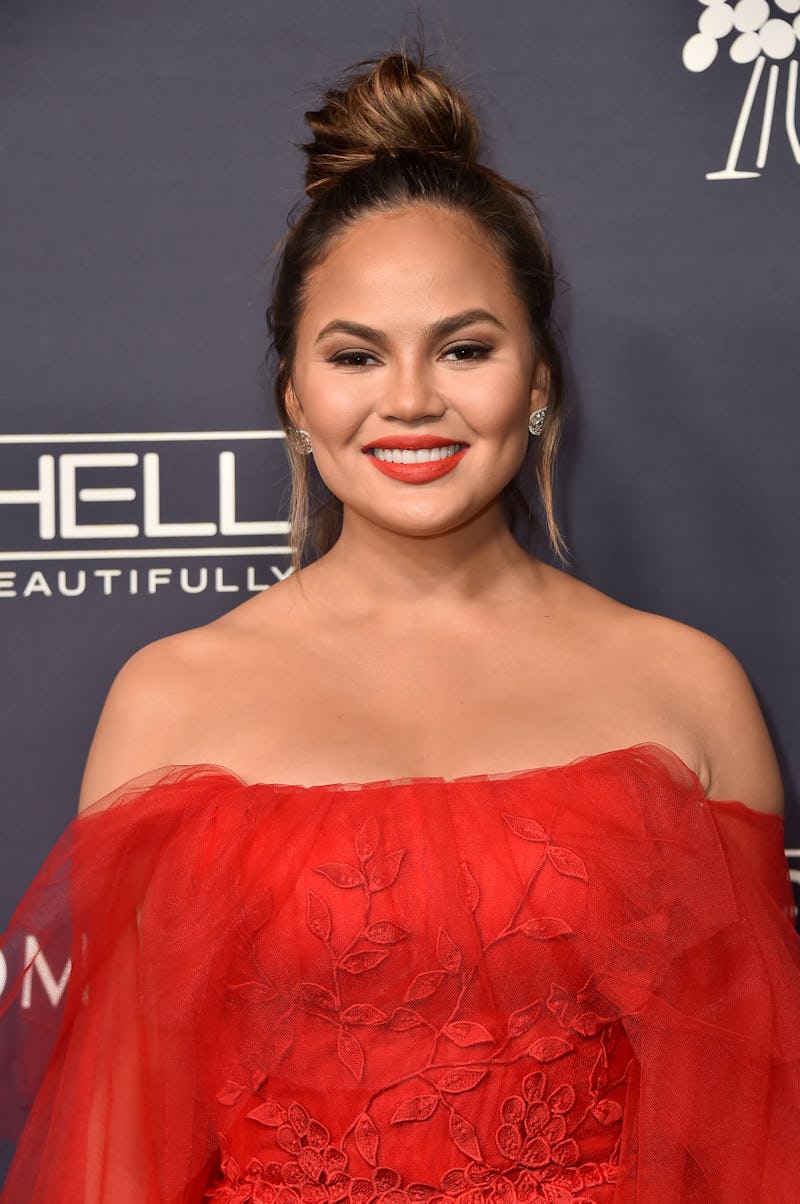 Frazer Harrison/Getty Images Entertainment/Getty Images
It's been a big week for Chrissy Teigen. After announcing that she is pregnant with baby number two, she's making even more big changes to her life. According to her Instagram post, Chrissy Teigen officially has bangs. The model and soon-to-be mother of two is known for putting her life out there for fans to see. So when the avid tweeter asked Twitter if she should get bangs, it was no shock. But what was a shock was Teigen got bangs even after fans cautioned her not to take the plunge.
In-between posting funny memes of herself and videos of herself crying over onions, Teigen asked her fans on Twitter to weigh in on if she should get bangs or not. Despite 60 percent of people saying that it would be an instant regret, she got them anyway. Because Chrissy does as Chrissy pleases.
According to the Instagram video, Teigen is very happy with her new hair choice of whispy bangs and a choppy layered 'do. And she has hairstylist Jen Atkins and hair extension specialist Priscilla Valles for the new look. It looks like she may have gone a little lighter, too. Either way, Chrissy loves it and that is all that matters.
Before you go questioning if they're real or not, watch the video. This is definitely the real deal, my friends. Atkins pulls on the hair to show that the fringe isn't going anywhere.
When Teigen first posted the Twitter poll asking her fans if she should chop her hair, people were quick to point out times she rocked faux bangs in the past. She had worn a fake pair on a shoot before and named her past thick bangs at the Billboard Awards a "big mistake."
Despite her past fashion mishaps, she decided to give them another go, and it seems to be paying off. The look is very different from Teigen's simple middle part. Between the color and the cut, people can't wait to see how the model will style them.
Her fans might have said that bangs would be an instant regret, but they seem to be loving the look so far. People have even taken some inspiration from Teigen and gotten bangs themselves.
Here are some of fan reactions that sum up the entire experience the best. Because it might just be hair, but to fans it's much more than that.
This is a major moment in history — that's why, Haley!
Chrissy Teigen: Helping people to go as bold since 1985.
Slow clap for all the women who have made a brave hair decision.
November 21, 2017: The day the world helped Chrissy Teigen make one of the ~*biggest*~ decisions of her life. Write that down.
Teigen has the power to change the world.
All is right in the world.
The cycle continues.
The people have spoken, and they're okay with admitting that they were wrong when it comes to the poll. Teigen can rock pretty much any look, but this is one that will go down in hair history. It also proves that going against the popular opinion sometimes pays off — just saying.