Chrissy Teigen Polled Twitter On Whether To Get Bangs Or Not & Here's What Option Is Winning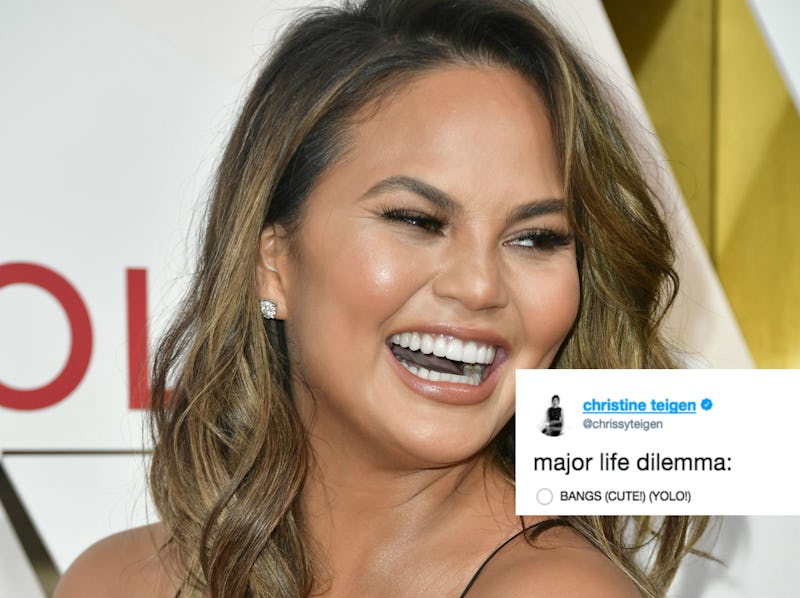 Frazer Harrison/Getty Images Entertainment/Getty Images
Chrissy Teigen is wildly fun to follow on Twitter. From her commentary on politics to videos about highly relatable period skin, the model actively shares her life. Now, she is experiencing an existential crisis regarding her hair and is seeking Twitter's guidance. Teigen is considering getting bangs, and posted a playful poll so her followers and the general Twitterverse could weigh in with their opinions on this mane matter.
As of press time, the poll generated over 157,000 votes and lots of commentary about the pros and the cons of bangs.
Teigen humorously tweeted that it's a "major life dilemma," and noted she could end up experiencing feelings of instant regret. The decision is quite a toughie.
Bangs can be incredibly polarizing. They are highly transformative and can totally change your look. Sometimes they work. Sometimes they don't. But the good thing about them is that they will grow out... eventually. The bad thing, however, is that you have to endure the awkward phase that is a result.
We'll have to wait and see if Teigen honors the poll results or if she goes rogue and does whatever she pleases with her follicles. All the "for" and "against" chatter won't make this choice any simpler, though!
To bang or not to bang... that is the Teigen Twitter question. Did you vote yet? Now is the time for your voice to be heard.
"No bangs" currently tops the leaderboard.
Users didn't just cast their votes. They reminded Teigen of her complicated past relationship with bangs.
She confirmed that her sexy, eyelash-grazing bangs were faux and therefore don't really count.
This tweet reminded Teigen that she did refer to bangs as a major regret during an interview with Vogue.
Teigen threw back to the heavy bangs she sported at the 2012 BBMAs, saying it wasn't her best coif choice.
This is the pony-with-bangs look she mentioned.
Clearly, Teigen likes to rock heavy bangs at the Billboard Awards, since she sported fringe at the 2014 ceremony, too. Both sets of Billboard bangs were super thick and long, covering her eyebrows. Perhaps she was displeased with the length of her prior bangs and that's why she is wavering about a fresh set.
Maybe Teigen should consider a shorter, more blunt bang or a whispier shape that doesn't fall past her eyebrows. But, let's be real, she can pull off anything. But since she doesn't love her previous experience with a heavy bang, it's time for her to try a lighter bang style.
The Twitterverse was divided over Teigen's dilemma and advised accordingly.
This is one of the most important things to remember when pondering face-framing fringe.
OK, that's a tad harsh. Bangs are not the Regina George of hair. They are not life ruiners!
The struggle is real.
If Teigen is truly wavering, these comments can't be helping to sway her towards bangs.
This is an oft-forgotten point.
Maybe it was a bad idea to seek Twitter's advice. There are so many dissenting opinions.
We've got a pro-bangs person here!
This is user is also firmly on the side of bangs.
This suggestion is legit and it's the method a lot of long haired people employ when going shorter. They do so progressively.
LOLZ on this tweet. Sadly, clip-ins are not the solution, as Teigen has been there, done that.
While Teigen has received tons of feedback from Twitter Nation as she navigates this life choice, we have but one thing to say: You got this, Chrissy!