Chrissy Teigen's Baby Boy Is Here & Her Tweet Will Leave You Wanting To Know SO Much More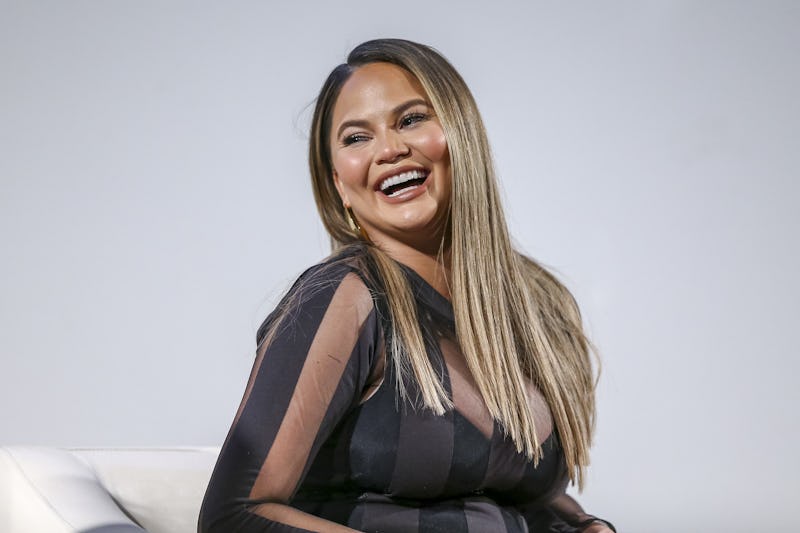 Rich Polk/Getty Images Entertainment/Getty Images
As of Wednesday night, Chrissy Teigen has a baby boy, and she delivered the news in typical Teigen fashion: via a cleverly packaged tweet. Teigen announced the news early Wednesday evening, tweeting, "Somebody's herrrrrrre!" She followed up those words with some well-placed tweets, alternating back and forth between a baby emoji and a baby bottle emoji, because priorities.
Of course, now the worst part comes: the public now has to wait for an indefinite period until Legend or Teigen decide to reveal more information about this undoubtedly adorable baby boy.
Although Teigen didn't specifically mention the sex of the baby within her tweet, Teigen and her husband John Legend have known it was going to be a baby boy for a while, E! reports. In fact, Teigen and Legend elected to undergo a frozen embryo transfer last year, given Teigen's difficulty getting pregnant in the past.
Prior to having their first child, Luna, Teigen has been open about her repeated frustrations with getting pregnant, trying for nine years until she and Legend opted for in vitro fertilization, ET Online reports.
In true Teigen form, she famously slammed a Twitter hater online for shaming her IVF journey, tweeting, "Hi Linda, thanks for asking, you complete witch. I tried for about 9 years. Anything else, let me know!"
Teigen hasn't just been outspoken about her IVF journey, but has also worked to de-stigmatize postpartum depression by talking openly about her own experience after giving birth to Luna.
In an op-ed for Glamour Magazine, Teigen wrote freely about her experience:
[After I had Luna] I had everything I needed to be happy. And yet, for much of the last year, I felt unhappy. What basically everyone around me—but me—knew up until December was this: I have postpartum depression. How can I feel this way when everything is so great? I've had a hard time coming to terms with that, and I hesitated to even talk about this, as everything becomes such a "thing."
Teigen continued,
During pregnancy, what I thought were casual comments about IVF turned into headlines about me choosing the sex of my daughter. And I can already envision what will be said about me after this admission. But it's such a major part of my life and so, so many other women's lives. It would feel wrong to write anything else.
Recently, she opened up about her fears of dealing with postpartum depression once more with baby number two. In an interview in February, Vogue reports, Teigen said, "Do I worry about it with this little boy? I do. But I also know that I feel like when it does happen, if it does, I'm so ready for it."
In recent weeks, Teigen has been additionally honest about how her pregnancy has been affecting her social life, posting hysterical Instagrams about her night "at the Met gala" while she waited for her baby boy to finally come out.
Teigen's honesty and candor in all aspects of her life have been a central foundation for her social media fame throughout her career, with over 10 million followers on Twitter and endless articles being written literally to detail one of her many clapbacks to internet trolls.
Teigen might be a celebrity, but she also has an uncanny ability for making people feel like she's their best friend — or rather, like she's the witty, loyal, unapologetic best friend that everyone wishes they had. Although she's already proven herself to be a loving mother to Luna, the world is waiting with baited breath to see what the Teigen-Legend clan looks like with a new addition.