Chrissy Teigen Is At The Grammys, Thank Goodness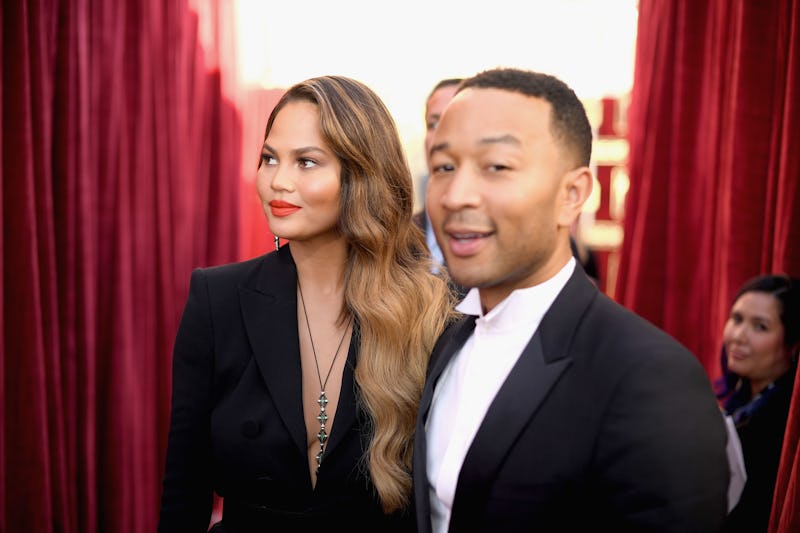 Dimitrios Kambouris/Getty Images Entertainment/Getty Images
Another award show, another appearance by beloved celebrity couple Chrissy Teigen and John Legend. On Sunday night, the pair attended the Grammys and were their usual adorable and jokey selves on the red carpet. The couple spoke to Nancy O'Dell during CBS's carpet coverage about their daughter, Luna, and Legend's upcoming performance during the show.
Legend noted that he would be performing the Beach Boys' "God Only Knows" during the In Memoriam segment of the show and Teigen joked, "We. The both of us. John and I." Of course, Teigen won't actually be singing, but hopefully we'll get one of her classic reaction faces while he does.
The two also responded that they are looking forward to having another child "sooner or later" and Teigen noted that Luna is currently teething, but the model is loving it because it makes her cheeks even more like a chipmunks'. (I'm guessing Luna doesn't agree.)
It was clear that Teigen and Legend were going to attend the Grammys even before they were spotted on the red carpet, because of Legend being slated to perform during the In Memoriam segment. And seeing as they attend so many events together, it was practically a given that Teigen would be there to support her husband — and, well, have fun and get to watch both Beyoncé and Adele perform. I mean, would you miss the opportunity to do that?
Teigen tweeted confirmation that she would be attending the show the day before the big night. On Saturday she tweeted along with a photo of her green fingers, "I ate fun dip with my fingers last night and I'm stained and Grammys are tomorrow. I've tried everything please help."
Here's hoping that situation worked out for her. Chrissy, we need an update.