Luna Simone Meeting The Easter Bunny Is Pure Cuteness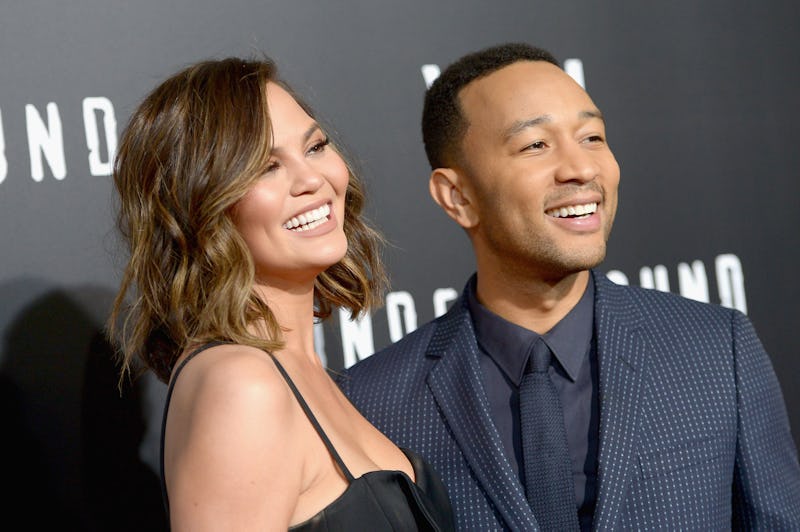 Charley Gallay/Getty Images Entertainment/Getty Images
If you love the Teigen/Legend family as much as I do, then you better prepare yourselves to once again swoon over their cuteness. Chrissy Teigen and John Legend's daughter, Luna, met the Easter Bunny Wednesday. Thanks to Teigen's mom, Vilailuck Teigen, there are photos and snaps of the adorable moments on both her Instagram and Snapchat for everyone to enjoy. As I'm sure you can imagine, the photos are the sweetest things ever. I mean, how can one family continue to be so cute? And Luna Simone? She is hands down the cutest celebrity baby that has ever walked the Earth.
There has never been a more "frame-able" Easter Bunny picture than these ones featuring Teigen, Legend, and Luna. As you can see below, the family is all smiles. First of all, look at how Teigen is staring with such pride and joy at Luna. Now that is a mother's love. Then, there is Legend. He couldn't be happier to be taking a picture with the Easter Bunny, especially with his partner by his side and his daughter on his lap.
As for Luna, well, she clearly loves the Easter Bunny. She has the tiniest grin on her face, but it speaks volumes. And look at how her hand is on the Easter Bunny's bow tie! Luna is loving every single moment of this family holiday picture.
If the above photo doesn't convince you of Luna's love for the Easter Bunny, how about this one? Oh. My. Gosh. I can't handle the cuteness that is Luna's huge smile across her face. Allow me to also point out how her right hand is stuffed in its mouth. Oh, Luna, you know how to make a picture memorable. You might even say that she takes after her mother, who definitely knows a thing or two about taking a great photo.
If you follow the Teigen/Legend family adventures like I do 24/7, then you know that Luna meeting the Easter Bunny went so much better than when she met Santa Claus last December. Before revealing how the visit with Santa really went, Teigen shared the sweetest image of Luna with the man from the North Pole. She's sitting so calmly on his lap, but it wasn't all candy canes and rosy cheeks. No, Luna had a meltdown as most children do when it comes to meeting Santa. At one point, she just wasn't having it and did not want to sit on his lap anymore.
Teigen even made fun of those who couldn't believe how well Luna did the first time meeting Santa by sharing the photo of her daughter crying and writing next to it, "'She did such a good job!' 'She didn't even cry!' We only share what we want you to see, my loves. Lol"
Let's face it, whether Luna's smiling or crying while meeting a fictional holiday figure, it still makes for a super cute photo.