Chrissy Teigen's Jokes About Joining The Victoria Secret Fashion Show Will Make You Laugh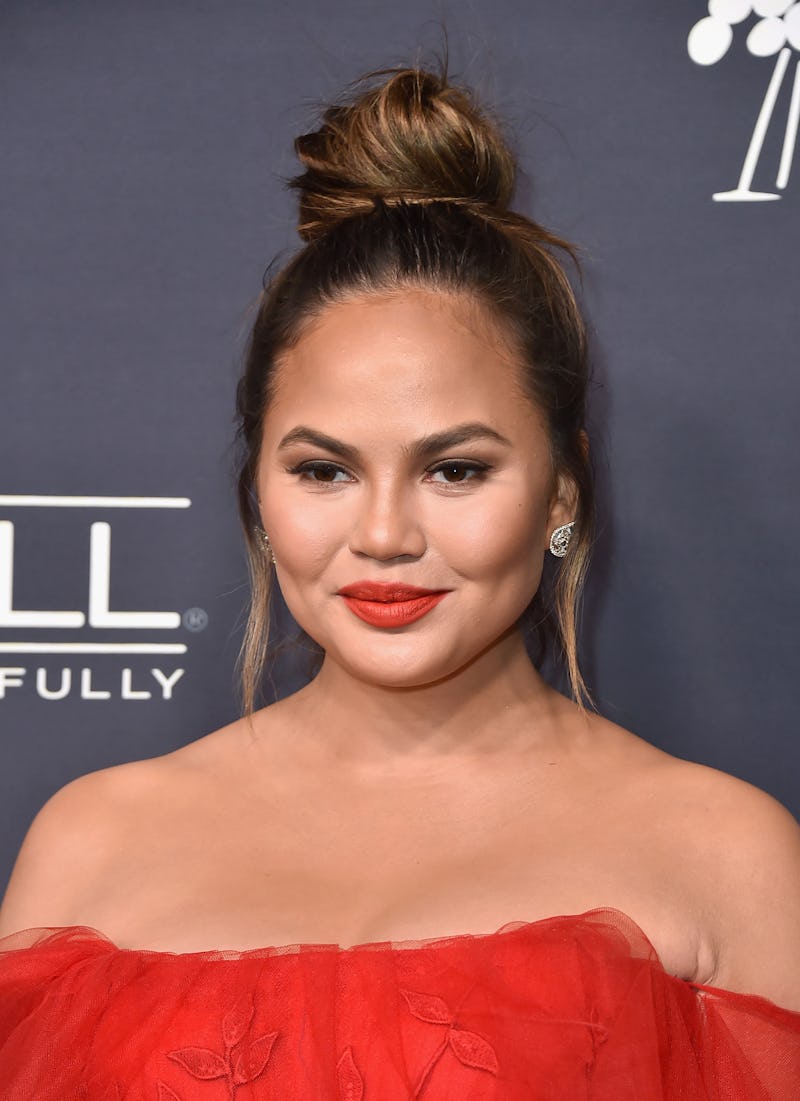 Frazer Harrison/Getty Images Entertainment/Getty Images
There are several major models who won't be able to make their scheduled appearances at the 2017 Victoria Secret Fashion Show. Gigi Hadid announced on social media that she wasn't going to be in China, and on Saturday, Nov. 18, Chrissy Teigen joked about joining the Victoria Secret Show in her place. While recent posts on Teigen's social media show that the star is definitely at home in Los Angeles, she did her very best to convince watchers that she was abroad and preparing for her runway walk. In an Instagram story, the star "announced" to fans her plan to close the fashion show. "Hey guys, I'm in Shanghai, getting ready for the Victoria's Secret Fashion show," she said, while sitting on the floor at home. "I'm nervous, but I think I'm gonna kill it."
Teigen's joke is in response to the several high-profile models who canceled their runway walk. Gigi Hadid was reportedly unable to secure a visa and canceled her the country in an apologetic tweet on Thursday, Nov. 16. Hadid wrote: "I'm so bummed I won't be able to make it to China this year. Love my VS family, and will be with all my girls in spirit!! Can't wait to tune in with everyone to see the beautiful show I know it will be, and already can't wait for next year!" She's not the first to face difficulties at customs, though. Russian models Julia Belyakova and Irina Sharapova have also reportedly pulled out of the show. According to the New York Post's Page Six, journalists, bloggers, and videographers, are reportedly struggling to secure work visas for the event as well. It sounds like there are a lot of difficulties preparing for the show, but Victoria Secret has nothing to worry — Chrissy Teigen has this under control.
On Twitter, the model and TV personality trolled fans by telling them to tune into her live broadcast from Shanghai. The Instagram story shows several videos of the star at home "preparing for the runway." In one, she appears post-shower with John Legend, and said, "Hey guys, here in Shanghai still, almost show time. I can't believe I am here. I get to walk in Victoria's Secret. It's like a dream come true. Thanks for coming to supporting me in Shanghai!" Teigen says in the video. "Closing the show, baby! Closing the show, baby!" She continued to poke fun at the show and herself, pointing the camera at a vase of flowers and said: "Gisele Bündchen and Justin Bieber just sent me these to congratulate me on the show. All they're doing is making me nervous, I'm so nervous."
Teigen then continued the gag on Twitter, saying again that she was "crazy nervous" to close the show, and that she was fitting in one last gym sesh. The recent Instagram videos also show the star relaxing at home and syrup and pancakes, but isn't that the best kind of work out?
Fans were on to the Teigen's joke, but she remained committed to the bit. When someone on Twitter called her out, she laughed it off by saying that of course she was in Shanghai and even though nobody was answering her calls or e-mails, but pay that no mind. She wrote: "no one is answering my phone calls or emails but I am here in shanghai and ready for my fitting !!!!!!"
Where is Teigen's glam squad? She's for sure going to be late to close the show if nobody does her fitting soon. Now that her Twitter followers were in on the joke, the cookbook-mogul posted a picture of the Victoria Secret models who would be walking at the event and politely asked to be photoshopped in.
The Instagram post from Victoria's Secret shows Karlie Kloss, Bella Hadid, and the other models appearing in the show en route to the venue. Teigen has decided to close the show, so she obviously needs to be featured in this pic. Fans with Photoshopping skills came to her rescue, with one user writing "I gotchu" and seamlessly editing Teigen into the snapshot.
Teigen thanked the fan for adding her into the pic, and replied "framing". Twitter wasn't done just yet, and not long after, another user got a bit, er, creative. One fan didn't go for a seamless photoshop approach, but Teigen was still a big fan of the options.
Teigen replied "Second is perfect very realistic." Another user had an interesting interpretation, and in their uncanny Photoshop moment, photoshopped her face onto every single Victoria's Secret model.
Not long after fans shared their photo editing expertise, Teigen moved on from Shanghai to New Donk City in Super Mario Odyssey. She wrote for fans help beating a particularly tough level of the videogame. "Please someone...help me beat New Donk City on mario odyssey. I hate it. I hate it," she wrote, and then explained situation. "I'm at the top of the building with the stupid snake monster thing. Then we go down to fight and I can't kill him. My 3D aim sucks. Maybe I should take off the controller from the console and play like wii?"
One fan said what everyone else was thinking - and wrote in response: "Wow Shanghai sounds lit." It might be over now, but Teigen's commitment to this bit for most of the day Saturday, Nov. 18 is honestly inspiring. While she may not be closing the show for real, it's difficult to think of a model in all of New Donk City more worthy of the honor.