Chrissy Teigen Explained Why She Doesn't Like That Trump Blocks Her On Twitter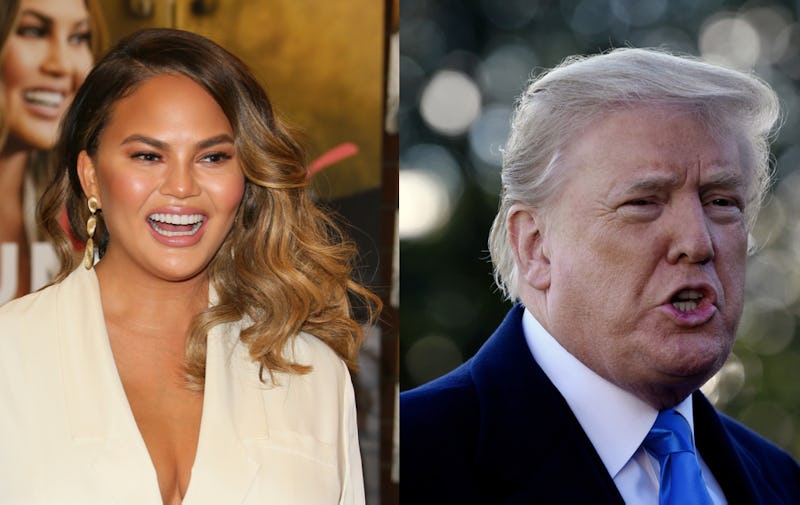 Jean Baptiste Lacroix/Getty Images Entertainment; Pool/Getty Images News/Getty Images
Some may think that getting blocked on social media is the ultimate proof that you got under your hater's skin. But in an interview with Jason Gay for Vogue that was published on Tuesday, Chrissy Teigen said Donald Trump blocking her on Twitter wasn't exactly the most wonderful feeling — it actually made her anxious.
The model was referring to an incident that she said took place in July last year. Teigen had tweeted at Trump saying, "Lolllllll no one likes you." In response, she said that the president blocked her on the website. Bustle has reached out to the White House for comment.
Gay wrote that Teigen said Trump blocking her left her feeling uneasy as she was no longer able to read what the president says on Twitter. Considering that Trump is pretty active on the website and often throws news media in a frenzy to report on his tweets — for instance, the various insults, jabs, and boastful claims, as well as his tweets on policy matters — Teigen said that she can see people reacting to the posts but she's unable to read anything Trump unleashes into the Twitter void. For her, she said it came down to one question: "Do I get in the bunker or not?"
There are a few ways to work around Trump's block, though. For instance, Teigen can go incognito on her internet browser and still view what Trump is saying. Another way to work around this is by checking the Twitter account called @RealPressSecBot. Or she can just grab her husband's phone, given that Trump has not blocked him.
Trump blocking Teigen on Twitter seemed to have left the model and her husband, John Legend, confused. Legend — who isn't blocked by Trump — told Vogue, "I still don't know why I'm not blocked. I have said as many bad things about him as she has. Maybe it's because I'm a man; I have no idea."
You're probably already aware of Teigen's tweets. The model is retweeted by thousands almost every single time she tweets. But the model said that in spite of the fanfare that surrounds her social media content, she's not immune to the occasional insults that may come her way.
"I'll read a thousand of the sweetest comments—'You have the cutest family, I love your book'—and then one person is like, 'You look like the Bride of Chucky' and I'll be like, 'Oh my God, @paulh7114620 thinks I look like Chucky,'" Teigen said.
So, who does she think does a good job at ignoring the haters? Fellow friend and celebrity Kim Kardashian West, according to Teigen, handles her e-critics well.
"A lot of people are really smart about staying out of it," Teigen told Vogue. "I'll send something to Kim—a screen grab of the Daily Mail, like some ridiculous headline, and she'll be like, 'Is that what's happening?' And I'm like, 'Kim, this is the biggest story of the week right now!' Then I'll feel bad because she's probably been saving her sanity by not reading this stuff, and meanwhile, I'm like 'Look at this!'"
One thing seems to be clear in Teigen's interview with Vogue, and that is the model who has millions of followers on Twitter and Instagram, a best-selling book, two adorable children, and an award-winning musician husband is still very much a human — just like the rest of her fans.