John Legend Had The BEST Reaction To His Emmy Nom, According To Chrissy Teigen Herself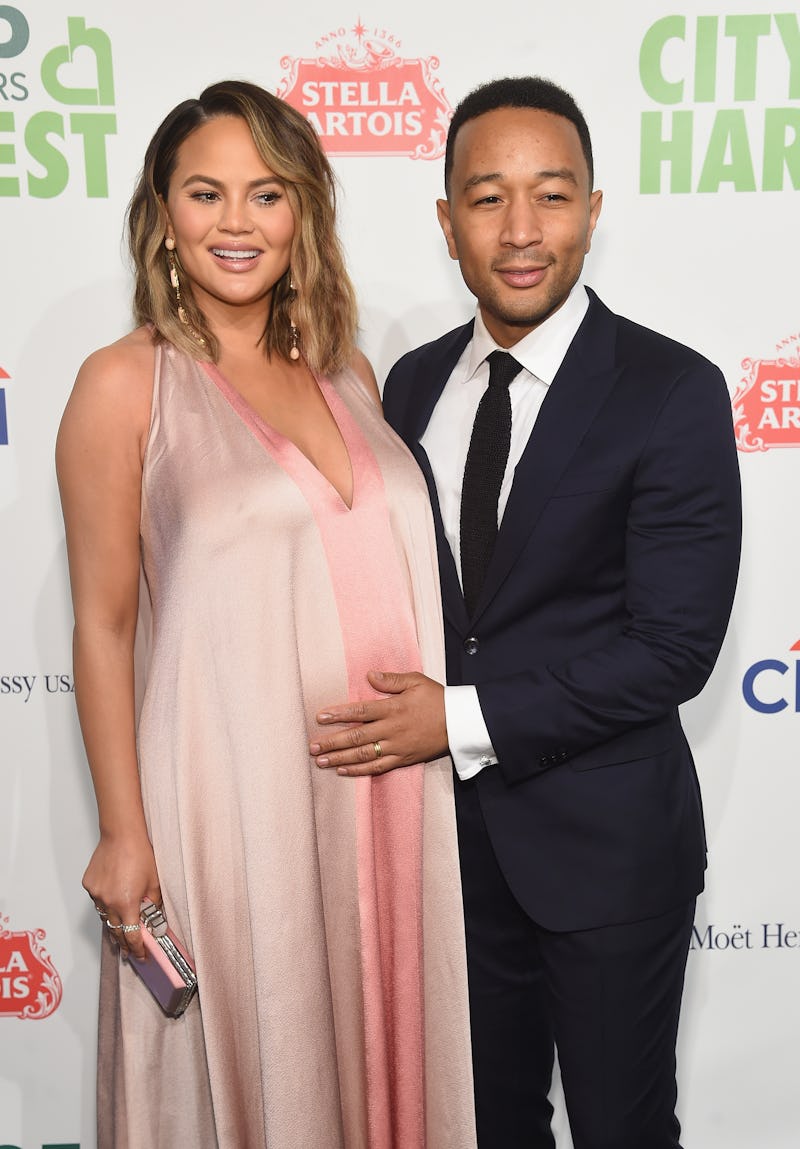 Jamie McCarthy/Getty Images Entertainment/Getty Images
The Teigen and Legend family is, understandably, on a high right now after the 2018 Emmy nominations were revealed on July 12. With his nomination for Jesus Christ Superstar, John Legend is an Emmy away from achieving the EGOT. And in a recent interview with Bustle, Chrissy Teigen reveals the family's reactions to their Emmy nominations, and it's just as amazing as you'd imagine — especially Legend's response.
When asked if she's excited about the honor, Teigen tells Bustle's West Coast Senior Editor of Fashion and Beauty Sara Tan, "I really am." The cookbook author also says it was business as usual at her home prior to the nominations, with her taking care of their newborn son, Miles, while Legend looked after their daughter, Luna, and then had his regular gym session. But his session got a little interrupted when the happy news came out. "He came running in from his gym session and was like, 'We did it! We got it!' and I forgot the Emmy noms happened and he's just like, a little kid, he was so happy," Teigen recalls.
She explains, "It takes a lot to excite John these days, he has an Oscar, but he was really excited and it was really cool to see." It's awesome that Legend reacted with such excitement over this special nomination. As many know, achieving the EGOT (winning an Emmy, Grammy, Oscar, and Tony) is a spectacular honor, one that only 12 other people in history have achieved, per People. So it makes total sense that he'd be thrilled about being a step away from joining that exclusive club.
If you're following the couple on social media, you would know that Teigen and Legend's excitement was already on full display shortly after the nominations were announced. In response to a tweet that showcased his nom, the "All of Me" singer wrote, "thank you!!" alongside some prayer-hands emojis.
His wife got a little more animated in her response, to hilarious effect. She was simply "SO PROUD" of her husband, as she wrote on Twitter. And even though she may have to move one of her own awards out of the way, she's totally down to do so if he wins the Emmy. She said, "If he wins, he will complete his EGOT and my spike tv award will probably be moved. But it's ok I AM SO PROUD!" In later tweets, she also recounted how her father, Ron Teigen, reacted to the news. And, well, it's safe to say that while he's definitely happy for his daughter and her husband, he may have to re-read some of the texts he got from her about the news.
There's yet another Emmy nomination that the family is likely celebrating. As Teigen wrote in a follow-up tweet, Lip Sync Battle, the reality TV program that she hosts, was also nominated for one of the awards in the Outstanding Structured Reality Program category. There's definitely a lot for the crew to be excited about when it comes to the television awards ceremony.
So, after the Emmy Awards, what's next? Well, you can probably cross one thing off that list. Speaking of whether she'd ever run for office, Teigen tells Bustle, "Should I run for something? I didn't think it was possible before, but apparently anything is possible." However, the rest of her answer should clear things up: "I always thought John would be that person and then I would always joke to him, I'm not capable of being a first lady, and now I'm like, I could literally be the president. But no, I would never. Don't worry, we deserve better than that."
Even though a run for office may not be in the cards for Teigen and Legend, it's probably alright, since they're likely preoccupied with all of the excitement surrounding their Emmy nominations.
Reporting by Sara Tan.