You HAVE To See How Chrissy Teigen's Dad Reacted To John Legend's Emmy Nom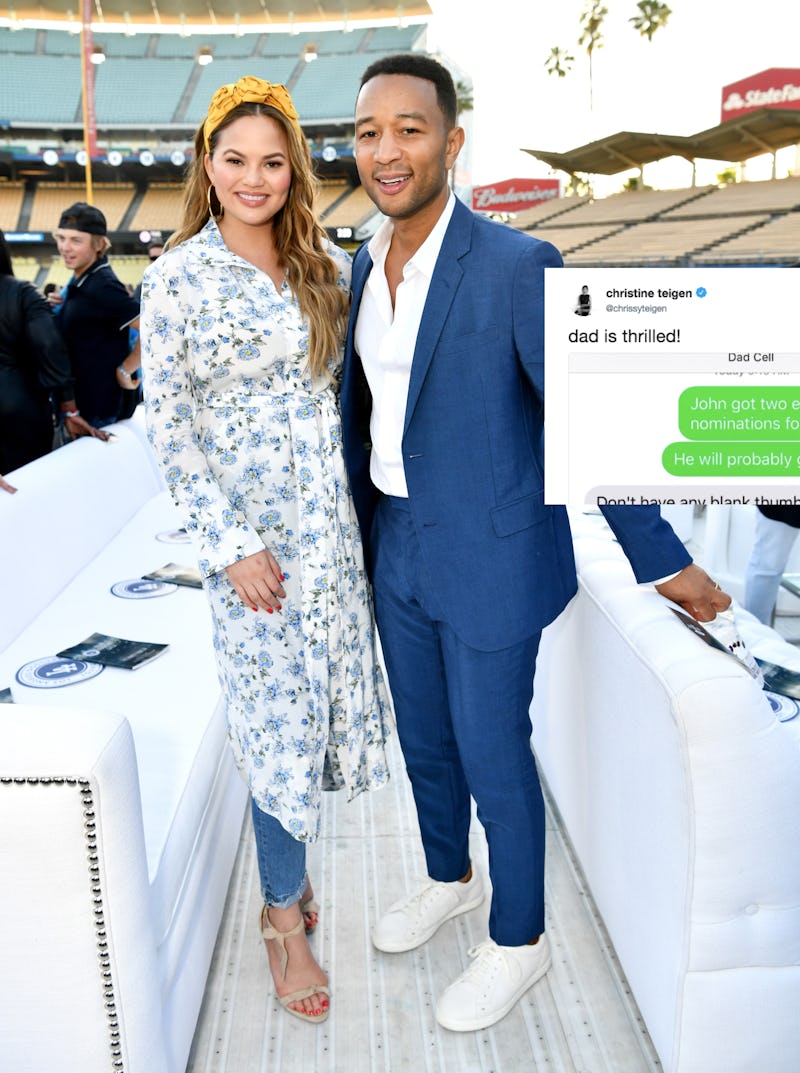 Emma McIntyre/Getty Images Entertainment/Getty Images; Chrissy Teigen/Twitter
John Legend is *this* close to an EGOT, thanks to his Emmy nomination for Jesus Christ Superstar. But it appears that his father-in-law, when asked about it, has something else on his mind. Chrissy Teigen's dad responded to Legend's Emmy nomination, as she detailed on Twitter, and you just have to see the hilarious exchange for yourself.
Teigen was obviously so thrilled about her husband's nomination and the prospect of achieving an EGOT (receiving an Emmy, Grammy, Oscar, and Tony). Naturally, she expressed her happiness to her father, Ron Teigen, via text, which she screenshot for her followers. She wrote, "John got two emmy nominations for Jesus Christ. He will probably get the EGOT!" However, his response to the message is probably not what she was expecting.
Her father must've either texted back the wrong person or seriously misread her text. He responded with a photo of an SD card along with, "Don't have any blank thumb drives but got this." Maybe he's already preparing to record Legend's Emmy acceptance speech with the card? Otherwise, it's really anyone's guess why he replied like that. Even the Lip Sync Battle co-host was taken aback by it. But in classic Teigen fashion, she made light of the exchange by captioning the convo with, "dad is thrilled!"
She followed up her tweet with yet another that showed the pair's conversation, which showed her trying to clarify her dad's comment. Teigen wrote back to him and said, "Did you see my text" and then a simple "hello." She hasn't followed up on his comments as of right now. But despite him seemingly ignoring the news here, there's no doubt that he's also thrilled for Legend's accomplishment.
The Teigen/Legend family was in a totally celebratory mood over the singer's Emmy nomination because it is a major deal. Not only is it exciting that he was nominated for an Emmy in the first place (for Lead Actor in a Limited Series or TV Movie for Jesus Christ Superstar), but, as previously mentioned, this honor points him one step closer to securing the coveted EGOT.
Legend has already won a slew of Grammys for his various performances and albums, per his iMDB page. In 2015, he won a Best Original Song Academy Award, alongside Common, for "Glory" which was from the film Selma. To complete the "GOT" hat trick, he won a Tony Award for co-producing the play Jitney, which won for Best Revival, according to Billboard. If he wins the Emmy this year, he would join the elusive EGOT club, which only 12 other people have ever accomplished, per People.
In response to this news, both Teigen and Legend couldn't help but share their excitement on social media. The Twitter maven said that she's "SO PROUD" of her husband's accomplishments and that she's even alright with setting aside her Spike TV Award for his possible Emmy. That's true love right there.
Legend retweeted his wife's note of support and also responded to the news with a simple message of his own. He quoted the Television Academy's tweet, which detailed his nomination, and wrote, alongside some prayer-hands emojis, "thank you!!"
He's not the only one in his family who was feeling a little Emmy love, though. As Teigen recounted in another tweet, Lip Sync Battle, the show that she co-hosts, received an Emmy nomination for Best Structured Reality Program.
So, it looks like the family (including Teigen's father) has a lot to look forward to come Emmy Awards night on Sept. 17. The night will be especially exciting for Legend, as he possibly makes history as the 13th person to land the much-lauded EGOT.