Chrissy Teigen Just Wore Her Unreleased Makeup Products On The Red Carpet & No One Even Noticed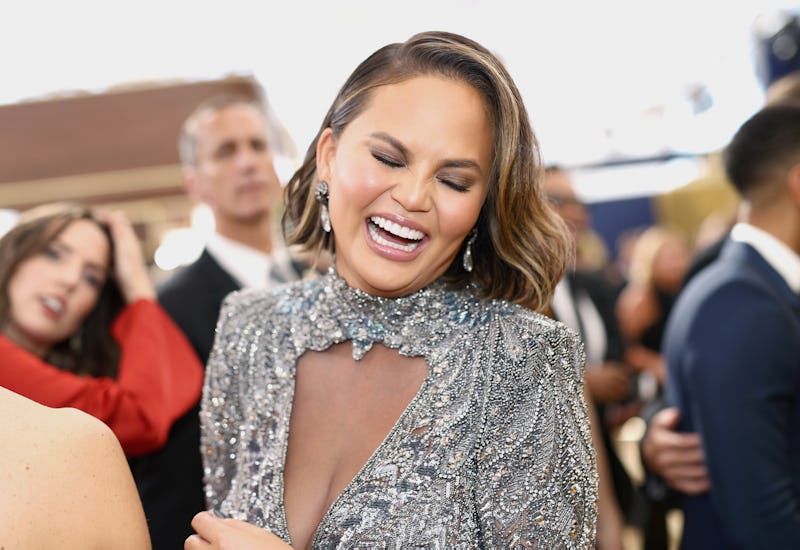 Rich Polk/Getty Images Entertainment/Getty Images
Get ready for BECCAxCHRISSY V. 3.0 because it's happening. The makeup collab was also hiding in plain sight since Chrissy Teigen teased her new BECCA Cosmetics collection at the 2018 Emmys. The model and mom of two was gorgeous as usual at the ceremony, rocking a sparkly, silver dress with a keyhole bodice, glowing and bronzy skin, and smoky eyes. Her makeup artist Mary Phillips revealed in her official Instagram post detailing the model's look that she used products from the upcoming third installment of the Chrissy Teigen x BECCA makeup collab.
After the GLOW face palette and the Endless Summer collection, which featured a body oil, lip glosses, and more, the star and the brand are continuing their collab. It works so why not extend it? The duo have hit on something with this partnership and it makes sense to keep it going for another season and collection.
In addition to breaking down the actual products she used from other brands like LaMer and Nudestix, Phillips also revealed that she used "a new gorgeous eyeshadow shade" from the the new BECCAxCHRISSY line that is "coming soon." Of course it's totally fine and acceptable to zoom in on any and all pics of Teigen from the Emmys red carpet to get a closer look at her eyes and therefore a better view of the hue.
Phillips also confirmed that she slicked Teigen's lips with a gloss from the forthcoming collection.
But the MUA dropped another major bombshell in the caption of her post. Phillips posted that when finishing off Teigen's makeup for the Emmys, she "used another secret highlighting product from the new #BECCAxCHRISSY line to highlight the tops of the cheeks, inner corners of the eyes, under the brow and a hint on the cupids bow."
There's a lot to unpack with that sentence. A secret highlighting product that works wonders on multiple features? That's reason enough for fans and beautyistas be "all in" from the get-go. That, and the incredible quality of their prior products, of course. It's hard to argue with the BECCAxCHRISSY track record of product offerings.
But what is this secret product? Once again, it's totally fine to enhance and expand photos of Teigen from the Emmys to get an up close and personal look at this product, which was used on her cheeks, brows, and more features.
Could it be a liquid highlighter? A powder? A stick? It could be anything. The only thing we can discern for sure is that Teigen's skin was glowing and translucent at the 2018 Emmys and that her look can soon be yours, ours, and theirs once these products go on sale.
Bustle reached out to BECCA reps for further information about the next edition of BECCAxCHRISSY.
In the meantime, here's another look at Teigen's amazing overall presentation at the Emmys. That slit, though. She did reveal during a red carpet interview that her last name is actually pronounced like "tie" rather than "tee."
Now if only she would reveal more about the next generation of BECCAxCHRISSY products. Stay tuned to both her socials and those of the brand for more reveals.