Chrissy Teigen Just Low-Key Announced She's Having A Baby Boy In This Grammys Instagram Post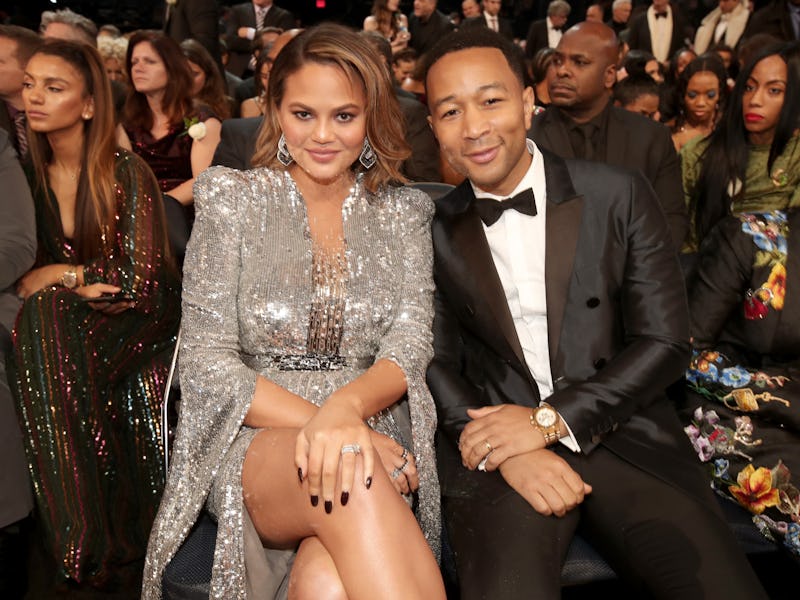 Christopher Polk/Getty Images Entertainment/Getty Images
Something big happened during Music's Biggest Night this year — and it had nothing to do with awards. Shortly before the end of the Grammys, Chrissy Teigen announced that she's having a baby boy with husband John Legend, and it was actually super simple. The timing of Teigen's announcement, however, was a tad unconventional — but, to be fair, she isn't exactly a conventional celebrity when it comes to making personal admissions on social media (which is one of the many things that makes her so much fun to follow).
With less than an hour left of the 2018 Grammy Awards, Teigen revealed the sex of her baby in a short and sweet Instagram post. The shot Teigen chose to share was basically belly-up, and gave fans a solid look at the amazing sequined details of her sparkly, silver gown. In the photo, the glowing, soon-to-be mom of two has one hand on her belly, while the other well-manicured, ring-adorned hand holds her super-sleek red and silver clutch. "[Mama] and her baby boy," Teigen captioned the post. And just like that — so simple, so short — the world was blessed with the news of her baby boy.
The now-confirmed sex of Teigen and Legend's new baby may come as a bit of a surprise to fans, however. On Jan. 21, exactly a week prior to this year's Grammys, Teigen posted a photo on Instagram that some fans interpreted as a potentially-accidental gender announcement. In the photo, Teigen appears to be chillin'-out, maxin', and relaxin' all cool, while being barely covered by a loosely draped kimono robe. The star captioned the photo, "Girls weekend - Quaker Hill, NY - 2018," and fans almost immediately assumed that the "girls" in question included Teigen and the as-yet-to-be-revealed baby in her belly.
There were no other "girls" pictured in the photo Teigen posted, nor were there any additional pictures posted or before or afterwards that would indicate additional female companions on said girls trip. Just the one picture of Teigen and the baby in her belly. And while fans now know that the baby in her belly was actually a boy all along, I'm still pretty curious about who else was on this "girls trip," to be honest. Sorry-not-sorry that I'm a greedy, needy fan.
On the other hand, perhaps Teigen's "girls weekend" Instagram post was meant to distract fans from another potentially-accidental reveal. In an earlier interview with People, Teigen was candid about how she and Legend were able to choose the sex of their first child, daughter Luna, via in vitro fertilization. "A little boy is next," she said at the time. She then clarified her statement to People in a tweet on Jan. 30, 2017, saying: "Since this is coming up again, I said our next baby would be a boy because that is the embryo we have left. A boy. So. Yeah."
Granted, Teigen made this statement almost a year ago — before she even got pregnant for the second time. But she did specify to People that she and Legend would be using IVF again to conceive their second child... so maybe she really did know that a boy was coming all along? "We did the harvesting — as they call it — again, where they make the embryos," she said.
But, more recently, in an interview with Entertainment Tonight in January, Teigen said she wasn't revealing the sex of her second child. It was a little surprising considering what she had said before, but no one except she and the friends and family she told would know what happened with her IVF experience.
At the end of the day, though, it doesn't really matter whether or not you were right or wrong when it comes to the labyrinth of Teigen's potentially-accidental gender reveal. Thanks to her short and sweet Instagram post during the Grammys, we can officially confirm that she and Legend are having a boy. Now, who wants to start placing bets on what they'll name the little guy?