Chrissy Teigen May Have Just Revealed Huge News About Her Baby On Instagram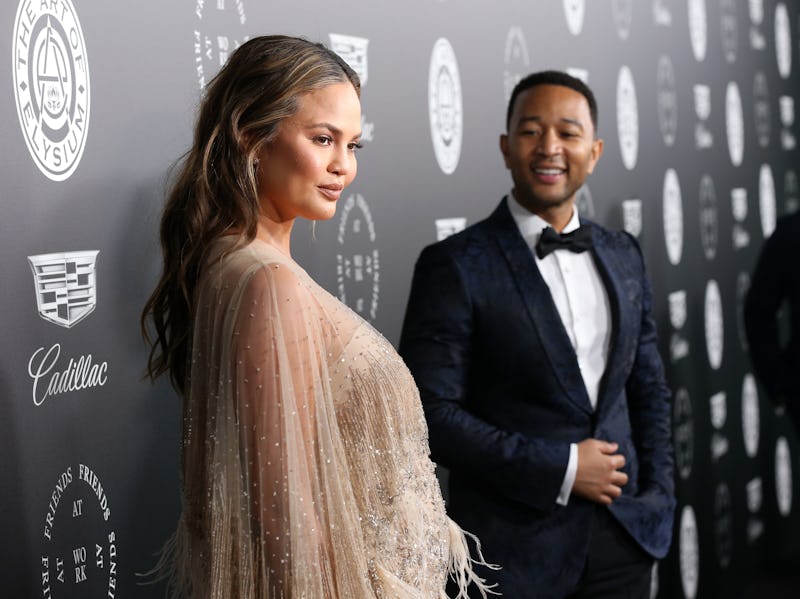 Phillip Faraone/Getty Images Entertainment/Getty Images
The incredible Chrissy Teigen is pregnant with her second child with husband John Legend. She's documented every step of her pregnancy in hilariously real detail, but there's one thing people don't know, and that's if Baby No. 2 of Teigen and Legend is a boy or girl. On Sunday, Jan. 21, Teigen might have dropped the first (accidental?) hint! Chrissy Teigen's "Girls Weekend" photo has fans thinking she revealed that she's having a second baby girl, and they are loving it.
Teigen posted a photo on Instagram with the caption "Girls weekend - Quaker Hill, NY - 2018," and that's all it took. In the photo, the expectant mom is reclining on a sofa, showing off her pregnant belly through a silky kimono robe. That doesn't necessarily mean anything, of course, but conspiracy theory-happy fans jumped on it immediately. Since there's no one else in the photo with her, "Girls Trip" could mean maybe she's watching the movie Girls Trip, which could earn star Tiffany Haddish her first Oscar nomination. Perhaps she's spending the weekend with her mom, or with her fellow A-list pals. Or maybe, just maybe, she's taking a late-in-pregnancy trip with her daughter Luna and her potential daughter-to-be. If that's the case, Twitter is so ready for Baby Girl Legend: The Sequel. Especially since the following picture of Legend with Luna doesn't give a lot away, aside from being completely adorable.
Teigen and Legend have previously announced that they aren't planning to reveal the sex of their baby to the public. Teigen has also joked about finding limited options for a quality gender-neutral name for their child. Could her "Girls Weekend" photo really be a hint about the baby-to-be, or are fans just eager for Luna to have a younger sister? Either way, whenever that little sibling arrives, they will be extremely beloved by John Legend and Chrissy Teigen. And their many, many fans on Twitter. And Instagram. The couple have been dead set on keeping whether they're expecting a baby boy or baby girl public, but fans aren't patient enough for that.
The next photo Teigen posted was of Luna and her husband, with the caption "Look at these twin humans". There's no way to know, just from looking at it, whether Legend and their daughter were in a different place from Teigen. However, Teigen location tagged her Instagram as somewhere in the Duchess/Putnam County part of New York State. A fan responded to Teigen's Instagram post on Twitter, posting a selfie with John Legend and the message "Just met John tonight at Blind Dog restaurant in Park City!" Legend did speak at a Sundance Film Festival event on Jan. 20, and the festival takes place in Park City, Utah. It's possible that the Twitter user met Legend by chance, and Teigen is having her nonspecific "Girls Weekend" on the East Coast. Whether the weekend includes an unannounced baby girl, though, remains unclear.
So, even the best detective fans can't say for sure whether Teigen and Legend are expecting a boy or girl. It's likely that the couple will stick to their stated plan, and not reveal the answer to the public just yet.
Teigen previously told People that she and Legend would like to have a son at some point as well. "A boy will come along," she told People. "We'll get there too, so it's not like we really have to pick. But [Legend] definitely is very lucky to have a little girl. And this girl is going to be so completely lucky to have John as her papa — it's crazy!"
Good luck, social media detectives! You're going to need it with guessing this one.