John Legend's Emmy Nomination Is Especially Exciting For This Major Reason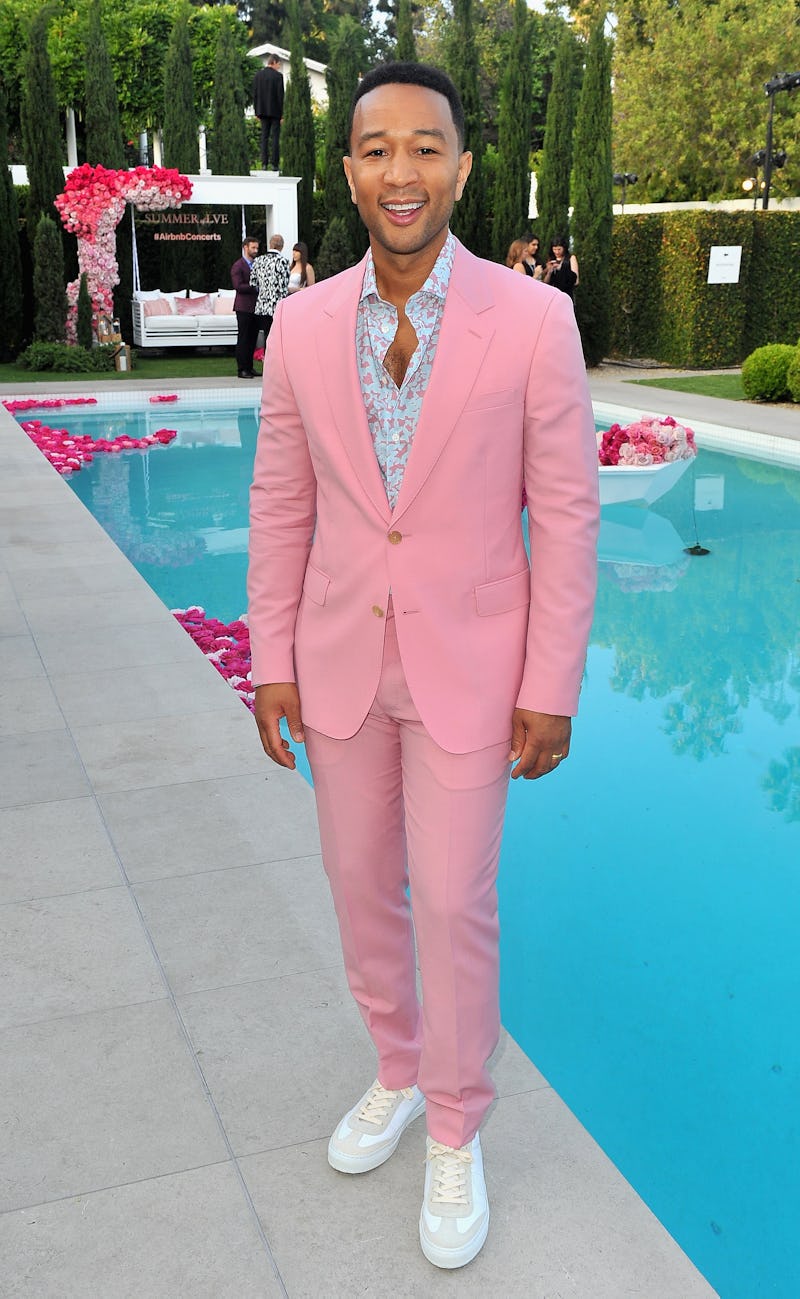 Jerod Harris/Getty Images Entertainment/Getty Images
On Thursday morning, the 2018 Emmy nominations announcement brought good news for one very talented musician, actor, and father. It's official: John Legend was nominated for an Emmy — in the category of Lead Actor in a Limited Series or TV Movie for Jesus Christ Superstar, to be exact — and that means he's one step closer to that EGOT, something that fans are already super pumped about.
The possibility of this happening has been something people have been buzzing about lately, especially since an Emmy is the last award Legend would need to go full EGOT. He's won Grammys in the double digits, and he even won an Oscar for his work on music in the movie Selma. In 2017, he got a Tony for being a co-producer of Jitney. Since TV has never really been his thing, it's not surprising that it's taken this long for him to get close to completing the circle of prestigious awards, but after seeing his performance in Jesus Christ Superstar, it was practically inevitable that an Emmy nomination would happen.
Of course, Legend would still need to win the award first, and he's up against some pretty tough competition. Also nominated in his category are Antonio Banderas, Darren Criss, Benedict Cumberbatch, Jeff Daniels, and Jesse Plemons, who are all super talented.
And as soon as the news broke, fans took to Twitter to celebrate. People are pretty pumped about this EGOT thing — after all, only 12 people are in that category, and Legend could become the lucky thirteenth. Plenty of fans simply wanted to point out what a big deal this is:
And others were simply looking forward for wife Chrissy Teigen to share her thoughts online, because let's face it: Whatever Teigen has to say about this nomination is going to be pure gold. What are the chances she incorporates an Arthur joke into her tweet on the subject? It just feels right.
And when Teigen did weigh in, she definitely did not let these people down. Should she really have to move her Spike TV award? Legend, get your own shelf. It is sweet that she's such a proud wife, though.
She also added a mini-celebration for herself, since her show, Lip Sync Battle, also scored a nomination in the category of Structured Reality Program. Just because Legend's nomination could lead to an EGOT doesn't mean that Teigen's is any less exciting, and can we talk about the emojis she chose to include because she couldn't find the microphone? Truly top notch.
And later, she shared the response from her dad after she told him the big news, who was far too worried about memory cards to even think about Legend's nomination. Obviously, that subject needed to be tackled before they could move on to discussing anything else.
Then, there was this fan, who had to share her thoughts, because of course Legend would get a nomination for playing Jesus:
And plenty of other people hit Twitter to share how deserving they felt Legend was of the nomination, because his role in the musical is something that a lot of people loved. Then again, this is John Legend — he's just one of those people who is incredibly easy to root for.
It's obviously a huge honor just to be nominated, so Legend should feel pretty proud of himself, whether he ends up winning his Emmy or not. And if he doesn't, it seems inevitable that he'll get another chance at an EGOT in the future. With someone as ridiculously talented as he is, there's no way the Television Academy won't find reason to recognize him again another year.