Chrissy Teigen's Daughter Got Dragged Into Pizzagate & Chelsea Clinton Had Her Back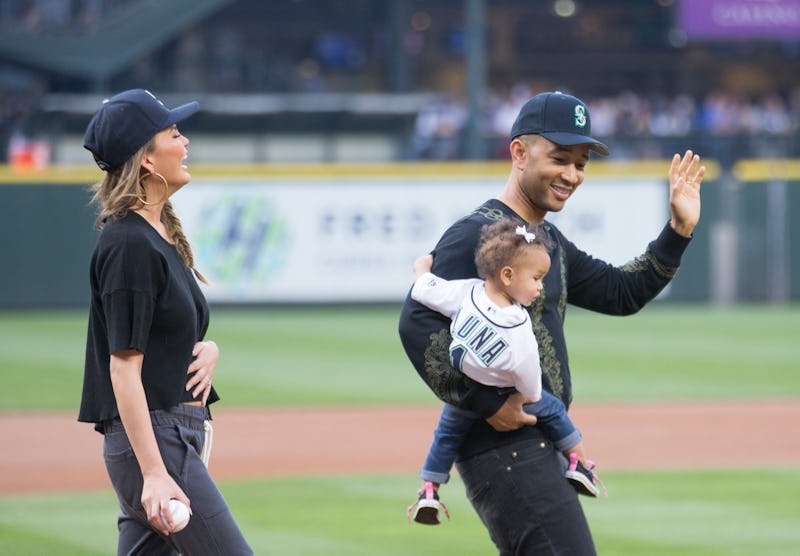 Stephen Brashear/Getty Images Sport/Getty Images
The infamous Pizzagate sex-ring theory that once led a man to bring a rifle to a pizzeria in Washington, D.C. is far from over. In fact, the debunked theory is only growing and being propagated by trolls on Twitter — and on Saturday, Chrissy Teigen's one-year-old daughter Luna was brought into the hoax. While Teigen was disturbed when her she and her daughter were accused of being involved in Pizzagate, Chelsea Clinton offered Teigen some heartwarming mom advice about dealing with online trolls.
"Chrissy, sending you & beautiful Luna a huge hug," Clinton replied to Teigen on Twitter. "It is awful and never ok when people threaten or demean any child." In the tweet, Clinton reported that her own three-year-old daughter, Charlotte, has also been the victim of a number of online threats, and that she "report[s] every one" of them.
Clinton's message of support came after Teigen tweeted screengrabs of her daughter being mentioned by conservative writer and Pizzagate conspiracy theorist Liz Crokin. In the screengrabs, Crokin seems to suggest that because Teigen's daughter has dressed as "a hot dog, Alice In Wonderland & a pineapple" in the past, Teigen and her husband John Legend must be involved in an underground sex ring.
"The fact that there are people with these...thoughts...is really scary," Teigen wrote.
Crokin, whose Twitter bio reads "Pedogate is REAL," even continued implicating Tegen and Legend well after Teigen drew attention to the original tweets.
"Chrissy Teigen & John Legend are threatening to sue me for pointing out their pals are rapists, pedos & sex traffickers," Crokin wrote in a defensive tweet. "Too bad it's true."
Teigen and Legend continued, however, to fight back against the accusations against them to ensure that Crokin will have a little more difficulty propagating outrageous theories in the future. Teigen called out Twitter for allowing Crokin to have such a major platform for promoting her message by verifying her account.
"Thank you, Twitter, for verifying somebody who is essentially accusing me (with pictures of my daughter) of child abuse and pedophilia to their 50,000 followers," Teigen wrote.
Just hours later, Twitter unverified Crokin's account.
The original Pizzagate theory gained national attention in December 2016, when an armed man stormed into the Comet Ping Pong pizzeria in Washington, D.C. to investigate the online rumor that Hillary Clinton and her former campaign chair, John Podesta, were coordinating a child sex ring in its basement. The rumors were completely false — the pizzeria doesn't even have a basement, for starters — but spread like wildfire on online forums like 4chan and Reddit.
Thankfully, no one was harmed in the incident, but the theory has led to some serious abuse for the pizzeria owners, and others who have been named in the rumor. Comet Ping Pong's owner, James Alefantis, even reported that he has received death threats and online abuse as a result of the false theory. Alefantis described his everyday life as "constant assault" in an interview with the New York Times.
Needless to say, online conspiracy theories as widespread as Pizzagate are pretty serious business that can lead to very real danger, especially when a young child is involved. While Teigen was understandably distressed and alarmed that her one-year-old child was being named in such a dangerous online hoax, she found comfort in knowing that a fellow mother like Clinton, who has faced her own online harassment, could offer her support and guidance.
"I feel silly even worrying about this in comparison to the magnitude of slander and threats you and your family have dealt with for decades," Teigen responded to Clinton. "Love to you, Charlotte and Marc!!"
Disclosure: Chelsea Clinton's husband Marc Mezvinsky joined Social Capital, an investor in Bustle Digital Group, in mid 2017 and joined the Board of Bustle Digital Group in early 2018.