Chrissy Teigen's 2010 'SI' Shoot Is Worth A Revist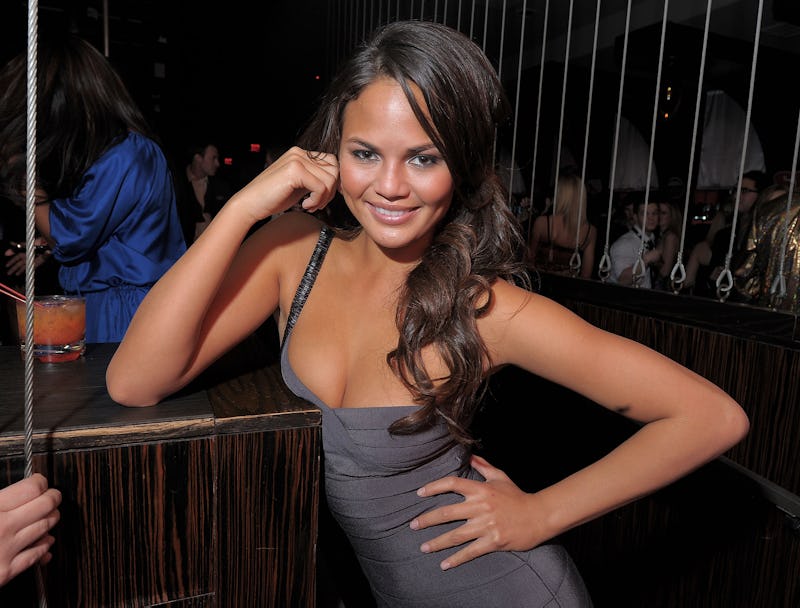 Michael Loccisano/Getty Images Entertainment/Getty Images
You probably know this model for her quirky, fun-loving attitude and hilarious Snapchats, but you're about to see a whole different side of her. Chrissy Teigen's first Sports Illustrated Swimsuit Edition spread in 2010 proves that she's come a long way when it comes to her fashion choices. Prepare yourself, because these photos show a heavily accessorized version of Teigen. Of course, she wouldn't be where she is today without this incredible opportunity, but these photos will provide you with a great throwback moment.
Before she was the celebrity you know and love, Teigen was wearing bucket hats in Sports Illustrated magazine. That's right — the iconic model's first SI shoot featured her decked out in one of the biggest trends of the early '00s. And that wasn't all — in addition to the hat, she wore layered necklaces and lots of neon. One look at these images and it will take you back to a time where mini-skirts were prominent and you were probably still using the phrase "That's hot."
Back in the day, Teigen was thrilled to announce on Twitter that she had "joined the ranks of the beautiful women of 2010 sports illustrated swimsuit edition [sic]." Something tells me that she could make some hilarious commentary if she took a look back at the photos today. As always, Teigen does look stunning. It's just her accessories that make the shoot styling seem slightly dated today.
I'll pause here, so you can have a moment of silence for the bucket hat.
All in all, the model had plenty of reason to be excited. Not only was it her first spread for the magazine, but she was also named Rookie Of The Year. I guess all of those accessories (in addition to her fabulous modeling skills) paid off!
Here's a look at the entire video of the shoot, so you can see all the ~cOoOl~ outfits for yourself. I will warn you though, it will bring back memories of a lot of your own personal fashion choices.
If there's anyone who would want us to laugh a little bit right now, it's Teigen. Nothing like a good fashion flashback!