People Are Calling Out Chrissy Teigen For Her Comments On Logan Paul's Dead Body Video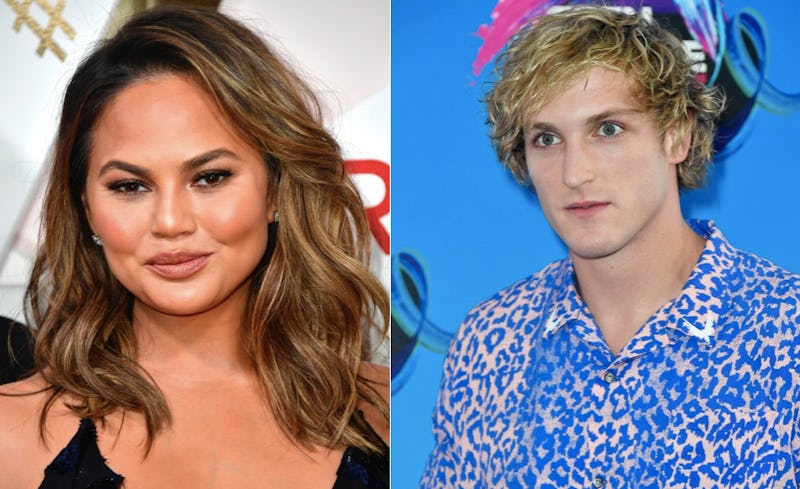 Getty Images
The new year has barely begun and Chrissy Teigen is already facing major backlash. People are mad at Teigen's Logan Paul's comments that she tweeted on Jan. 2. after the YouTube star came under fire for posting a video featuring what appeared to be a dead body hanging from a tree in a Japanese forest known for suicides. (Her Twitter account is now private, but due to "pizzagate", she revealed on Twitter.) The 32-year-old model attempted to make a specific point about the criticism Paul is facing, but there are many people who aren't here for her tweets, which some have even seen as her defending his actions.
Re: Logan Paul, something I always think about is when people make...ethical mistakes, as in, not-illegal, should we really be trying I [sic] ruin their lives and end their careers or accept the apology, personally make a choice to stop watching, and move on.
Teigen continued by relating it to her own personal experience. She wrote,
An example I have is with a certain clothing company. Years ago the designers said things i personally found horrible about IVF children. I made the choice to simply...never wear or purchase again instead of trying to "end them"
She also replied to a Twitter user saying Paul has yet to "fully recognize" (Paul has apologized) just how wrong his "mistake" is. She tweeted,
Oh I'm not saying what he did wasn't sick and stupid and his videos aren't or haven't been stupid, I'm saying...a lot of you don't know what it's like to have a campaign to end your entire being
Teigen continued by saying she felt like she's "talking to the wrong audience", because most people don't really understand what it's like to have people publicly try to take them down. "Not many of you guys will ever understand the campaign to END YOU...some of you are the enders and there is no conversation allowed (which I now clearly see) - point taken back to black mirror," she said. The Cravings author also tried to make it clear that all she's trying to do is use what's happening with Paul to have a bigger discussion. "I'm not concerned about his personal well being at all," she tweeted. "I think this is a longer conversation about...and I hate this phrasing but...us as a society."
She also commented, "Youtube should make a statement and condemn the actions of one of their most popular users," but despite her many attempts to explain herself, Teigen is still receiving a lot of criticism for her response.
She's Just Being "Chrissy Teigen"
She's Disappointing Some Fans
She & Paul Are Both "Canceled"
This Isn't The Time To Have Her "Conversation"
There's A Bigger Issue Here
She Has A Point, But Make It Another Time
She Shouldn't Compare Herself To Him
This Isn't A "Small Slip-up"
Paul has since apologized twice for uploading the video, which featured the vlogger and his crew in the Aokigahara forest known as Japan's "Suicide Forest" looking into the "haunted aspect" of it. According to ABC News, the video blurred out the face of the person who apparently died by suicide and Paul was reportedly seen laughing in the video, but he explained that was his way of coping.
His first apology reads as follows:
In his second apology, he posted a video on Tuesday, where he briefly apologized to the victim and his family. He also asked his fans to please not defend him.
Paul has received much backlash, including from celebrities, for posting the video. The controversial video has also been removed from his official YouTube channel.
In a statement given to the AP by a YouTube spokesperson, the video-sharing website said Paul's video violated its policies. "Our hearts go out to the family of the person featured in the video. YouTube prohibits violent or gory content posted in a shocking, sensational or disrespectful manner. If a video is graphic, it can only remain on the site when supported by appropriate educational or documentary information and in some cases it will be age-gated." The statement concluded, "We partner with safety groups such as the National Suicide Prevention Lifeline to provide educational resources that are incorporated in our YouTube Safety Center."
If you or someone you know are experiencing suicidal thoughts, call 911, or call the National Suicide Prevention Hotline at 1-800-273-8255.