Chrissy Teigen Once Again Discussed Mental Health Openly & Honestly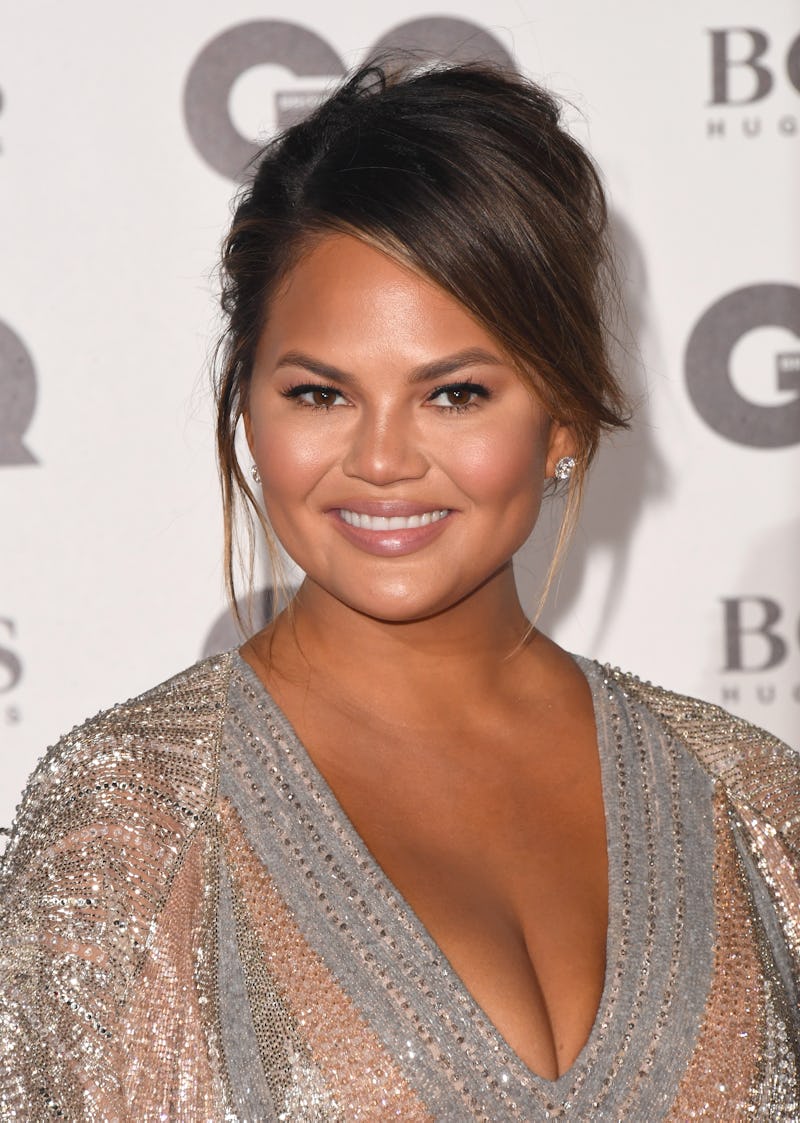 Stuart C. Wilson/Getty Images Entertainment/Getty Images
As the October cover star of Women's Health, Chrissy Teigen discussed mental health openly and honestly. Really, would you expect anything less? Her recent comments show why it's so important to take care of yourself. The 32-year-old also shined a light on why mental health shouldn't be considered a shameful topic of conversation. It's OK to talk about mental health, just like Teigen does.
During the Cravings cookbook author's chat with the magazine, Teigen admitted that she encountered many changes after giving birth to Luna. For example, in March 2017, Teigen revealed she suffered from postpartum depression in an essay she wrote for Glamour. During her postpartum depression battle, Teigen told Women's Health that she eventually started taking an antidepressent, which helped her feel back to normal. She and John Legend also went on a wellness retreat at COMO Shambhala Estate in Bali, where she had a somewhat of a mental health epiphany.
She told the magazine,
"It's like, what could be more important than mental health? What's more important than being proud of yourself and doing the best you can for your body?"
She's right, there is nothing more important than ensuring your body and mind are healthy. If you aren't taking care of yourself, you won't live a happy or fulfilling life. That's exactly what Teigen learned after Luna's arrival in April 2016.
"After Luna, I was drinking too much," she admitted to Women's Health. "I wasn't eating as much because I was full from drinking. I wasn't being good to my body. I remember being so bruised from nothing."
In an August 2017 interview with Cosmopolitan, Teigen discussed how she was "drinking too much." When she, Legend, and Luna traveled to Bali in July 16, she even gave up drinking for a time. Teigen admitted to Cosmo,
"I was, point blank, just drinking too much. I got used to being in hair and makeup and having a glass of wine. Then that glass of wine would carry over into me having one before the awards show. And then a bunch at the awards show. And then I felt bad for making kind of an ass of myself to people that I really respected. And that feeling, there's just nothing like that. You feel horrible. It's not a good look for me, for John, for anybody."
Teigen also opened up to Cosmo about her family's history of alcohol abuse and said she worried about her drinking due to the medication she was on for postpartum depression and anxiety. "I used to think it was kind of nutty to have to go totally sober, but now I get it," she said at the time. "I don't want to be that person. … I have to fix myself."
So that's exactly what she did. Teigen focused on herself and making herself healthy in every way. She knows what makes her happy, especially when it comes to taking care of her mind and body. As a mother of two to Luna and Miles, she's worked hard on her health and happiness, along with the many changes that have come with motherhood.
The Lip Sync Battle star is one of the most vulnerable celebrities, whose honesty helps others. The way she continues to admit her flaws and discuss mental health is inspiring. Teigen isn't ashamed of who she is and the issues she's faced, and she doesn't want anyone else to be either.