Chrissy Teigen's Selfie Stick Video Of Luna Will Make You Wish They Had A YouTube Channel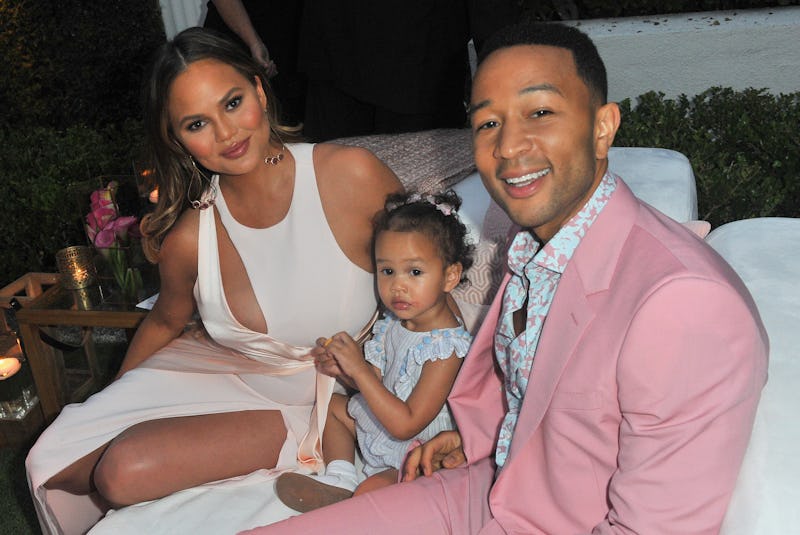 Jerod Harris/Getty Images Entertainment/Getty Images
Can you imagine if the Teigen-Legend family had their own YouTube channel? Yeah, it'd be amazing, and based on Chrissy Teigen's new video of Luna the channel would be a smashing success. On Thursday, the Cravings: Hungry for More author made an exciting announcement on Instagram: she and her mom, Vilailuck Teigen, bought a selfie stick. It's shocking that it took them this long to get one, but as you'll soon see, the purchase was worth the wait. Along with the selfie stick reveal, Chrissy and Vilailuck filmed videos for their "YouTube channel," which they were kind enough to share with fans.
In Chrissy's video captured by her new selfie stick, she's sitting in a chair holding Miles and Luna, while her mom sits on the floor next to them. She captioned the Instagram, "This is going well," which perfectly describes the footage. Chrissy and Vilailuck are having a blast, Miles is totally chill, but Luna doesn't want to have anything to do with her mom and grandma's selfie stick turned YouTube channel.
Chrissy says in the video,
"Hey, guys, welcome to our YouTube channel. This is Luna, this is Miles, and that's yāy [grandma in Thai]. It's called the Luna, Miles, and yāy show."
Immediately, Luna declares (and multiple times), "No, don't say me!" Chrissy then says, "OK, it's the Miles, and Chrissy, and yāy show, and a girl in a blue dress. Today, our topic is the girl in the blue dress' boots." Luna yells, "Don't say that!"
Her fierce personality definitely comes out in the video. She clearly has her own voice and isn't afraid to use it. Her mom and grandma also handle the situation as best they can by not mentioning Luna's name, moving forward, and then quickly ending the video.
"That concludes our episode of yāy, Miles, and Chrissy, and a girl in blue dress," Chrissy says at the end, before Luna gets in the last word by proclaiming, "Don't say my blue dress!"
They are YouTube gold. If you need further proof, Vilailuck posted another Instagram video on Friday from their selfie stick chronicles.
Chrissy opens up the video by hilariously saying,
"Hey, guys. It's me, Chrissy. Mom and I just got a selfie stick, so, and the light is fantastic. So, welcome to our channel. Like and subscribe like and subscribe. Right, mom? What do we talk about?"
To that, her mom replies, "Nothing. We just want to talk about nothing." Of course, the Cravings by Chrissy Target line creator came up with a great topic: days of the week.
"Let's talk about nothing," the 32-year-old begins. "So, today is Thursday. You know what they say about Thursday?" And her mom delivers the perfect response ever. She says, "Tomorrow it be Friday." Before having to stop the video due to uncontrollable laughter, Chrissy answers, "That's what they say."
These videos are nothing but pure excellence. They could talk about nothing and be a huge success — for real.
Who knows if Chrissy will start a YouTube channel for herself or for her family, but it's something she needs to seriously think about. She'd have so many subscribers in an instant. Chrissy Teigen, YouTube star, sounds like an exceptional résumé addition.