Chrissy Teigen's Flight From L.A. To L.A. Turned Into An Epic Twitter Saga You Cannot Miss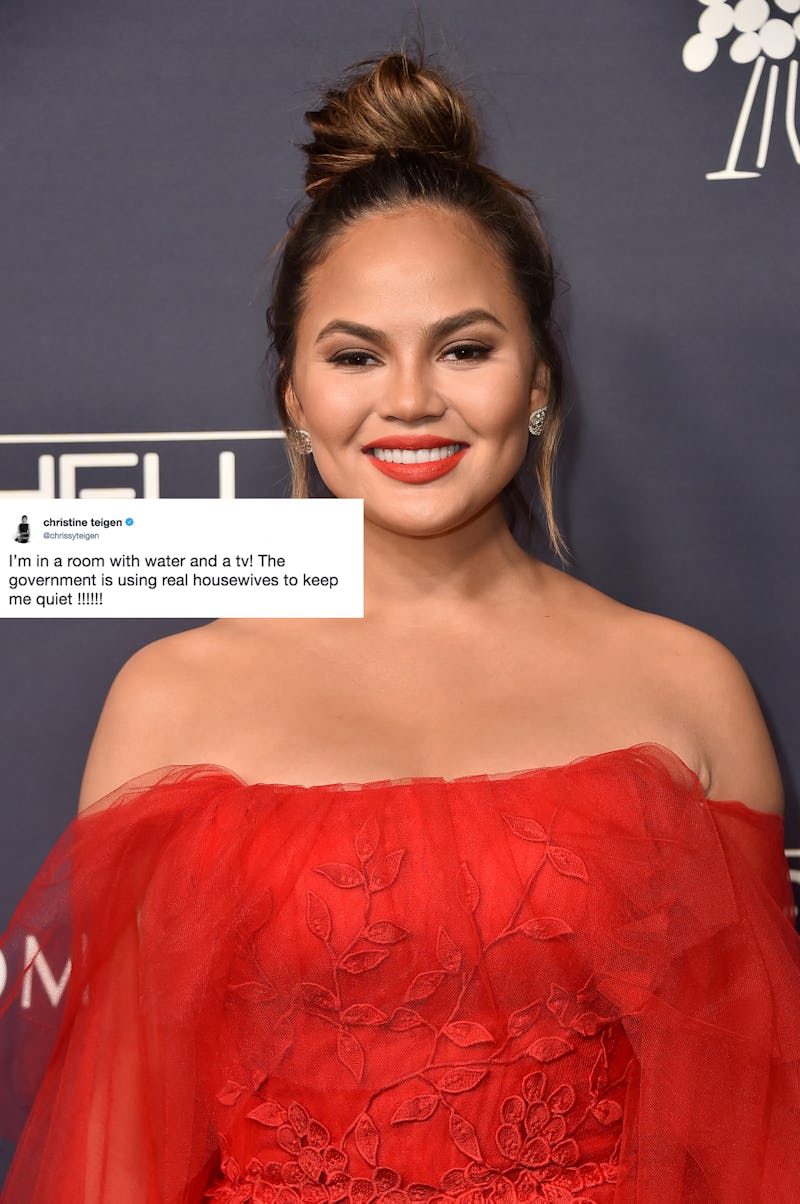 It's rare that post-holiday travel plans gone wrong become national news, but that's what has happened for Chrissy Teigen and John Legend. While on a flight from Los Angeles to Tokyo, Legend and Teigen's plane was turned around due to an authorized person being on board. And, using her strong social media presence, Teigen documented the plane drama on her Twitter for all to follow. So, buckle up, because it's a long, bumpy flight to nowhere.
UPDATE: ABC News reported on Thursday that the FBI is weighing criminal charges against two brothers who allegedly boarded the plane with one boarding pass, according to ABC's law enforcement sources.
EARLIER: As she explained on Twitter, Teigen and her husband were traveling on an All Nippon Airways (ANA) flight to Tokyo from Los Angeles International Airport (LAX) the day after Christmas. About four hours in, the plane turned around because there was a passenger who shouldn't have been on the flight. "The cabin crew notified the pilot that one of the passengers boarded the incorrect flight, and the pilot in command made the decision to return to the originating airport," ANA told CNN in a statement. "We take great pride providing exemplary customer service, and on this flight we failed to do so."
It's a bizarre situation, made all the more intriguing by the fact that the famous model and musician were two of the 226 passengers on the flight. And with her frequent updates on the situation as it unfolded, Teigen provided an account of her #LAXtoLAX trip that captivated her over nine million Twitter followers and was better than any other report on the situation.
Although she was understandably frustrated, Teigen showed empathy for the unauthorized passenger. And yet the predominant feeling expressed by the model was confusion over the whole situation.
Why it took over four hours into the flight for this mistake to be discovered is unknown. However, perhaps the more disturbing part is that Teigen reported that the person apparently had a ticket for a United Airlines flight and was still able to board the ANA flight. According to the airline's website, United does have a partnership with ANA, and CNN reported that an investigation on how the passenger was able to board is occurring, but that didn't stop Teigen from being hilariously unimpressed with ANA's boarding pass scanners.
The recorded flight time was seven hours and 57 minutes, as ANA reported that the plane took off from LAX at 11:36 a.m. PT and landed back at LAX at 7:33 p.m. PT. This differs from Teigen's report by just 23 minutes, but, either way, it's still a full work day length of time for an unplanned roundtrip.
If you thought that was that, think again, because Teigen's night didn't end there. Once back in Los Angeles, passengers were questioned by police before they could disembark.
Then, Teigen and Legend were held in a room for hours at the airport before being able to board another flight to Japan. But at least there she had access to The Real Housewives and ramen.
Since Teigen gave a shoutout to Lisa Rinna, the Real Housewife even checked in on the well-being of Teigen and government conspiracy theories followed.
Based on her tweets, Legend and Teigen were in the room at the airport for about four hours before boarding another flight, but it's probably more luxurious than what the other passengers were experiencing at the time. Plus, watching Bravo and eating ramen sounds like a standard weekday night for many people.
Even on the new flight, all was not normal. The crew must have been really into Star Wars since Teigen wrote that the theme music was playing and a stuffed version of Yoda even had his own seat.
Through it all, Teigen, who is pregnant with her and Legend's second child, kept her good humor about the utterly peculiar and totally inconvenient situation. And really, all she and Legend want to do is spend New Year's Eve in Tokyo. (And no need to judge her about potentially eating sushi as a pregnant woman, since there are safe sushi options out there.)
Teigen wrapped up this chapter of the flight to nowhere by tweeting that their new flight had taken off. That was around 1:45 AM PT, which means that Teigen and the rest of the passengers on the original ANA flight lost more than half a day to this mixup.
However, Teigen wrote earlier in the night, "I don't know why I'm not more upset about this. The pleasure I get out of the story is worth more to me than a direct flight to Tokyo."
And as the reactions on Twitter indicated, most of the public is also pleased by Teigen's account. People even pitched the idea of turning this story into a TV show.
While this was a major hassle for Teigen, Legend, and the other passengers, there are far worse reasons for a plane to be turned around in midair. And so not only is everyone safe, but the world has Teigen to thank for entertaining the people who stayed on the ground this Christmas. But, for their sakes, the pair's flight back to Los Angeles in 2018 better be far less eventful.