Chrissy Teigen's Reaction To Michael Che & Colin Jost's Emmys Monologue Is All Of Us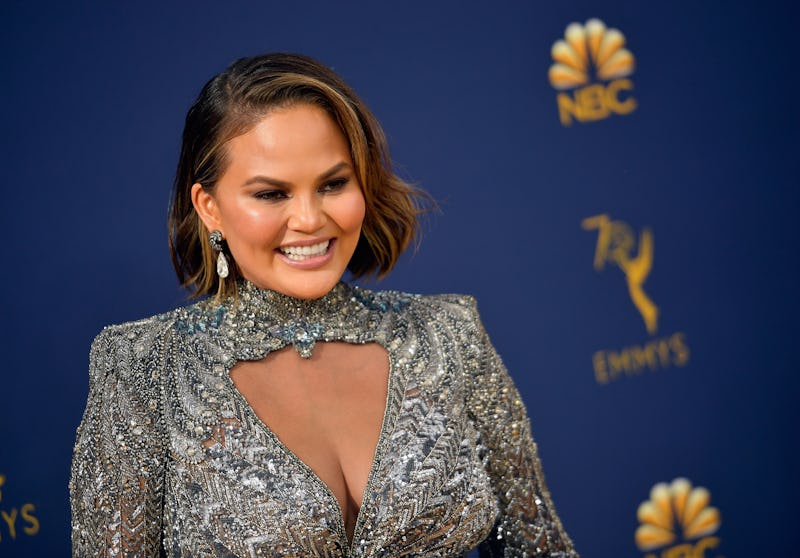 Matt Winkelmeyer/Getty Images Entertainment/Getty Images
No awards show attendee wants the reaction camera on them in an awkward moment, but only Chrissy Teigen would actively try to crawl out of it. Honestly, nobody can blame her. At the 2018 Emmys, Chrissy Teigen's reaction to Michael Che and Colin Jost's monologue left little to the imagination.
Is anyone surprised that the evening's first meme went to the queen of awards show reacting herself? In this case, it was a little meta. Teigen was trying to avoid being the one caught reacting, and that in itself became the reaction to talk about at the beginning of the show. Teigen was there with her husband, John Legend, who recently completed an EGOT after winning at the Creative Arts Emmys for Jesus Christ Superstar! Live In Concert.
The monologue had some laughs, let's be fair, but most of the jokes fell to awkward silence and some gif-worthy moments. Che and Jost poked fun at This Is Us, Atlanta, and Roseanne. But even the opening song "We Solved It" about representation in Hollywood didn't get the laughs that it may have in a different year or with a different joke. The monologue highlighted diversity and the awards... didn't.
"The Handmaid's Tale is nominated," said Che. "Yes, for best drama. I don't know if you've seen it, but The Handmaid's Tale takes place in an imaginary future where an entire group of people are violently forced to work and make babies against their will. It's what black people call 'History.' It's Roots for white women, that's what it is. It's Roots with bonnets."
He's not exactly wrong, but the jokes weren't really landing. However, though Teigen is a noted fan of The Handmaid's Tale, this wasn't when the camera turned to the power couple for their thoughts. Instead, it was a joke about Roseanne that got Teigen to make that face.
"You know," said Che. "I heard Roseanne [Barr] is actually moving to Israel. I mean, damn. How messed up is your life when you have to go to the Middle East just to get peace of mind? By the way, congratulations to Laurie Metcalf. Please. I mean, wow. That's incredible. You know how great an actress you have to be to get nominated for Roseanne now? That's like nominating a cop for a BET award. Doesn't happen. it would be weird."
"My mother's not watching," Che said in the monologue. "She said she doesn't like watching white award shows because you guys don't thank Jesus enough. That's true. The only white people that thank Jesus are Republicans and ex-crackheads." Teigen referenced that later in the show, thanking Jesus while she and her husband were presenting.
Was her move a cringe? Was it a duck? It was hilarious, at the very least.
Teigen also tweeted a bit during the awards, taking a moment to call out someone speculating that her post-pregnancy body was... a new pregnancy. So that's awesome.
She also commented on the duck/cringe herself, calling it a setup. Seriously, how do these cameras always manage to find Teigen at just the right moment? It's kind of suspicious at this point. Let her grimace in peace! Team Chrissy!