Chrissy Teigen's Second Cookbook Is Going To Be Released SO Soon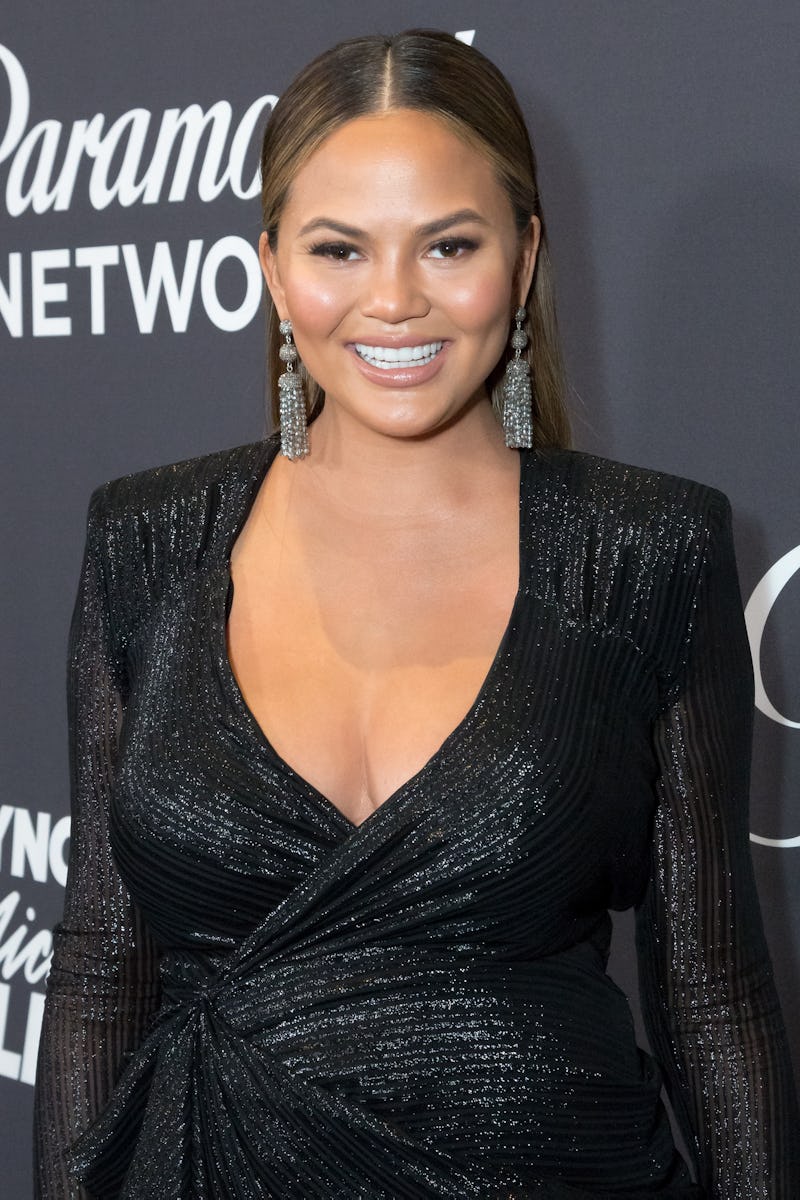 Greg Doherty/Getty Images Entertainment/Getty Images
After nearly two years of Twitter teasing and recipe testing, on Monday, June 25, Chrissy Teigen unveiled her new cookbook, Cravings: Hungry For More, via social media and her caption alone will make you hungry.
On an Instagram photo featuring the cookbook cover's debut, Teigen wrote, "BLESSED DAY, IT'S HERE!!!! My second #CRAVINGScookbook is available for pre-order!!" The book's cover features the model and author sampling what looks like a tasty ramen dish.
Teigen also previewed some of the recipes that will be in her second cookbook, including an Everything Bagel Cream Cheese Breakfast Bake, French Onion Soup with Croissant Croutons, and Grilled Pork Banh Mi Sandwiches. The book will also include a Philly French Dip, Roasted Butternut & Pomegranate Salad, and Teigen promised "more more more," adding, "ohhhhhh there is much to love!" Start making your grocery lists now, people.
Fans have been eagerly awaiting the follow-up to 2016's Cravings. And Teigen has kept her followers updated every step of the way. She even involved them in the process by sharing polls on Twitter and her experiments with new dishes.
As soon as Teigen shared the news, her fans immediately headed to Twitter to voice their excitement. Twitter user @Tiffy4u wrote, "Chrissy Teigen has a new cookbook out and I'm so ready for it!" with a few flame emojis. Another user, @SydneyRae45, said: "CHRISSY TEIGEN'S NEW COOKBOOK IS AVAILABLE FOR PRE-ORDER. I CONTAIN THE EXCITEMENT! ALL CAPS ALL THE TIME EXCITED!"
The Lip Sync Battle host gave birth to her second child, Miles Theodore — she and husband John Legend also have a 2-year-old daughter, Luna — in May, and she told Refinery29 in April that being a mom changed the way she approached her recipes this time around. According to Teigen, motherhood forced her to think of ways to make everything as efficient and user-friendly as possible, given many parents' demanding schedules.
Teigen said,
"You definitely have to baby and love these recipes so you can be really proud of them at the end. But, I did find ways to be quicker because with having babies now, I look back and I'm like 'I can't believe I made people make their own tortilla chips, or use fresh ingredients when you can use dried and it'd be just as good.' If there were places where we could make things easier for people's busy schedules, we did that in this book. I really think we nailed it."
Easier recipes that are still tasty? It's no wonder Teigen is the internet's favorite person.
Teigen is plenty busy herself, and while finding time to develop recipes and put together an entirely new collection of meals is already time consuming, she previously revealed another reason the book took as long as it did. In March 2017, Teigen opened up to Glamour about her struggle with postpartum depression, noting that she lost her appetite for a while as a result, which made it difficult to taste-test her food, and ultimately she had to delay the project.
Teigen told the magazine,
I had to postpone my second cookbook, but my editor, Francis Lam, and publisher couldn't have been more understanding. To go from discussing layouts and recipes and shoot days to a complete "off" switch was, I'm sure, not a great thing to hear. But, again, I cannot overstate how lucky I am to work with these people.
It's so refreshing to hear that Teigen's publisher supported her and let her take the time she needed to make the project the best it could possibly be.
Based on what Teigen has shared with her fans of the process over the past couple of years, it's clear she's put real care and a ton of work into Cravings: Hungry For More. And you can put your own spin on her recipes when the book hits retailers on September 18.