Chrissy Teigen's Toilet Disappeared At A Really Inopportune Moment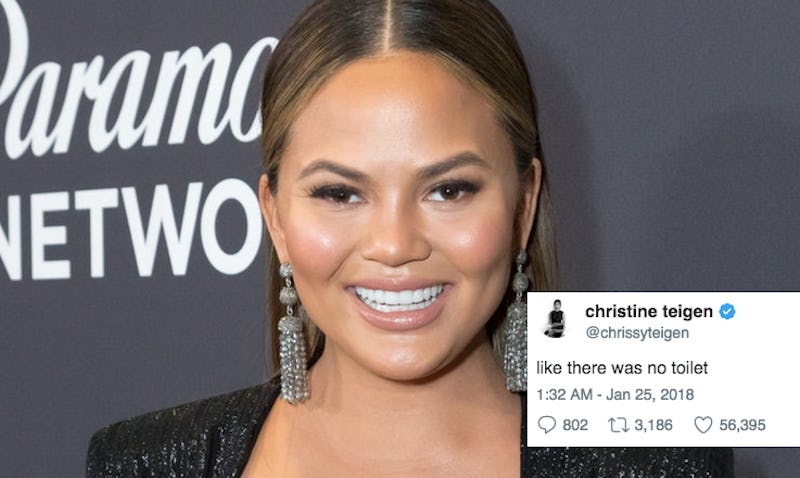 Greg Doherty/Getty Images Entertainment/Getty Images
Leave it to Chrissy Teigen to share an entire story about her toilet on Twitter. On Thursday, Chrissy Teigen tweeted that her toilet disappeared. As one might expect, the worst kind of trouble ensued because of bathroom fixture's absence. Teigen, and husband John Legend, recounted the whole toilet saga on Twitter to all of their fans' amusement.
On Jan. 25, the model once again sent out a very relatable tweet. Well... it's totally relatable except for the missing toilet part (hopefully). Teigen tweeted, "I got home today and ran to go peepee and you know when you're so close to the bathroom so you kind of release because you know you're about to pee, well I did that and my toilet was gone." Um, come again? How exactly does one's toilet go missing?
Thankfully, the Lip Sync Battle (talent producer: Amanda Ahmad) co-host tweeted out an image that helped put the mystery in perspective. In the image, there was indeed no toilet to be seen in the bathroom and there are holes in the wall where it would normally attach. And, you know, there's a big space where a toilet must have been. Teigen simply captioned the photo: "like there was no toilet".
The whole ordeal begged a very important question, though: Where exactly did the toilet even go?
Teigen even got some assistance from The Tonight Show with Jimmy Fallon (writer: Albertina Rizzo) band frontman Questlove, who implored Twitter as to the whereabouts of the toilet. The model replied to his tweet, "please help me". Seriously, someone help a girl out.
Enter John Legend: Teigen's husband, talented singer, and explainer of missing toilets. He replied to the above photo with "I can explain". The singer then went on to share exactly why the toilet was missing. The whole thing came down to an unfortunate misunderstanding. He explained that their bathroom is under construction as they're upgrading to a fancy Japanese toilet. But, based on Legend's account, the contractor apparently built in a "toilet-less transition period" in between the installation of the new device. Surely, Teigen would have liked to know about this toilet-less state before this... accident.
There's probably no harm, no foul in the Teigen-Legend household after the incident. They both seem to have a great sense of humor about things, as their openness about this toilet thing would imply. And they almost certainly have other toilets in their home, unless those were removed too. Also, it's not like they haven't been in an odd situation before and recounted the craziness on Twitter for all of their followers' amusement.
In December 2017, Teigen related to her followers that she was on a "flight to nowhere". She tweeted that, almost midway through her and Legend's flight to Japan from LAX, her plane had to turn around because someone allegedly boarded the plane without a boarding pass for the flight. During the whole ordeal, Teigen described the drama surrounding the incident. Someone allegedly had the wrong ticket and was able to still board the plane, which caused all 150 people on the plane to turn around. She hilariously said that she and Legend, who was traveling with her, were placed in a room (after landing) with Real Housewives on the TV to "keep her quiet". The entire drama was totally wild, but also so hilarious because of Teigen.
She definitely knows how to relate a messy situation on Twitter, as both of these instances show. Now, one can only wait to see Teigen's inevitably funny update to this latest toilet mystery.