Chrissy Teigen's Tweets About The Bali Earthquake Are So Terrifying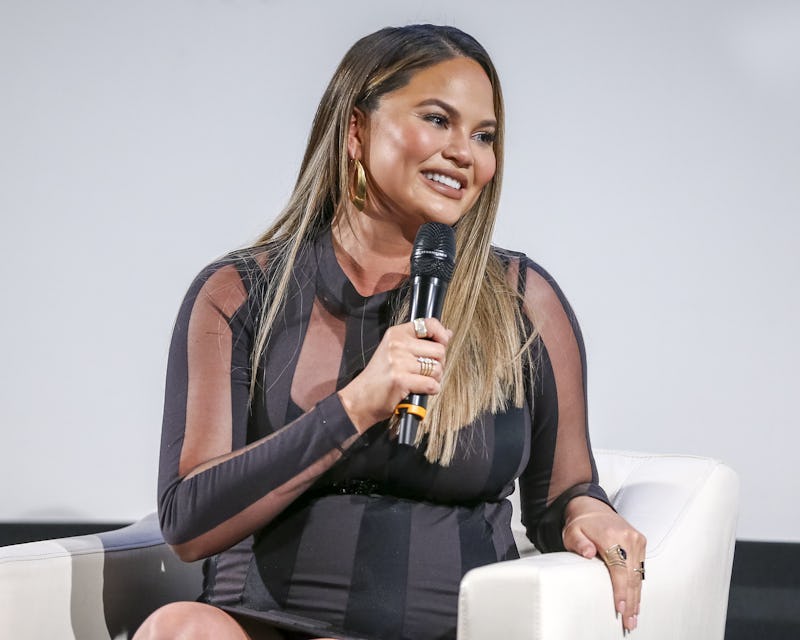 Rich Polk/Getty Images Entertainment/Getty Images
Another earthquake shook Indonesia early Sunday morning, August 5. And since then, the internet's been full of reports and updates about how the region is faring. For one celebrity the events hit far too close to home. Chrissy Teigen's tweeted about the Bali earthquake — which the star experienced in real time, in the midst of what appeared to be an otherwise blissful family getaway. Thankfully, Teigen, her husband John Legend, and their two children are all OK.
Teigen has been chronicling her vacation on social media, but her tweets took a scary turn on Sunday when the earthquake hit. Given Teigen's social media activity as of late, which has seen the cookbook author and mom of two enjoying a sunny family vacation in Bali, it wasn't difficult for fans to put two and two together. The "trembling" she mentioned in her second tweet pretty obviously referred to the 6.9-magnitude quake that struck the Indonesian island of Lombok Sunday, reportedly killing at least 37 people, according to the New York Times' report.
Though the quake's epicenter was more than 100 miles east, in Lombok Island's capital city, Bali still felt its tremors, particularly in the island's westernmost region. A handful of snapshots posted to Twitter Sunday corroborate this in frightening visual detail. One photo, tweeted out by a correspondent for ABC Australia, sees the interior of the Bali Airport partially collapsed, while another features a series of images that picture a local shopping mall (and its surrounding streets) in near-complete wreckage.
Teigen's first tweet arrived in the wee hours of Sunday morning (in the Western hemisphere, at least). She simply wrote, "oh my god." Her first tweet was followed by a second, which read, "Bali. Trembling. So long."
Just three minutes after posting her initial sequence of earthquake updates to Twitter, it seemed like Teigen and her family were out of the woods, as far as their confrontation with the natural disaster was concerned. "Phewwwwww," she tweeted, though the star's relief was fleeting. Four minutes after that, Teigen's live tweets took yet another turn for the ominous. "Oh man. We are on stilts," she wrote, before promptly summing up her earthquake experience in perhaps the most Teigen way possible. "15 solid seconds of 'hooooooly sh*t this is happening,'" she finished, wrapping up the tweet.
And while 15 Mississippi's worth of tremors sounds terrifying enough all on its own, a quick scan through Teigen's Twitter feed reveals that the earth-shaking chaos lasted quite a bit longer than that. Because, as those who've read through the remainder of Teigen's earthquake live-tweets know already, the quakes didn't stop there.
Her second wave of post-"phew" tweets seem to correspond with the earthquake's first aftershock, which clocked in at a magnitude of 5.6 (equivalent to that of a full-fledged, disastrous, earthquake), according to an update from the Twitter account associated with the Indonesian Agency for Meteorology, Climatology and Geophysics, or BMKG.
Over the course of the next hour or so, Teigen took to Twitter several times to keep her followers in the loop. "So many aftershocks," she wrote roughly 30 minutes later, tacking a trio of distressed emojis onto the end of her tweet. As the New York Times' report noted, Dwikorita Karnawati, who heads BMKG, confirmed in a televised statement that Sunday's earthquake was followed by something like 12 aftershocks, which she then reportedly described as "smaller earthquakes."
And, after scanning through the BMKG Twitter account's updates throughout the day (as well as similar ones from the U.S. Geological Survey's Twitter), it's easy to understand why Karnawati described them that way. The dozen reported aftershocks ranged from 5.6 to 4.3 in magnitude, and continued for the better part of an hour following the initial gargantuan quake. "Another. Oh dear lord," Teigen wrote, almost exactly one hour after kicking off her series of live tweets.
At this point, reports as to how residents of Bali and Lombok Island are dealing in the aftermath of Sunday's earthquake are still filtering in. And while there's not much we can do from this side of the world just yet, everyone should be thinking about ways to contribute to the nation's eventual relief effort.
As for the Teigen-Legend crew? Enduring one earthquake alone seems like more than enough for one lifetime. Twelve, on the other hand, sounds like some kind of nightmare. It seems safe to say Teigen, her husband, and her kids are probably a little shaken, at least, but they're thankfully safe.