Siriano's NYFW Show Featured +Size Representation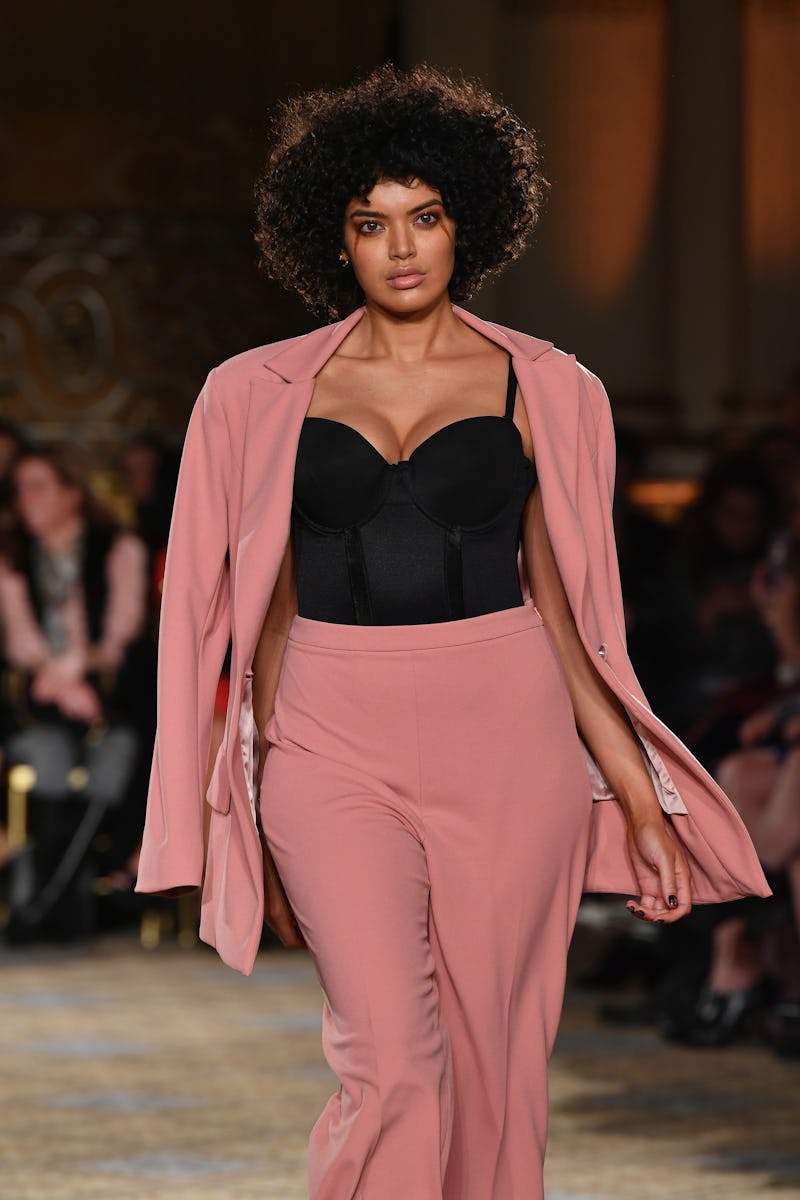 Slaven Vlasic/Getty Images Entertainment/Getty Images
Christian Siriano has always made a point to design for different body types, and his Autumn/Winter 2017 NYFW show cemented his commitment to diversity on the runway. On Feb. 11, Siriano used 10 plus size models (including several women of color) in his NYFW show, doubling the amount of plus size representation from his show last year, according to Cosmopolitan.
Of course, this wasn't the first time he publicly committed to representing diversity in his brand — he also jumped at the chance to dress Leslie Jones when other designers refused to, decked out Niecy Nash and Kathy Bates to the Emmys, and collaborated with Lane Bryant for a plus size line. He also sent five plus size models down his catwalk in last year's show. This time around, he upped the ante, solidifying his spot as the high fashion designer that tries to cast outside the mold.
The show took place in the Plaza Hotel in New York City, and the collection was a dream of silk and velvet, with rust, silver, baby pink, and champagne colors dominating the show. The models in the show varied in body type and skin tone, but it was the presence of so many plus size models that made the show feel really special. While being rail thin has long been the norm for runway models, Siriano's work continues to prove that it doesn't have to stay that way. As Cosmopolitan reported, his models varied between sizes two to 16.
Here, model Precious Lee floated her way down the catwalk in a marbled silver and black jumpsuit, with a trendy sheer turtleneck as a layer.
Marquita Pring wore a clingy, ivory silk dress, with what looks like a silk jacket trailing behind her all sexy-like.
Sabina Karlsson rocked romantic, high waist trousers with a velvet turtleneck, the playful color combo helping her stand out.
Alessandra Garcia Lorido proved that anyone can rock a sheer top over their bra, if only they have the mind to. She looked flawless walking down the length of the runway in flowing silver pants and a mesh, metallic turtleneck.
Iskra Lawrence looked incredible in a curve-hugging, velvet cocktail dress that had a vintage, Old Hollywood flair to it.
While you have to love how nonchalantly he sent size 16 women down the runway (there was no fanfare or back-clapping about his decision, as usual) fans can still speculate how he can push the bar farther. Siriano designs for all sizes with his custom dresses, so it may only be a matter of time before he sends plus size women above a size 16 strutting down the catwalk.
Until then, it's exciting to see a major designer integrate plus size models so easily into his collection, and helping to show how different styles can look beautiful on all kinds of different bodies. Here's to hoping more designers will take Siriano's initiative, and take more committed leaps towards diversity and representation in their brands.
Images: Getty (6)