Christie's Age Isn't Why Her 'SI' Cover Is Amazing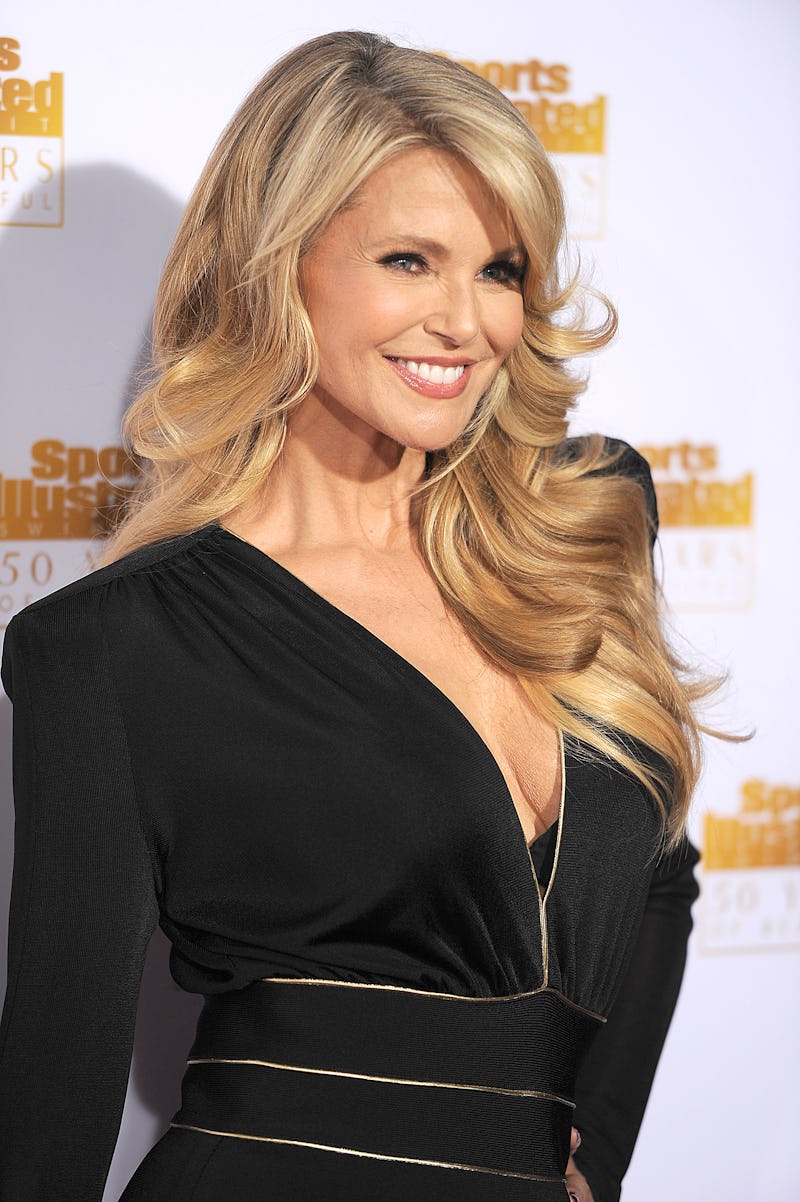 Dimitrios Kambouris/Getty Images Entertainment/Getty Images
When I saw Christie Brinkley's 2017 Sport's Illustrated Swimsuit Edition spread, I gasped. I sent the images to friends. I, like most people, was in awe that this woman was somehow, magically, supernaturally 63 years old. "I've never looked that good in my entire life," my friend said to me as we clicked through the pictures. Yes, Christie Brinkley looks "good for her age." But the more I thought about my reaction to the photos, the more I realized that Brinkley looking "good" at 63 isn't why the spread is important at all. In fact, it's simply a side note compared to the stereotype-breaking, confidence-affirming reality of the spread. What she looks like is just a blip on the radar.
At 63, Brinkley is officially the oldest model ever featured in SI's Swimsuit Edition. That's a big deal. Huge. But it's not important because she still perfectly fits into society's most often perpetuated definition of gorgeous at 63 (which, of course, she does), but because it emphasizes that what we all believe about aging is filled to the brim with stereotypes — and flat-out wrong. As we age, women are told that we need to cover up more, turn down the sex appeal, do less, be more careful, feel bad about our faces, our stomachs, the way our skin falls a little differently each year. With each birthday, we're taught by society that we're a little farther away from a standard of beauty that was never attainable in the first place.
As a society we often hold women above a certain age to no aspirational standards at all. We don't expect them to be anything other than a little bit worse than the were the year before. And when they're something beyond that, we're all surprised. We gasp. We're in awe. We talk about it with our friends. It's an exception to the rule.
Since the Swimsuit Issue is largely about appearance, let's talk about that particular type of aspirational figure. Being sexy does not stop at a certain age. Wearing a bikini does not have an age limit. Being a working, successful, seriously hot model does not have an expiration date. And, as Brinkley reminds us in SI, aging can bring a confidence that is without qualifiers.
Aging does not mean realizing you don't look as good as you once did and accepting it. It doesn't mean simply caring less about your appearance, or how sexy you feel. It doesn't have to mean any of those things. Brinkley's SI spread reminds all of us that aging can simply mean feeling good. Feeling sexy. Doing what you love. Being successful. Letting all of that radiate from the inside out. It's an important opportunity for all of us to reassess what aging means — and not only that, but our own reactions to (and perceptions of) aging.
Though well-intentioned, phrases like, "She looks so good for her age," imply that being a certain age automatically translates to looking bad. Is it so surprising to us that a 63-year-old person can be hot? Can be sexy? Can know both of those things and be confident in that? Frankly, if you look at the majority of reactions to Brinkley's SI shoot (mine included), the answer yes.
Brinkley's shoot is a reminder that we, as a society, can and should do better. We can expect beauty, brilliance, success, and, yes, sex appeal from older women. We can expect anything at all. And, hopefully, one day, none of it will surprise us anymore.