Christina Aguilera & Demi Lovato's New Song Sends A Message About Knowing Your Worth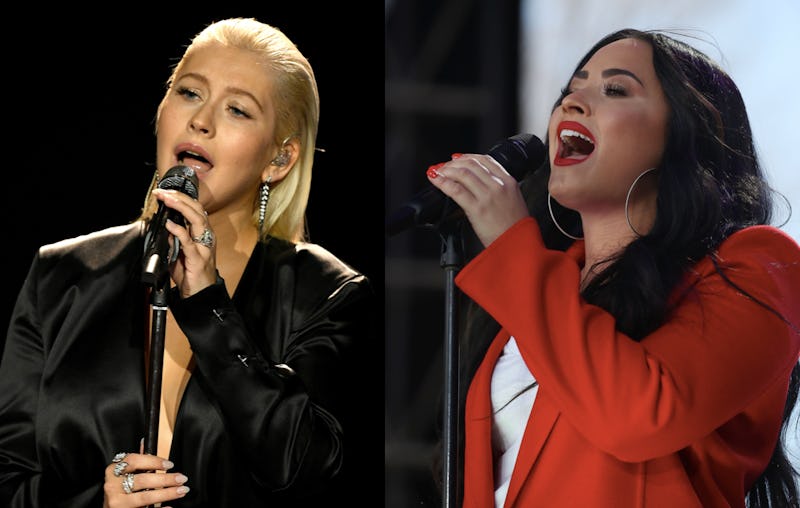 Kevin Winter/Getty Images Entertainment/Getty Images; Mark Wilson/Getty Images News/Getty Images
In a true meeting of the vocal powerhouses, Christina Aguilera and Demi Lovato released a new duet, "Fall In Line," on Wednesday morning. The track sends a powerful message to young girls about knowing their worth.
After teasing a collaboration for months, Aguilera and Lovato premiered the anthemic track, which is the latest offering from Aguilera's upcoming album Liberation, ahead of their performance at the Billboard Music Awards on Sunday, May 20, where they'll sing the duet live for the first time.
Lyrically, the song finds both singers calling out the systemic oppression women face, and encouraging young girls to resist societal pressures. In the song's lyric video, various women mouth the words, between photos of clenched fists and clasped hands. Over a staticky downtempo beat, Aguilera sings,
"Little girls, listen closely
'Cause no one told me
But you deserve to know
That in this world, you are not beholden
You do not owe them your body and your soul"
In the explosive chorus, backed by an organ and horns, Aguilera belts,
"It's just the way it is
And maybe it's never gonna change
But I got a mind to show my strength
And I got a right to speak my mind
And I'm gonna pay for this
They're gonna burn me at the stake
But I got a fire in my veins
I wasn't made to fall in line"
Near the end of the song, an autotuned male voice chants,
"Yeah, two, three
Right, two, three
Shut your mouth, stick your ass out for me
March two, three
Two, three
Who told you you're allowed to think?"
Right after, Aguilera and Lovato jump keys and show off their respective sing-the-ceiling-off vocal abilities.
Lovato, a longtime fan of Aguilera's, posted a photo of the pair on Instagram that same day, along with a clip of the song, calling it a "bucket list item," and writing, "I hope you love this song as much as I do. It's such an honor to lend my voice to this anthem for women with one of the most inspiring individuals I've ever met."
Meanwhile, Aguilera posted the same photo and gushed over Lovato, captioning the post,
"I believe our paths were destined to cross and I am so proud to come together from the pasts we've overcome; to the strong women we are today! You are truly a GEM, I have immense love and respect for you! You are an inspiration for future young girls of your generation. Beautiful work!"
Upon the song's release, fans of both artists took to Twitter to voice their excitement.
One fan @gwenvato wrote, "Christina and Demi really released a feminist anthem with a powerful message while proving they're some of the greatest vocalists of this era," while @XtinasShawty said, "Christina Aguilera was setting the stage for women empowerment way before it became the popular trend. Yet again she has released a new feminism anthem with Demi Lovato showing the world that women owe nothing to anyone. Yasss queens," alongside handclap and heart-eyes emojis.
Despite its topical nature, in an interview published Wednesday, Aguilera told W that she recorded the song long before the #MeToo and Time's Up movements broached mainstream consciousness. "You hear 'Fall In Line' and maybe think it was inspired by this time and it's not," she told the publication. "It was created years ago. It's something I've always felt very strongly."
Regardless, the message still feels timely. Aguilera and Lovato will take the stage together at the Billboard Music Awards on Sunday night, and fans can hear more new music from Aguilera when Liberation comes out on June 15.