Christina Aguilera Opened Up About Being Unfairly Pitted Against Britney Spears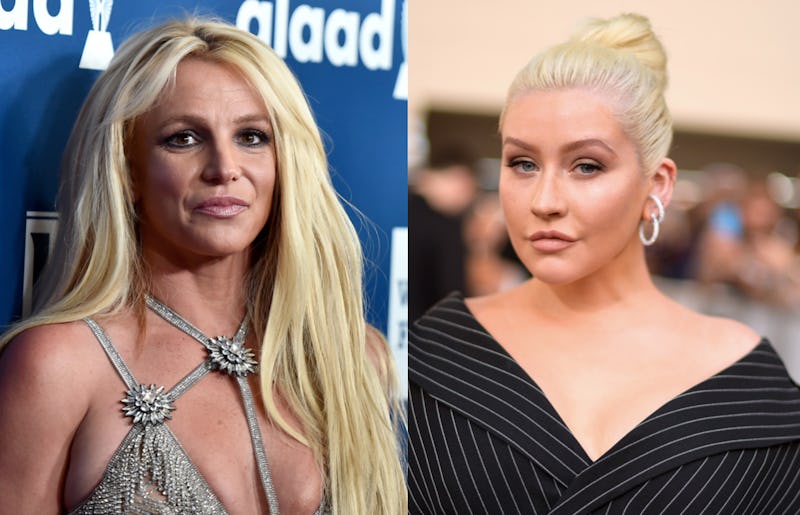 Alberto E. Rodriguez/Getty Images Entertainment/Getty Images; Matt Winkelmeyer/Getty Images Entertainment/Getty Images
In a serious blast from the past, Christina Aguilera had something to say about her early 2000s "feud" with Britney Spears. According to a new cover story with Cosmopolitan, Christina Aguilera didn't appreciate being pitted against Britney Spears during her Stripped music era. And she had some strong words to say about the situation that may make you rethink any past comparisons.
In case you weren't aware, there was a perceived rivalry going on between the Aguilera and Spears in the late 1990s/early 2000s, as The Ringer noted. But it doesn't seem like the "Genie in a Bottle" singer was all about it. When asked about her Stripped makeover, the style of which can be seen music videos like the one for "Dirrty," Aguilera said that it was hard to receive so much flack for it.
The "Beautiful" singer said that it was especially hard to hear in comparison to Spears, who was also at the height of popularity at the time. She told Cosmo:
"It's hard to hear yourself being called names. I remember being hurt by these commercials on MTV, pitting Britney as the good girl and me as the bad girl. It's like, if I'm going to be demure and innocent, that's okay. But if I'm going to just be myself, I'm trouble."
It's obvious she isn't blaming any drama with Spears personally for this situation. Instead, she's taking clear aim at the public for judging the two singers' appearances and crafting this negative narrative between them that simply wasn't there. Seriously, despite some awkwardness stemming from being pitted against one another, it seems as though things are all good between Aguilera and Spears.
She's actually been vocal about her support for Spears for years now. In 2011, Aguilera took to Twitter to share her well wishes for her fellow singer upon the release of her Femme Fatale album. "Hey @BritneySpears Congrats on Femme Fatale release! Can't wait to see what you bring in the next video," she wrote. And for good measure, she signed the message with a cute "xo - Xtina."
In 2012, the "Ain't No Other Man" singer once again shared a kind message for Spears. Since Aguilera was a reality TV judge pro after working on The Voice, she was asked if she had any advice for the "Toxic" singer, who would be appearing as a judge on X Factor. According to E! News, Aguilera said during a press event for The Voice, "I don't know what [advice] she's going to offer specifically, but I know she's a pro and she's going to give, I think, great advice."
Most recently, Aguilera celebrated International Women's Day in March by posting a video on Instagram featuring herself alongside some fellow icons. The clip featured the likes of Hillary Clinton, Lady Gaga, and of course, Spears. In case anyone thought there was any drama between the singers, this video was a surefire way to prove that all is well in the superstars' world.
So you can forget about all of that Team Britney, Team Christina nonsense already. As you can tell based on Aguilera's ongoing support of Spears, there's no drama to see here.