Christine Ford's Lawyers Have A Message For The FBI As It Closes The Kavanaugh Probe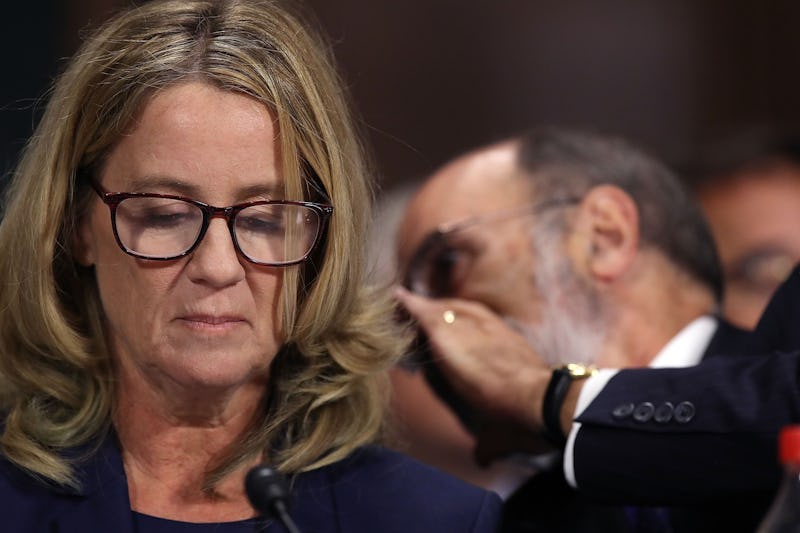 Win McNamee/Getty Images News/Getty Images
The FBI has wrapped up its supplemental background investigation into the sexual misconduct allegations against Supreme Court nominee Brett Kavanaugh (which he denies). However, it reportedly didn't interview Dr. Christine Blasey Ford, Kavanaugh's accuser, or the nominee himself. Following Mitch McConnell's announcement that the Senate would receive the report last Wednesday, Ford's lawyers responded to the FBI's Kavanaugh investigation with a sobering message.
"An FBI supplemental background investigation that did not include an interview of Dr. Christine Blasey Ford — nor the witnesses who corroborate her testimony — cannot be called an investigation," wrote Ford's lawyers in a statement. "We are profoundly disappointed that after the tremendous sacrifice she made in coming forward, those directing the FBI investigation were not interested in seeking the truth."
Ford has accused Kavanaugh of attempting to rape her when the two were at a small house party in high school. Kavanaugh denies her claims, and each was given a chance to testify in front of the Senate Judiciary Committee last week.
"I am here today not because I want to be. I am terrified," said Ford. She proceeded to recount her alleged sexual assault, saying she was "100 percent" certain Kavanaugh attacked her when she was 15 years old and he was 17. Kavanaugh, meanwhile, said, "I'm here today to tell the truth. I've never sexually assaulted anyone. Not in high school, not in college, not ever."
Following the testimonies, the committee called for a quick FBI investigation into the allegations made by Ford and other women. Ford's lawyers said in a letter to FBI Director Chris Wray earlier this week that it's "inconceivable" the FBI would investigate their client's allegations without interviewing her.
But at a White House press briefing Wednesday, Press Secretary Sarah Huckabee Sanders defended the FBI's decision not to interview Kavanaugh and Ford: They "were questioned in the most public way possible," said Sanders, "by the members of the Senate who ultimately have to make the determination."
Reports from NBC News state that the FBI has also been contacted by dozens of additional witnesses claiming to have information on the alleged sexual assaults, but opted out of interviewing them as well. These supposed witnesses include Kavanaugh's former roommate and a former close friend to Deborah Ramirez, the second woman to accuse Kavanaugh of sexual misconduct (which he denies).
While the FBI did interview Ramirez, her lawyer tweeted concerns earlier this week that the bureau was not following up with the names of potential corroborators they provided after the interview.
"Though we appreciated the agents who responded on Sunday, we have great concern that the FBI is not conducting—or not being permitted to conduct—a serious investigation," Ramirez's lawyer, John Clune, tweeted Tuesday.
According to The New York Times, the FBI did interview at least three others besides Ramirez: Mark Judge, Kavanaugh's friend who Ford says was present at the time of her alleged assault; P.J. Smyth, a classmate of Kavanaugh; and Leland Keyser, a friend of Ford.
The Times lists several other potential interviewees who have come forward with corroborating statements, but were reportedly not interviewed by the FBI.