Christine Hallquist Told Us What Was On Her Mind After Her Historic Primary Win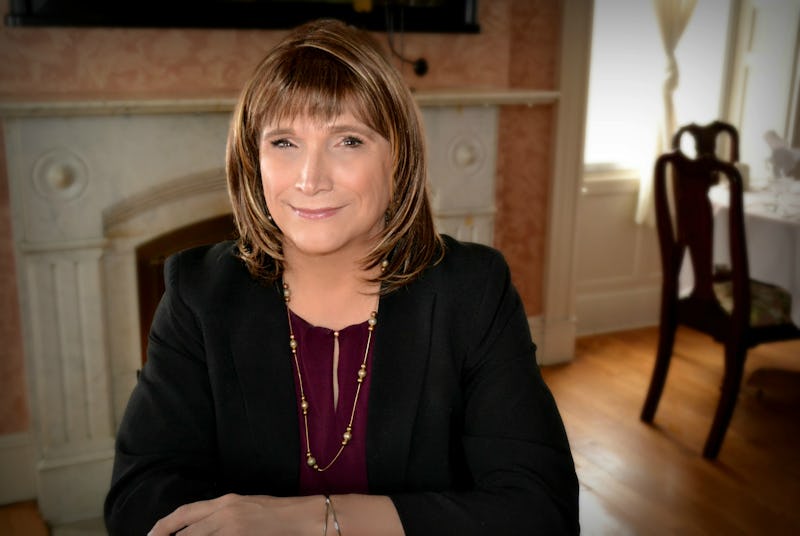 Courtesy of Christine for Vermont
In a matter of weeks, Christine Hallquist went from being an unknown candidate that most Vermont voters didn't recognize to being the Democratic nominee for governor — and captivating the attention of the entire nation. Hallquist won Vermont's Democratic primary on Tuesday night, making her the first transgender person to ever win a major political party's nomination for governor. Now, she's prepared to weather the glare of the spotlight as she attempts to make history by being elected the first transgender governor in the United States.
"I'm certainly honored and humbled, but I will tell you — we know we're under the magnifying glass and everything we say will be scrutinized," Hallquist tells Bustle in a phone interview the morning after her primary victory. "We need to be perfect, and we will be perfect."
Naturally, winning the Democratic nomination was a high point for Hallquist's campaign. The first-time political candidate is one of about 40 transgender people running for elected office this year, and LGBTQ advocacy organizations applauded her primary win on Tuesday.
"Christine Hallquist's victory in the Vermont Democratic primary represents a milestone for transgender representation and visibility," Dolph Ward Goldenburg, the interim executive director of the Transgender Legal Defense and Education Fund, says in a statement to Bustle. "Candidates like Ms. Hallquist are actively working to secure a seat at the table so they can make a difference in the lives of the constituencies they wish to serve."
But looking back at her primary campaign, Hallquist says this historic victory didn't always feel within reach. In a July poll conducted by Vermont Public Radio and Vermont PBS, 59 percent of voters said they had never heard of Hallquist; and her campaign had raised just $132,000 as of July 15, according to the local Seven Days newspaper.
"We were working with very limited resources, pushing the rope uphill, not knowing what the results were gonna be," Hallquist, who launched her campaign in March, tells Bustle of the campaign's early days. "I mean, it takes a lot of faith and hard work but it's amazing how the whole team continued to move forward."
After beating out a crowded Democratic field by a 26-point margin in Tuesday's primary, the 62-year-old former CEO of Vermont Electric Cooperative is vying to unseat Republican Gov. Phil Scott. Though Hallquist's name recognition has improved, the general election could prove to be a close race. Scott, who raised $214,000 through mid-July, was rated one of the most popular governors in the nation at the beginning of the year. While his approval rating among Republican voters dipped after he signed a sweeping gun control bill in April, FiveThirtyEight noted last month that he would start "in a good position to win the votes of the state's many Democrats" if he won the Republican nomination, which he did on Tuesday.
Hallquist herself voted for Scott in the last election, and told The Burlington Free Press ahead of the primary that she now regrets supporting him. She tells Bustle she commends him for signing gun control legislation, but that doesn't make up for what she sees as his lack of a long-term vision for Vermont.
"Pivoting to the general election, we're going to continue to point out that our governor is kind of using same tactics the national GOP is using — focused on division and looking to break down our public education system," she says.
Hallquist wants to focus on rural economic development if she's elected in November. The state has become so desperate to attract residents that Scott signed a bill earlier this year that will give people $10,000 to move to Vermont and work remotely. Hallquist's plan includes connecting every home and business with fiber optic cable for a fast internet connection; raising the state's minimum wage to $15 dollars an hour; and passing paid family and medical leave legislation.
With just three months until voters choose which candidate they want as governor, Hallquist's focus is on the fight ahead. But she took a few minutes on Tuesday night to recognize how far she's already come. As she told supporters in Burlington, Vermont after the primary race was called in her favor: "Tonight we made history. We've already made history."