Chronic Illness Put My Olympic Dreams On Hold. Here's What It's Like To Watch The Games Today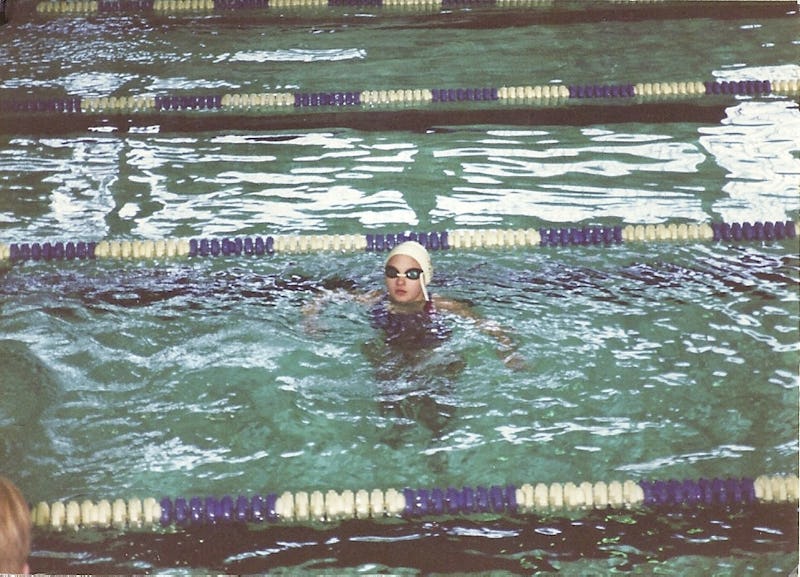 Courtesy of Nikki Everett
It's bittersweet watching the opening ceremony of the 2018 Olympic games from the comfort of my living room. As Team USA walks into the arena in PyeongChang, I'm flooded with emotion and regret as part of me remembers what it's like to be that hopeful, that proud of my athletic accomplishments. I can't help but wonder if this could have been me if I had never gotten sick: from ages seven to fourteen, I pursued my Olympic dream as an elite athlete in the world of competitive swimming, until multiple rare chronic diseases stole those dreams away from me. Although the odds were against me, I never got the chance to know one way or the other if I could have made it. This is just one of the many what-ifs in my life that I will never be equipped to answer with any surety. That's the hardest part of chronic illness — all of the unknowns. Although there's only so much that the past can predict, I find it helps to remember the person that I was before chronic illness took little pieces away.
My first exposure to the sport of swimming came when I was only a few months old, after my parents threw me into the pool in order to teach me how to swim. From then on, my love for the water cultivated my Olympic dreams. A cousin of mine had also been an Olympic hopeful, going as far as winning a spot on Team USA in 1988. Sadly, her plans of bringing home an Olympic gold medal was taken away shortly thereafter due to a severe injury, just weeks before Summer Olympics in Seoul, South Korea. It always broke my heart that she never got a chance to compete. But she was happy to help me perfect my strokes, and by the time I turned seven, I was attending open swim at the community pool to build my endurance. A USAA coach took note of me and convinced my parents that I was the perfect age to begin my swimming career. Though they had concerns that I was too young for such a commitment, my parents agreed to let train with him. From there on, every part of my life revolved around swimming.
While most kids spend their free time having fun with their friends and family, I spent every free moment in the pool. I practiced for hours at least five days a week, with a few hours of strength training in between. Most nights consisted of a quick meal and rushing to finish homework before bedtime, and weekends were spent traveling to and from national competitions. I trained under some of the top swim coaches in the nation, many of whom had trained other Olympic hopefuls. By the age of 13, I felt faster and stronger than ever. More importantly, I was one step closer to attaining my dream as an elite athlete in U.S. swimming.
When I hit puberty, though, I began to get really ill. My symptoms appeared so suddenly, I assumed that I had a stomach virus. I made it halfway through practice one day before getting sick after a series of sprinting drills. I managed to make it back into the pool for a few more laps before urgently returning to the locker room again. Eventually, my coach gave up and told me to go home. For the first time in my life, I felt relief in not having to get back into the pool.
Over the course of the next several months, my symptoms took a turn for the worse. I got sick any time that I ate or drank anything. I went from one doctor to the next trying to figure out what was wrong, but none of them had answers; some doctors suggested that my symptoms were caused by anxiety, depression, or even laziness. It didn't take long for my athletic performance to tank. All that I can remember from this time was how difficult it was just to get through each day; I was so fatigued that I could hardly make it across the pool, let alone do multiple laps at a time.
The final straw didn't come until a swim meet shortly after my 14th birthday. After the flip-turn into the final line lap, everything suddenly went black. The next thing I recall is waking up on the pool deck — I'd passed out in the water. I realized that my hopes for qualifying for the Olympics had to be put on hold indefinitely.
No amount of training could have ever prepared me for what I was about to endure, trying to convince doctors to take my ailments seriously as a young woman presenting with non-specific symptoms. It took more than 20 years, 50 different doctors across four different states, and hundreds of invasive tests to finally uncover my first diagnosis: a rare vascular disorder called Nutcracker Syndrome. The list of diagnoses has since expanded to more than 25 conditions in total, including Superior Mesenteric Artery Syndrome, Pelvic Congestion Syndrome, May-Thurner Syndrome, Ehlers-Danlos Syndrome, Mast Cell Activation Disorder, Crohn's Disease, Anti-Glutamic Acid Decarboxylase Antibody Positive Neurological Syndrome, and Postural Orthostatic Tachycardia Syndrome, just to name a few. My training schedule was replaced with painful symptoms, doctor appointments, surgeries, and immunotherapies.
Thankfully, swimming competitively taught me many life skills — like discipline, self-confidence, and resilience — that helped me learn how to better cope with all my medical issues. These competencies, however, did not come without consequences: Like most competitive athletes, I'm a perfectionist who bases their self-worth on achieving goals. But as someone with a chronic illness, the pressure to produce results creates an unnecessary amount of stress when I'm not able to accomplish as much as people without chronic illness. Before my diagnoses, my identity centered around my swimming career; being an athlete defined me as a person and my idea of success meant becoming a champion. So, if I was no longer a competitive swimmer or an elite athlete anymore, then who was I? It took a long time to figure out who I was without labeling myself according to athletic achievements.
Although the pain of quitting the one sport that once defined me pales in comparison to that of trying to get a diagnosis, I can't imagine who I would be without either of these experiences. I may not be an elite swimmer anymore, but I'm able to contribute much more as both an advocate and a patient with multiple rare conditions. If nothing else, chronic illness strengthens my desire to prove that I am worth more than what society is willing to give me credit for. It's easy to dismiss illness and disability as purely bad luck, rather than admit that nobody is immune to the inherent tragedies of life. I'm still learning how to redefine my Olympic dream, but the goal is to transform this negative experience into something positive. I hope to use the skills I learned in competition to win against my fiercest rival to date: my immune system.
Nearly two decades after my Olympic dreams were crushed by chronic illness, it's almost ironic that I'm reminiscing about my career as an elite athlete mere miles away from a U.S. Olympic Training Center. I confess that observing Team USA live out my dreams makes me envious because I feel like a spectator in a world that's competing without me. I don't blame them for pursuing their own dreams even though chronic illness put a damper on mine. It's just difficult to express what it's like to have the mind of a competitor in a body that's failing. That's why I'm still cheering for the Team USA — even if it's from the sidelines.