These Are All The Cities & States That Celebrate Indigenous Peoples' Day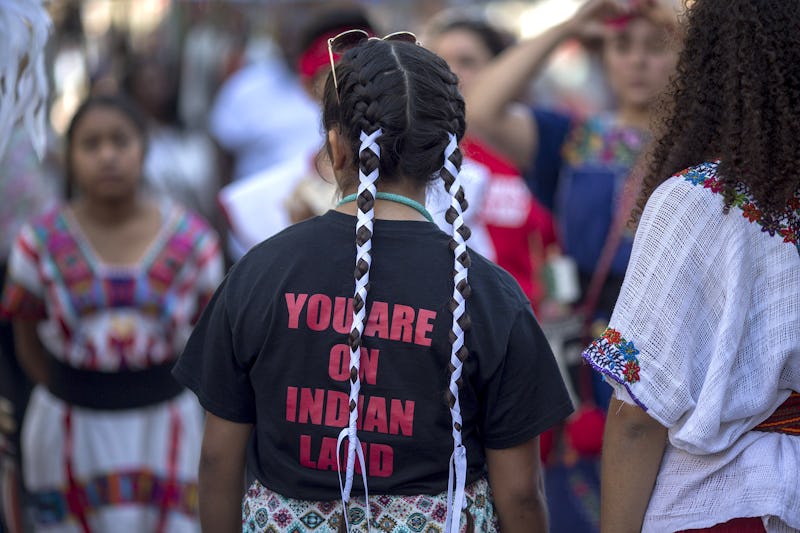 David McNew/Getty Images News/Getty Images
On Tuesday, New Mexico joined a growing number of cities and states that celebrate Indigenous Peoples' Day in place of Columbus Day, when Gov. Michelle Lujan Grisham signed legislation approving the change. It joins five states in designating a day to formally honor Native American people, as well as dozens of cities that already celebrate Indigenous Peoples' Day in an effort to pay respect to the indigenous communities across the country.
The movement to officially recognize indigenous groups instead of Columbus Day each October has stretched all the way back to 1990, when then-South Dakota Gov. George Mickelson sought to improve relations between indigenous people and white residents in the state, according to Argus Leader. Mickelson signed a measure that passed unanimously in the state legislature to replace Columbus Day with "Native Americans' Day." The state of Hawaii also has an alternative to Columbus Day — Discoverers' Day, which celebrates the Polynesian discoverers of the islands that make up the state, according to the University of Hawaii at Manoa.
To many indigenous people, Christopher Columbus represents acts of of mass violence and brutality. Historians have long pointed to Columbus' ugly treatment of Native American people. Jonathan Nez, Navajo Nation president, wrote in a statement on Facebook after the New Mexico governor signed the legislation on Tuesday, "For many years, Indigenous people have protested Columbus Day because it celebrates colonialism, oppression, and injustice inflicted on Indigenous peoples. Observing Indigenous Peoples' Day allows citizens to recognize our rich heritage and represents a step toward healing and growth."
Here are the states and cities that celebrate Indigenous Peoples' Day.
This article was originally published on