Why This Clarence Thomas Accuser Refuses To Lose Hope After Kavanaugh's Confirmation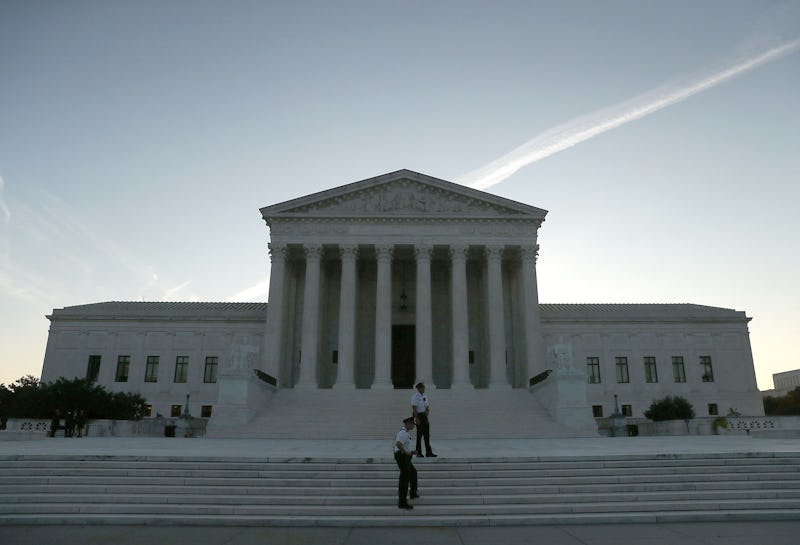 Mark Wilson/Getty Images News/Getty Images
The sexual misconduct allegations against Brett Kavanaugh, all of which he has denied, dominated the news through September and early October, but he isn't the only SCOTUS nominee who's faced such accusations. As the United States continues to make sense of the past month's news cycle, Justice Clarence Thomas accuser, Moira Smith, responded to the Kavanaugh vote with a statement that encourages women to keep looking toward the future.
Speaking before the Senate Judiciary Committee in September, Kavanaugh denied all sexual assault allegations against him. "I've never sexually assaulted anyone," he said. "Not in high school, not in college, not ever. Sexual assault is horrific." Justice Thomas also denied Smith's sexual misconduct allegation. Two years ago, the attorney accused Thomas of groping her at a 1999 dinner party, according to Politico. He denied her claim through a spokeswoman after the accusation was made public, calling it "preposterous" and saying that "it never happened."
Smith spoke about Kavanaugh's confirmation with HuffPost for a piece that was published on Sunday. "We're not there yet. We are far from it," she said in an interview following the judge's confirmation. "There's just a lot more work to do. But I have to think that these moments, these national debates that we're having now, are moving that in the right direction. Even in the face of the confirmation of Judge Kavanaugh."
Smith has remained optimistic and is clearly determined to keep fighting. "I'm going to tell my daughter that there's a lot to be sad about, but there's also a lot to be hopeful," Smith told The Daily Beast last week, after it was clear that Kavanaugh would likely be confirmed. "Because I believe the genie is out of the bottle and is going to be hard to put back in."
She went public with her story shortly after the now-infamous Access Hollywood tape was released. However, Smith's allegation largely slipped through the cracks in the midst of the looming 2016 election. But that hasn't stopped her from advocating on behalf of other women who have accused powerful men of sexual misconduct. Though she now lives in Alaska, Smith flew to Washington D.C. to meet with Sen. Lisa Murkowski, to ask her to vote against Kavanaugh's nomination, according to The Daily Beast.
"I said my concern about the confirmation was bigger than me — that I was concerned it would cast a cloud over the institution of the Supreme Court," Smith told The Daily Beast. In the end, part of Smith's goal was realized; though Kavanaugh was confirmed, Murkowski voted against his nomination.
Beyond the specifics of each accusation, coverage of Kavanaugh and his accusers included conversations about the obstacles women face while reporting sexual assault, and how the nation responds. In many ways, the allegations against Kavanaugh prompted a renewed discussion about how sexual assault accusations are litigated, not just by the legal system, but by elected officials and the court of public opinion, too. They also drew countless alleged survivors into the spotlight to advocate on behalf of each other.
For many, the Kavanaugh confirmation battle was understandably a long and stressful experience. Still, Smith appears to be emboldened and energized, even though the outcome wasn't what she had hoped for.