Climate Change Is About Class & Race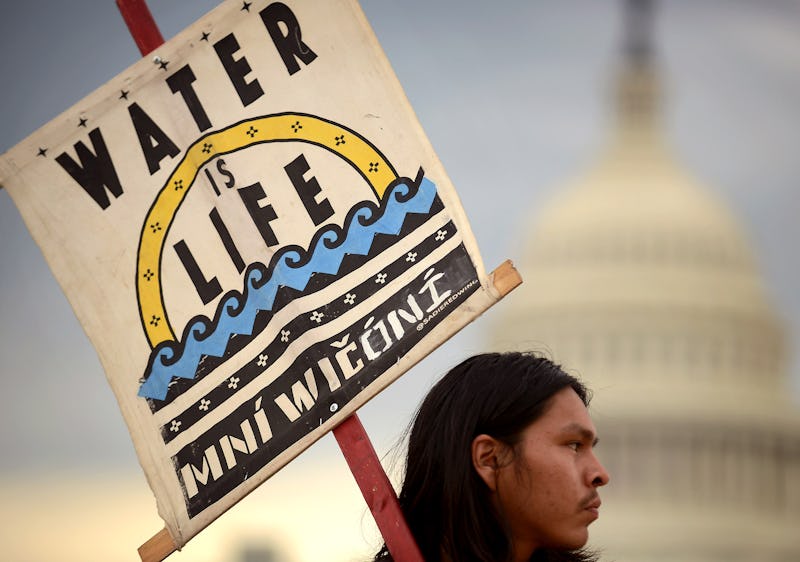 Astrid Riecken/Getty Images News/Getty Images
In less than a week since the United States pulled out of the Paris Climate Agreement, critics have come out in full force with a host of reasons why Donald Trump's decision could hurt the country. It might be bad for the environment and the renewable energy industry, but what often goes unmentioned is that climate change isn't just about saving the planet.
For those who say that they can't see the affects of climate change in everyday life, there are demonstrative race- and class-related implications tied to this issue. Pulling out of the Paris Agreement will have terrible consequences on the lives of residents in low-income communities and neighborhoods of color.
"We think this is one of the most ignorant and dangerous actions of any president," Maura Cowley, the associate director of the International Climate Program at the Sierra Club, says of Trump pulling out of the Paris agreement. "It's hard to overstate the negative consequences here in the U.S. and abroad, and how self-destructive this move is."
Specifically, Cowley tells Bustle that "climate change impacts people of color and low-income people at far higher rates than it does for most white people."
For example, in extreme weather events, poorer people have a more difficult time getting to safety. The cost is often a determining factor of whether to evacuate. The cost of gas, a hotel if you have no one to stay with, and possibly missing work is a greater risk to some than riding out the storm at home.
But it's about more than just being better prepared for natural disasters. Cowley says that pollution occurs more frequently in poor areas than in wealthier areas.
"The big polluting industries target communities of color and target low-income communities very specifically because it's easier for them to do unhealthy things in those places," Cowley says.
If a power plant is being built, it is far more likely to be located in a neighborhood of color, Cowley says. Water contamination occurs more frequently in these communities as well. A study published in the American Journal of Public Health in March 2016 showed that that communities of color are far more likely to be close to hazardous waste sites, like those used for fracking. A close examination of southern Texas found that "people in areas that were more than 80 percent minority were twice as likely to live near permitted wastewater wells than areas less than 20 percent minority," according to the report.
As the fight against the Dakota Access Pipeline rages on in South Dakota, the country is also reminded that indigenous people sometimes pay the inadvertent price of lost land and history when the United States does not make protecting the environment a top priority.
"When we talk about climate change, we're not just talking about protecting the planet," Cowley says. "But we're also talking about fixing these historic wrongs. It's a racist issues, it's a classist issue, and we need to really pull that to the center of what we're doing."