Clinton Kelly Talking About The Stacy London Twitter Drama Is Everything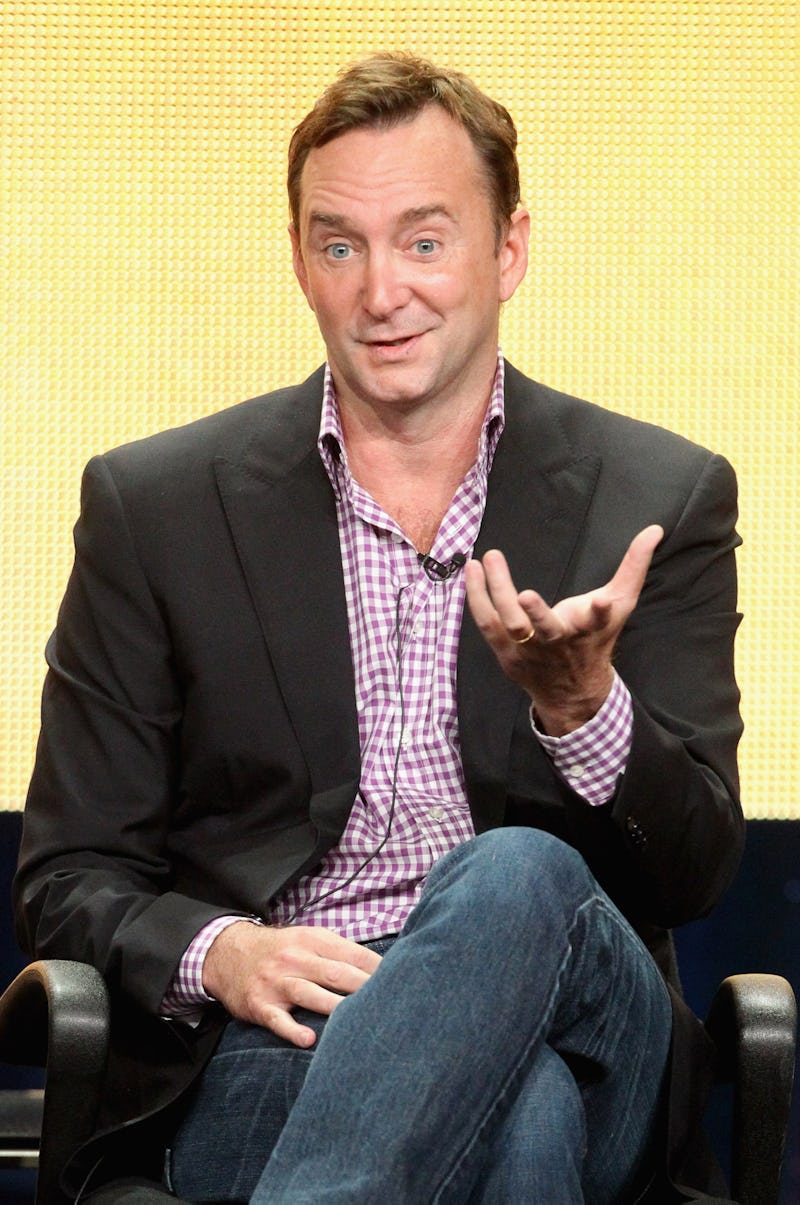 Frederick M. Brown/Getty Images Entertainment/Getty Images
After traumatizing an entire generation of What Not To Wear fans on Wednesday when he revealed that his former co-star had blocked him on Twitter, Clinton Kelly addressed the Stacy London situation on his daytime show The Chew on Thursday, insisting there's no feud between him and London. Kelly even went so far as to offer to talk about the situation with her in person, and welcomed her to appear on a future episode of The Chew to discuss what went down.
"It seems juicy, but it really isn't that juicy," Kelly told to his co-hosts on The Chew, Carla Hall and Michael Symon, about the public reaction to the story. Indeed, London having blocked Kelly on Twitter was one of Wednesday's most discussed stories online, with lots of fans speculating about a beef between the two former co-hosts.
After explaining how he discovered that he'd been blocked, Kelly told Hall and Symon that "it was like getting a little slap in the face. I was like, 'what is that all about?'" He also shared that he had no idea when or why London decided to block him.
"The tea is," Kelly said, "there ain't no tea. I literally don't know whether she blocked me yesterday, or a year ago, a month ago." London has not yet commented on the story, so it's not yet clear why or when she blocked Kelly. As Kelly added on The Chew, "Well, she could have unblocked me, which she hasn't."
As Clinton noted, fans had an overwhelming reaction to his original tweet on Nov. 15, where he shared a screenshot showing that his former What Not To Wear co-host had blocked him on Twitter. In case you didn't watch, Kelly and London hosted the show TLC show together from 2003-2013.
When you're a fan of a show like What Not To Wear it's easy to assume that the hosts are life-long best friends on and off camera, which could have been why people online were so surprised by the news that London had blocked Kelly. It served as an example that people who appear to be friends on television aren't always friends IRL.
A number of people speculated that it could have been a result of something Kelly wrote about London in his memoir, I Hate Everyone Except You, or said while promoting the book, which was released in January. As Inquisitr notes in his book Kelly writes, "There's a part of me that will love Stacy London forever, and a part of me that would be just fine if I never saw her again for the rest of my life." Additionally, in an interview with My Statesman in January, Kelly explained that he and London were simply around each other too much and noted that they needed a break. Kelly insisted there were no hard feelings, but said that he and London hadn't spoken in years.
As someone who has read Kelly's book, I can tell you that I do recall him being a little sassy when discussing London and his experience hosting What Not To Wear. But that chapter was very much in line with his tone throughout the book, as Kelly is very sarcastic and quippy when retelling some of his life experiences. And I mean that in a good way — I Hate Everyone Except You was an enjoyable read! Overall though, I remember finishing the chapter with a distinct feeling that Kelly was grateful of his experience, and that he had respect for London, but seemed glad to no longer be working with her.
After insisting there was no beef, Kelly offered to have London as a guest on the show to discuss the situation. "If you ever want to come back on The Chew," Clinton said, addressing London with an open message, "you're welcome to come on The Chew and we could talk about it." Based on all of the tweets from fans who were shook by the screenshot Kelly shared, it seems like there is a lot of interest in knowing what exactly happened between him and London. If London were to appear on The Chew a large number of fans would undoubtedly tune in to see her address the topic.