Everything We Know About Justin Timberlake's New Album So Far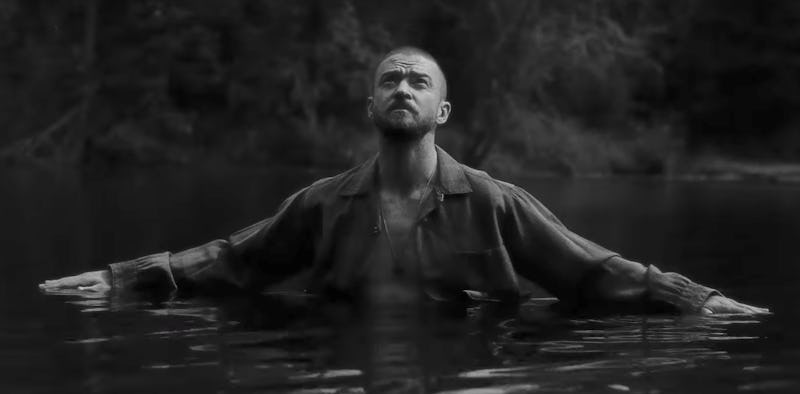 JustinTimberlakeVevo/YouTube
Your favorite singer is returning to his roots. Justin Timberlake teased his new album with a video, and it seems like it's going to be pretty epic. Considering that it's been five years since Timberlake released his last album, The 20/20 Experience, fans of the former *NSYNC frontman are so excited for this new album, titled Man of the Woods. The teaser trailer reveals that the video will probably be a lot different from what JT fans are used to, though, so what clues about Timberlake's album can we glean so far?
As long as at least a few of the songs on the new album feature Timberlake's quintessential falsetto, Man of the Woods already seems like it will be a hit. The video makes it clear that the singer wants to show a more earthy side of himself, as it features gorgeous images of rural landscapes. You might be questioning whether or not Timberlake can successfully make the transition from R&B/pop king to a more bluegrass-inspired, soulful sound, but fear not. Considering that the singer flawlessly transitioned from boy band star to solo artist, he can most likely pull this off. But here's what we know about the album right now.
1. It's Going To Be Personal
In the teaser video, Timberlake explains that the album will be highly influenced by his son and other family members. He also explains that it will be about where he's from, which is Memphis, Tennessee. Needless to say, the heartfelt aspect of the new album will be a far cry from "Cry Me A River."
2. Pharrell Collaborated With Timberlake (Again)
Probably the most reassuring part of the teaser video comes during the end of it when longtime collaborator Pharrell Williams shows up in the studio. "That is a smash," the "Happy" singer says, which seems like a good thing by Williams' enthusiastic hand motion. According to Billboard, Pharrell played a key role in JT's debut solo album, Justified, producing more than half the songs from the 2002 album.
When the news that Timberlake was returning to the studio with Pharrell — and their other longtime collaborator, Timbaland — in 2016, fans began speculating that Timberlake had a new album coming soon. Based on what a major hit Justified was, the fact that Pharrell and Timberlake have reunited for Man of the Woods makes the forthcoming album all the more exciting.
3. You Won't Have To Wait Long To Hear It
With the release of Timberlake's album teaser, the singer-songwriter announced that the first single will come out on Jan. 5. You won't have to wait long after that for the full album, though, as Timberlake's YouTube video reveals that Man of the Woods will come out on Feb. 2, which happens to be two days before the singer's Superbowl halftime performance. Well played, Pusher Love Guy.
4. The Whole Timberlake Family Is Involved
The teaser video starts with Timberlake saying, "This album was inspired by my son, my wife, my family... And it's personal." Not only does he flat-out mention his son, Silas, and wife, Jessica Biel, but the video includes the two family members as well. In one beautiful shot, Timberlake has his arm around a hat-wearing Biel, kissing her on the cheek. Later in the teaser, a woman's voice says, "It feels like mountains, trees, campfires, like wild west," which could be Biel speaking. Perhaps Timberlake's album will include more of Biel's poetic words, which would also resemble Beyoncé's Lemonade.
5. The Album Will Have A Bluegrass Sound To It
Back in September Timberlake hopped on stage with contemporary country singer Chris Stapleton at the Pilgrimage Music and Cultural Festival in Tennessee. On his Instagram post about the appearance, Timberlake praised Stapleton, saying, "The new album is TOO GOOD. Can be served with or without whiskey." While the music festival collaboration just gave a hint of Timberlake's country music side, the Man of the Woods teaser trailer features a lot of instruments that sound more like Americana or bluegrass music than the typical pop sounds featured on Timberlake's albums. As part of Timberlake's return to his Southern roots, it seems he is choosing to focus on the music of his home state, and it could be really interesting.
Luckily, the first song from Man of the Woods will come out in just a few days, so fans don't have to wait much longer to find out more about the new and improved sounds of Justin Timberlake. While pop hits like "Summer Love" and "SexyBack" propelled JT's solo career, his new album will likely show everyone that there's a lot more to him suits and ties. Apparently Timberlake can rock jeans and a flannel with the best of 'em, and it will probably fun to see.