Justin Timberlake Has Announced His New Album & The Teaser Video Is A Lot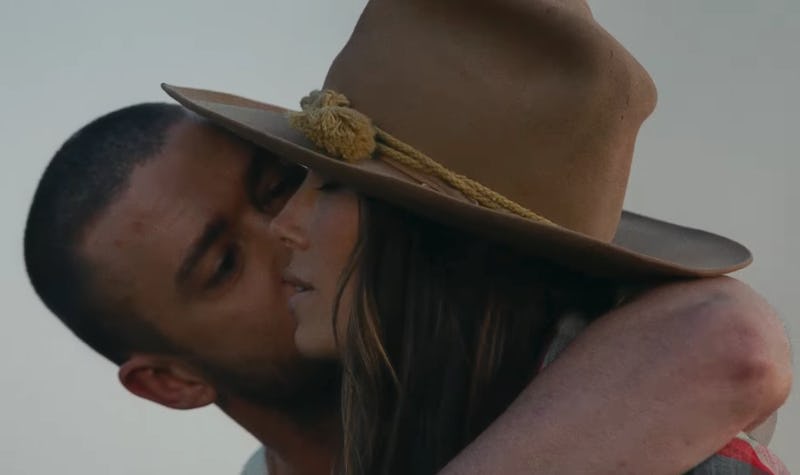 JustinTimberlakeVEVO
If you were waiting for brand new music from Justin Timberlake, then wait no longer. On Tuesday, thanks to a YouTube video, we now know that Timberlake's new album Man of the Woods is coming — and it's a lot. The visuals that accompanied the announcement feature Timberlake taking one fashionable camping trip. And also extending his arms in the ocean like Jesus. So. What the exact theme of this album is supposed to be is really confusing, but that probably won't stop anyone from being excited about it.
"This album is really inspired by my son, my wife, my family, but, more than any other album I've written, where I'm from," the singer states. "It's personal." What exactly personal means to him is open to interpretation, because these images. These. Images. Timberlake is shown in the snow, he's shown watching horses roam, he's shown at a bonfire. "It feels like mountains, trees, campfires, like wild west, like now," says a woman — likely Jessica Biel — in a voiceover that encompasses all these images. And then for some reason Pharrell is there? Not that it doesn't make sense, since he's a producer on the album, but... it's all just a lot.
And it's all coming our way on Feb. 2, which gives us a lot of time to parse out meanings before Timberlake performs at the Super Bowl on Feb. 4.
Of course, his performance at the Super Bowl didn't come without controversy. When it was simply rumored that the former *NSYNC member would be headlining the 2018 Super Bowl Halftime Show, fans were quick to point out how unfair this would be considering the fact that Janet Jackson had yet to be asked back. As a refresher, in 2004, while Jackson was performing, Timberlake joined her on stage for his hit "Rock Your Body." When he sang the lyric, "I'm gonna have you naked by the end of this song," he reached over and tore off a piece of Jackson's costume, revealing her right breast to approximately 143 million households across the country.
In the years since, Jackson has been asked to apologize for the incident numerous times, but her career has languished in many ways since "Nipplegate." Meanwhile, Timberlake apologized mildly and went on have both a lucrative, high-profile career and, ultimately, to be invited back to the Super Bowl in 2018, as he later confirmed. And now Timberlake has a new album coming out to coincide with his Super Bowl performance, which will only add to the list of reasons why so many fans are upset with the singer and with the NFL.
But, all controversy aside, the album isn't the only thing fans have to look forward to. Timberlake followed up by tweeting out this bizarre video along with the words, "FRIDAY..." That seems to indicate that we'll be getting our first single from the album this Friday, so your 2018 is off to a great start if you love ex-boy band members or Justin Timberlake or, hey, both.
Man of the Woods will be Timberlake's first studio album since The 20/20 Experience and its follow-ups were released in 2013. When announcing that 2013 album, the singer told Ryan Seacrest that the title came from:
"It more or less came out of I was playing some of the stuff for my friends and they would come in and out of the studio and I'd say, 'What do you think of this?' And my best friend said, 'This is music that you can see,' and for some reason that stuck with me."
Well, if The 20/20 Experience was meant to be music that you can see, then Man of the Woods will apparently be music that will allow you to see Timberlake for who he truly is now. And, based on this teaser video, who he truly is now is all-natural.
Editor's Note: This article has been updated from its original version.