All The Clues About 'New Girl' Season 7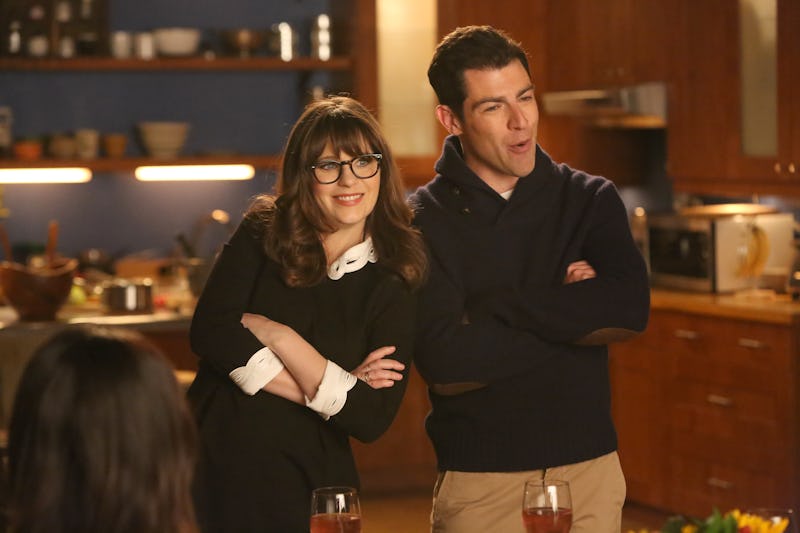 Patrick McElhenney/FOX
Another season of New Girl is coming to a close on Tuesday, but fans are worried that this might be goodbye forever. Six seasons is a lot for any show, but it still would be nice to have some advanced notice. Is New Girl returning for Season 7, or already cancelled? Fox has not made a decision either way at this time, so it's definitely not the latter, but clues from the cast and crew have started to pile up.
The main reason that fans are concerned about a renewal is because of rumors from Nick Miller himself. In March, the actor expressed his doubts at SXSW, The Daily Beast reported. "Fox won't tell us," he said about the show's chances at renewal. "But we shot a finale where, if this was the end, the core fan base would be OK." I'll take his word for it. When a show is able to end a story on their own terms, it's almost always better.
He told them he thought it was done, but later tweeted a clarification ensuring fans that he does not have inside info about cancellation, and that the chances are more like 50/50. Here are some of the other clues and factors that could determine whether or not the Season 6 finale is actually the New Girl season finale.
Fox & The Producers Are Working On It
The Daily Beast article mentioned above also included an official statement from a Fox representative, stating that "while no announcement has been made on the series returning for a 7th season, the network and studio are currently in discussions." Executive Producer David Finkel told TVGuide that the New Girl Season 6 finale works as both an ending and a set-up.
Liz Meriwether, the show's creator, noted in an interview with The Hollywood Reporter that "a lot of people are watching the show later or on Hulu." This is true; it's certainly how I keep up. "When you have a show that appeals to younger viewers," she continued, "the live ratings just aren't indicative of who's watching the show. And I think Fox has been pretty savvy about that and incredibly supportive of our show." That tells me that ratings might not make a difference in the end.
New Projects On The Horizon
Meriwether is working on a new pilot for Fox titled Thin Ice. That never stopped Joss Whedon, Shonda Rhimes, or J.J. Abrams before. Plenty of creators have had multiple shows on the air before. However, if you're looking for evidence that folks at New Girl have moved on, this is evidence.
Zooey Deschanel Is Pregnant Again
Honestly, that means nothing definitively either way. It's just another factor. New Girl "dealt" with its star's first pregnancy in one of my favorite moves in television history. She actually got to take a maternity leave rather than hide behind plants and purses for nine months.
Schmidt's Name Is Revealed
OK, so I know this isn't Lost, but tying up loose ends and solving mysteries is just what final seasons do.
Everyone Is (Almost) Coupled Up
Cece and Schmidt got married and moved out. Presumably, Winston and Aly will also move out when they get married. That leaves Jess and Nick in the loft, and it seems pretty clear that they're getting back together soon. Is there still a show after that?
Friends and How I Met Your Mother transitioned fine, but I'm still curious as to what the show would be without everyone living together. I guess we'll have to wait and find out. There are clearly a lot of factors at play, and while I would be sad to see New Girl go, I am preparing for that big farewell.