Clues Ariana Grande & Pete Davidson Are Dating That Fans Are Obsessing Over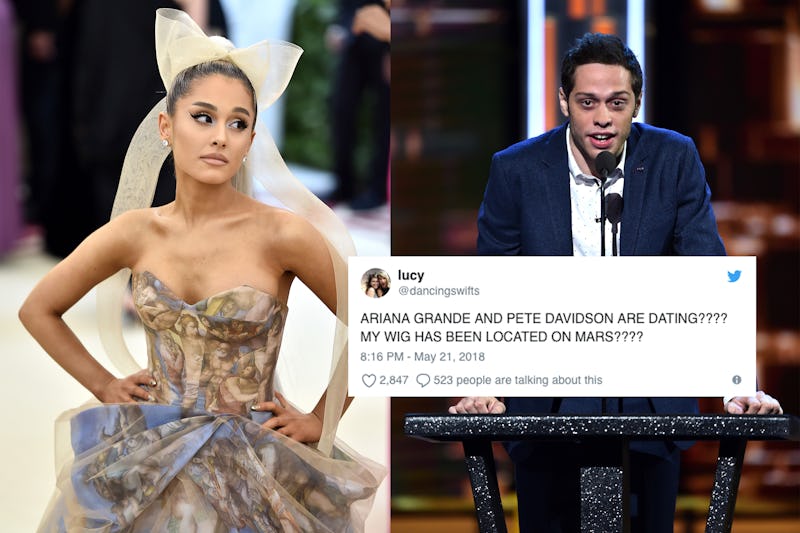 Theo Wargo/Getty Images Entertainment/Getty Images; Alberto E. Rodriguez/Getty Images Entertainment/Getty Images
Today in "News That No One Saw Coming," Ariana Grande is dating Pete Davidson from Saturday Night Live, according to multiple reports as well as some sneaky, sleuthing fans. The rumor was posted on Bossip on May 18, and Arinators on Twitter went to work quickly to find out more. Neither Grande nor Davidson have confirmed that they're together yet, but the evidence that's been unearthed so far is ... interesting, to say the least. (Bustle has reached out to a rep for Grande and agent for Davidson for comment, but did not receive a response at the time of publication.)
Let's start with what we currently know to be true, though. On May 10, TMZ reported that Grande had split from Mac Miller after two years of dating. Hours later, the singer posted a photo of herself and Miller on her Instagram Stories, with a caption that appeared to confirm the speculation, according to Us Weekly.
"Hi! This is one of my best friends in the whole world and favorite people on the plant Malcolm McCormick [Mac Miller]," Grande wrote on the picture. "I respect and adore him endlessly and am grateful to have him in my life in any form, at all times regardless of how our relationship changes or what the universe holds for each of us! Unconditional love is not selfish. It is wanting the best for that person even if at the moment, it's not you."
Less than a week later on May 16, Davidson confirmed to Complex magazine's Open Late show that he'd split from his girlfriend of two years, comedian Cazzie David. "We're not together anymore," Davidson told Open Late. "Very talented girl, she'll be great and she'll be fine. Yeah, I think she'll be OK."
Here's where the sleuthing begins. After the Bossip rumor broke, Twitter user @theAGparadise started a thread with a seemingly endless amount of clues meant to confirm that Grande and Davidson are, in fact, dating. One tweet gave a shoutout to an "investigator who predicted things BEFORE Bossip caught on," though, so who knows how long they've been sitting on evidence.
There's a lot to unpack within that thread — like, it goes deep on trying to pin down the exact moment Grande and Miller split — so we'll just focus on the most compelling evidence.
Evidence: The Phone Cases
Grande was photographed after Saturday Night Live on May 12, where she can be seen holding onto a cloud-shaped phone case (which, by the way, is really cute). A photo of Davidson shows him with the very same cloud-shaped phone case as Grande, although it's not clear where or when the photo was taken. OK, so they have the same taste in phone cases. And?
Evidence: The Tattoos
Well, not only do they both appear to have the same cloud-shaped phone case, but Grande and Davidson both appear to have the same tiny cloud-shaped tattoo, as well. The plot thickens! On May 18, Davidson posted a photo on Instagram that clearly shows a cloud tattoo on his middle finger. Grande performed at the 2018 Billboard Music Awards on May 20, and a fan zoomed in to reveal that Grande also appears to have a new, tiny cloud tattoo on her middle finger. Interesting.
Evidence: The Billboard Music Awards & Saturday Night Live
Alberto E. Rodriguez/Getty Images Entertainment/Getty Images
Kevin Winter/Getty Images Entertainment/Getty Images
Several other fans posted pictures of Davidson being spotted at the Billboard Music Awards, with one video seeming to show him and Grande hanging out in the same backstage area. And, yet another eagle-eyed fan happened to notice that in the closing credits of the May 19 episode of SNL, Davidson looks to be wearing a sweatshirt with Grande's "No Tears Left To Cry" logo. Maybe wearing Grande's logo was Davidson's semi-subtle way of shouting out his new lady.
Who knows. The cloud-based evidence is pretty darn compelling, but fans will just have to wait and see where this one goes for now.