Clues Beyoncé Was Pregnant All Along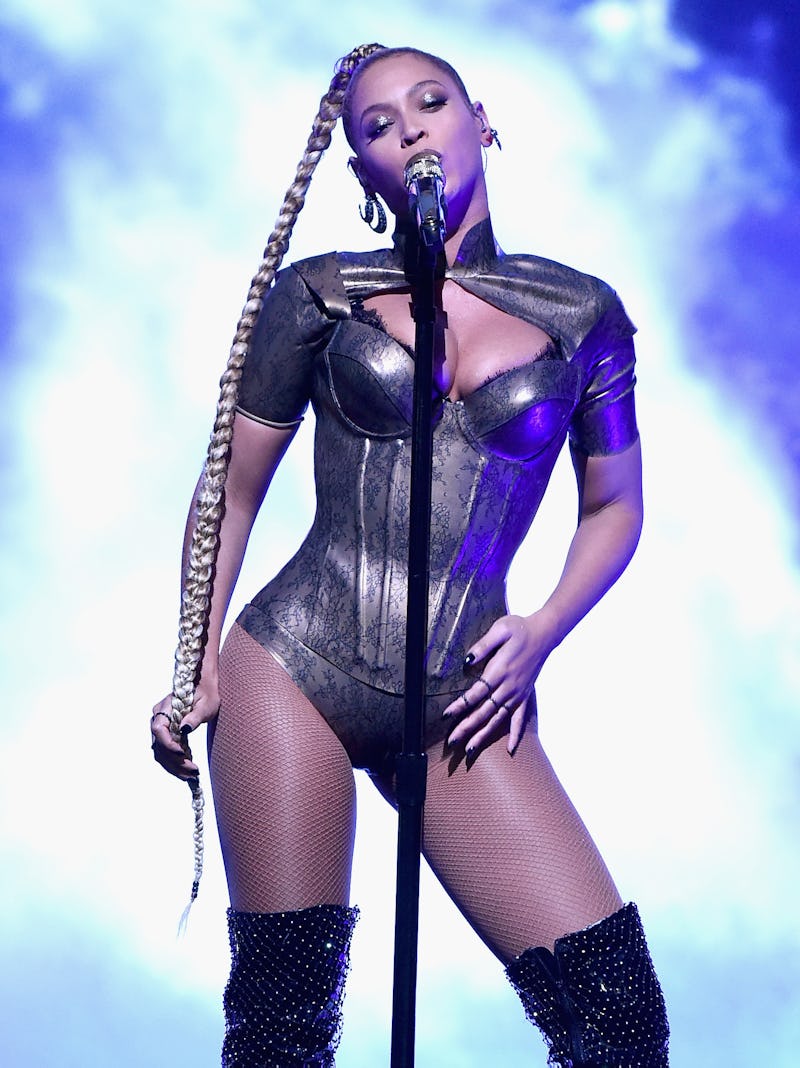 Theo Wargo/Getty Images Entertainment/Getty Images
Now that the entire world knows Beyoncé is pregnant with twins, it's time to talk about if there any clues Beyoncé was pregnant this whole time. Knowing the Lemonade artist, she was probably extremely careful not to give her pregnancy away before she and Jay Z were ready to make the announcement. So, if there were any clues, they are most likely few and far between.
If you take the time to scroll through her Instagram, there are actually some pretty telling videos and photos that are either Bey's way of saying, "I'm expecting twins and you have no idea" — or are just something I'm totally reading into.
In December 2016, she shared a video for the holidays. It features Beyoncé in a form fitting dress and no apparent baby bump, but that's not what caught my eye. If you watch it, throughout it there is a specific pose Bey strikes. She repeatedly holds up a peace sign, which is formed with two fingers. Immediately following it, she makes a heart sign with her hands.
Hmm... there is an extremely high chance that she just likes making peace and heart signs. Plus, maybe this was her way of wishing everyone peace and love during the holiday season. Or, maybe Bey was taunting her fans and hinting that she was pregnant with twins this entire time by holding up two fingers, which in fact wasn't meant to be read as a peace sign.
To read further into something for possible clues of Bey's pregnancy, allow me to discuss the following video shared by the Grammy winner in October 2016. She, alongside her daughter, Blue Ivy Carter, and her mom, Tina Knowles, channeled Salt-n-Pepa for Halloween.
First, this is the most perfect costume ever. Second, press play. What's that song you hear? Oh, it's Salt-n-Pepa's hit, "Push It." Yes, I could be reading into this and maybe Bey wanted to honor the '80s group. Or, by using this particular song, it also could've been "Drunk in Love" singer's way of hinting, "I'm going to be pushing out babies soon."
If those two theories aren't good enough for you, then how about this one? At the end of January, The Hollywood Gossip reported that there was alleged proof of Beyoncé's pregnancy. Reportedly, a new video ad for her clothing company, Ivy Park, was published on Jan. 27 and it featured the "Run the World (Girls)" artist in a green top covering up a supposed baby bump.
What made this sound all the more like it could have been the case is that according to The Hollywood Gossip, the video has since been deleted. Why delete it, unless it wasn't supposed to be released at that exact moment? The Hollywood Gossip shared a screenshot from the video, which certainly seemed to show Bey with a bump.
But, on Wednesday, People shared the Ivy Park video ad, which appeared to be officially released on Feb. 1, the same day Beyoncé revealed her big news. So it seems like there's a chance the ad was leaked earlier than scheduled and that Bey didn't want anyone guessing she's pregnant before she divulged it herself. Whatever the case, in the video shown below, it does look like she is sporting a bump.
However, that said, it could be the way she is posing. There are photos on Ivy Park's Instagram page with Bey in the same outfit as in the video and there is no bump in sight. This could mean that either she shot this outfit twice, or she might not have been pregnant at the time the ad was shot.
Who knows if any of the above are legitimate clues, but it's nice to think that Beyoncé was just messing with her fans this whole time and none of them seemingly had any idea that she was pregnant — with twins.