These Clues From The 'Grey's Anatomy' Season 15 Trailer Totally Call THAT Hookup Into Question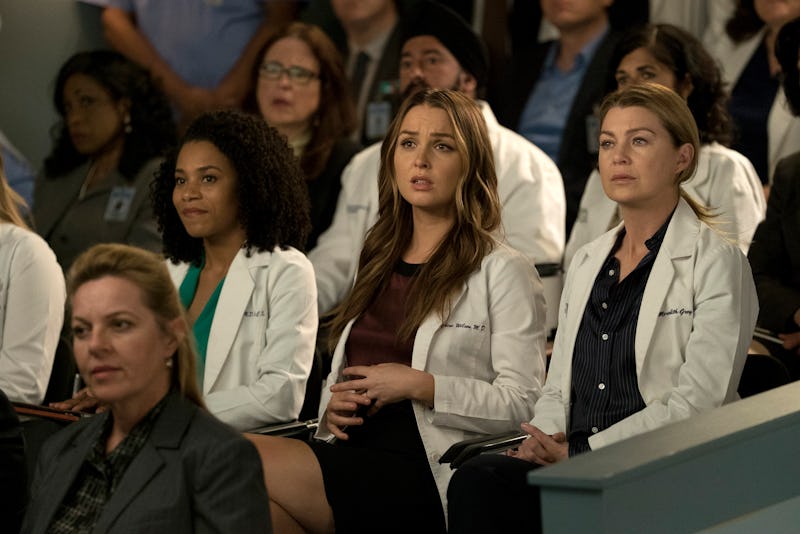 ABC/Byron Cohen
Grey's Anatomy may be heading into its fifteenth season, but this series still knows how to shock its viewers to an unsettling degree. Earlier this week, ABC released the Grey's Anatomy Season 15 trailer, which contained a few teasers of all the drama to come — as well as a particular hookup that absolutely no one saw coming. But while that Meredith and DeLuca's bed scene may be what everyone is focusing on, there are actually a ton of clues from the Grey's Anatomy Season 15 promo to glean from the 30-second video.
When it comes to trailer teasers like this, it's important to remember that these are quick cutaway moments from various scenes that are strategically put together by producers and writers in order to make the upcoming episodes as enticing as possible. A lot of these scenes won't necessarily happen in the order they are shown or in the exact way viewers being led to believe. So, if anything, promos can sometimes leave audiences feeling more confused than anything else. That being said, it's still exciting to break down all of the pieces of information we currently have at our disposal and see if we're able to make any sense out of it.
So after rewatching the trailer for the umpteenth time, here are the biggest takeaways:
There's Something Wrong With Richard
One of the first pieces of new footage in the promo features Richard in the OR in full-blown emergency mode. It's unclear exactly what goes wrong during this surgery, but it leaves the viewers in the operating theater above looking significantly panicked. Poor Richard, this guy really can never catch a break.
The New Hot Doctors Have Arrived
Paging all hot doctors to Grey's Anatomy, STAT! Former OC and Nashville star Chris Carmack and newcomer Alex Landi both make a special cameo in the footage, making it very clear that trips to hospital are about to become a lot more appealing. Carmack's character proclaims himself to be an Ortho God (cocky much?), while Landi's character will serve as the show's first ever gay male surgeon, and hopefully drop Carmack's ego down a peg or two. Anyone else think those on-call rooms are about to see a lot of action this season? No complaints here.
Teddy Tells Someone She's Pregnant, But It's Not Owen
And that someone appears to be none other than Maggie. You wouldn't expect these two to be having such an in-depth conversation with one another, but that's the beauty of Grey's — it has a way of bringing unexpected characters together. But the more important question here is: once Maggie finds out, will she end up telling her pseudo-sister Amelia?
Meredith & DeLuca Sittin' In A Tree...
Last, but certainly not least, viewers see flashes of Meredith and DeLuca in bed together right before cutting back to them running into each other in the hospital. Meredith looks uncomfortable. DeLuca looks smug. The obvious takeaway that the powers that be want fans to believe is that Meredith and DeLuca will have a steamy hookup. But that's not the only possibility here. It's just as possible (if not more so) that Meredith simply had a sex dream about DeLuca and it's making her feel weird around him at work. Maybe he even finds out about it, which would explain the smug demeanor.
Either way, it's probably best not to just take this at face value. Besides, Meredith already hurt Maggie by secretly seeing Riggs. Would she really do that again with yet another man Maggie had feelings for? Something's not quite right here, but then again, who knows what is right and what is wrong when it comes to hook ups in Grey's Anatomy?