CNN's Lawsuit Over Jim Acosta's White House Press Badge Just Got A Ruling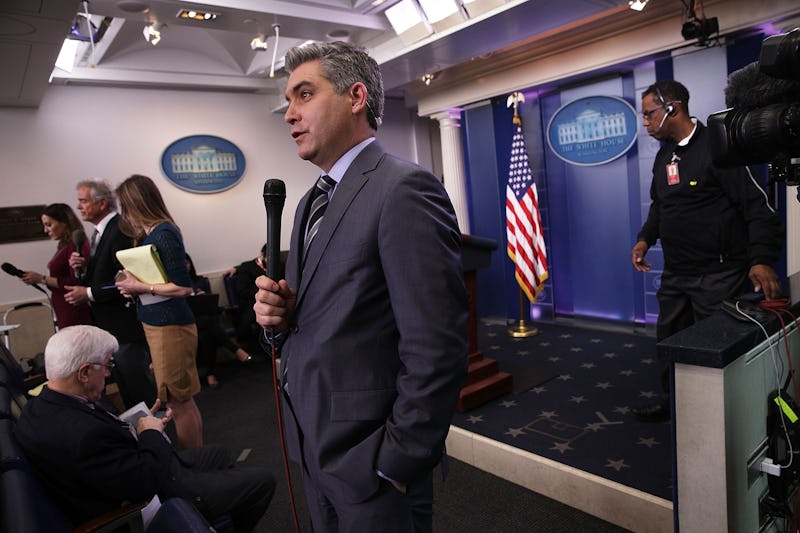 Alex Wong/Getty Images News/Getty Images
One week after Sarah Huckabee Sanders announced that his press credential was suspended, a federal judge temporarily restored CNN reporter Jim Acotsa's White House press pass on Friday. District Judge Timothy Kelly — who was appointed by President Trump in September 2017 — granted CNN's request for a court order restoring Acosta's press pass while its lawsuit against Trump and the White House proceeds.
Kelly's ruling on Friday marks the first victory in the case. At a post-election press conference at the White House last week, Trump grew extremely agitated with Acosta's questions, berating the reporter and calling him a "rude, terrible person." During that exchange, a female White House staffer walked up to Acosta and unsuccessfully tried to wrest the mic from him; Sanders later showed footage (that has been widely criticized as doctored) of that incident to justify revoking Acosta's White House press pass.
CNN and Acosta then filed a lawsuit alleging that by suspending his press credential, Trump and the White House were violating the reporter's First and Fifth Amendment rights. The network said that "the revocation of Acosta's credentials is only the beginning; as the President explained, there 'could be others also' who get their credentials revoked."
Outside the court on Friday, Acosta thanked his "colleagues in the press who supported us this week," as well as the judge for his decision. "Let's go back to work!" he added. Bustle has reached out to the White House for comment.
As president, Trump has a contentious relationship with the press, particularly with CNN — and that tension has trickled down to his press secretary, too. Trump has singled out CNN's reporters, mocking their questions and often dismissing them entirely at press conferences.
The White House suspending Acosta's press pass has taken Trump's contempt for the press to another level, and the CNN lawsuit marks a concrete legal battle for the White House over press freedom.
In its lawsuit, CNN argued that Acosta was being unfairly punished by the White House because its aides — and Trump — took issue with his coverage. The network also claimed that the White House did not go through the proper steps to suspend his pass.
Kelly's ruling on Friday noted that it was not a decision based on whether the White House violated Acosta's First Amendment rights; rather, it was because the White House's decision to revoke his press pass was "shrouded in mystery," noting the White House's changing rationale behind its decision. (Sanders first pointed to Acosta's interaction with the female White House staffer as a reason for his suspension, but the White House later said it was because of Acosta's "disruptive behavior" and "grandstanding.") Kelly said that Acosta was deprived of "due process" when the White House took his press pass away, according to Politico.
Acosta is not the first reporter who's been banned by the White House. Early last year, then-Press Secretary Sean Spicer barred reporters from several news outlets from press briefings. And this year in July, another CNN reporter, Kaitlan Collins, was told she wasn't allowed to attend a press event because she "shouted" questions at the president, a rationale that sparked widespread backlash, too, at the time.
Though White House press briefings have grown less frequent in the past few months, the next time Sanders takes the podium — with Acosta in attendance as usual — will be one to keep an eye out for.