Cole Sprouse & Lili Reinhart First Instagram Pic Together Puts His Photography Skills To Use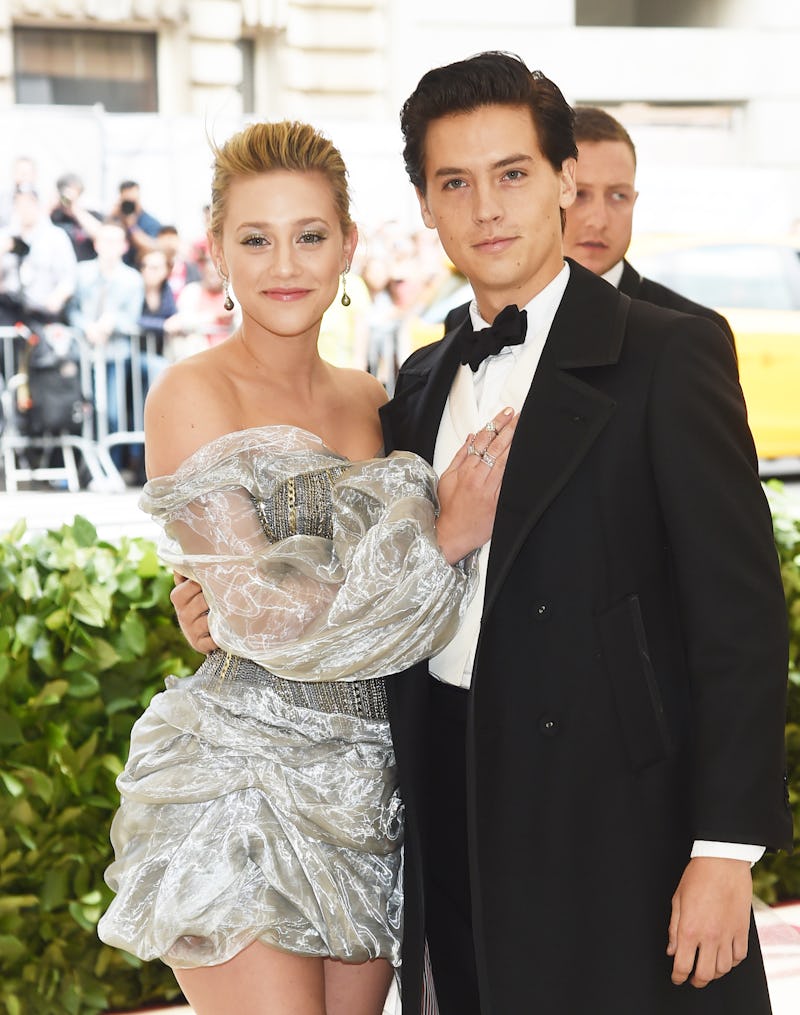 Jamie McCarthy/Getty Images Entertainment/Getty Images
Instagram just got a whole lot more adorable. And that's because, as ELLE noted, Cole Sprouse and Lili Reinhart posted their first Instagram together. Not only is the snap totally cute, but it's also a great example of Sprouse's photography skills.
On May 31, Reinhart posted the fun photo, which serves as a throwback to their 2018 Met Gala appearance, to her account. However, Sprouse was actually the one to have taken the pic, as he can be seen holding the camera. The black and white selfie shot is totally artsy, framed perfectly, and features the two in their red carpet best. It really was the most glamorous Instagram photo debut imaginable for the Riverdale stars.
Considering Sprouse's photography experience, it's no surprise that he was able to capture the perfect snap. The actor frequently shares some of his own snaps on his Instagram page, including ones featuring Reinhart. Aside from the personal snaps he shares on his page, he's actually been able to secure some pretty major fashion photography gigs thanks to his interest, such as an editorial spread featuring Kendall Jenner in the Sunday Times.
In fact, he's so into photography that he told Teen Vogue that he'd be a full-time photographer if he wasn't acting. "I became obsessed with the storytelling of photography and going on little adventures," he explained to the publication. Sprouse has been able to use his passion for photography as a means for escapism or, as he describes it in an interview with Duan Mackenzie, "as an outlet, as a way to create and feel better." It's so sweet to see his incredible passion for photography on full display here with this photo of him and Reinhart.
The photo is a throwback to the pair's 2018 Met Gala appearance on May 7, where they made their red carpet debut together. Their debut followed months and months of speculation into whether the two are dating or not. Even with their red carpet appearance and their recent Instagram photo together, Sprouse and Reinhart have both kept things close to the chest when asked directly about a Bughead coupling IRL.
Recently, on March 25, the Riverdale cast appeared at Paley Fest in order to discuss their hit CW series. During the event, fans in the audience had the chance to ask the cast some questions and one fan couldn't help but ask about Sprouse and Reinhart's love lives. The fan asked, "So, Cole and Lili, there's been a lot of rumors about you guys dating. Are you dating?" The crowd went wild over the question. But, after everyone on the cast looked clearly taken aback, the part-time photographer answered, with a sly smile, "No comment."
Neither of them have expressly confirmed any kind of romantic relationship, and based on Sprouse's comments to People in November 2017, it doesn't seem as though he'll ever outright confirm anything. "I just never talk about it because it's not anyone's right to know," he said.
According to Reinhart's own comments to V Magazine in January, she's not going to comment directly on anything, either. Similar to her Riverdale co-star, she doesn't believe that her relationship status is for anyone else to know. "People are just dying to know information about if I'm in a relationship or not. I understand the interest, but it's called a private life for a reason. And it's not something that I owe the world," she said.
Since it doesn't seem like Reinhart and Sprouse will confirm their relationship status anytime soon, fans of the couple will just have to be satisfied with some red carpet debuts and expertly taken, glamorous Instagram photos.