Lili Reinhart & Cole Sprouse Just Made Their Red Carpet Debut At The Met Gala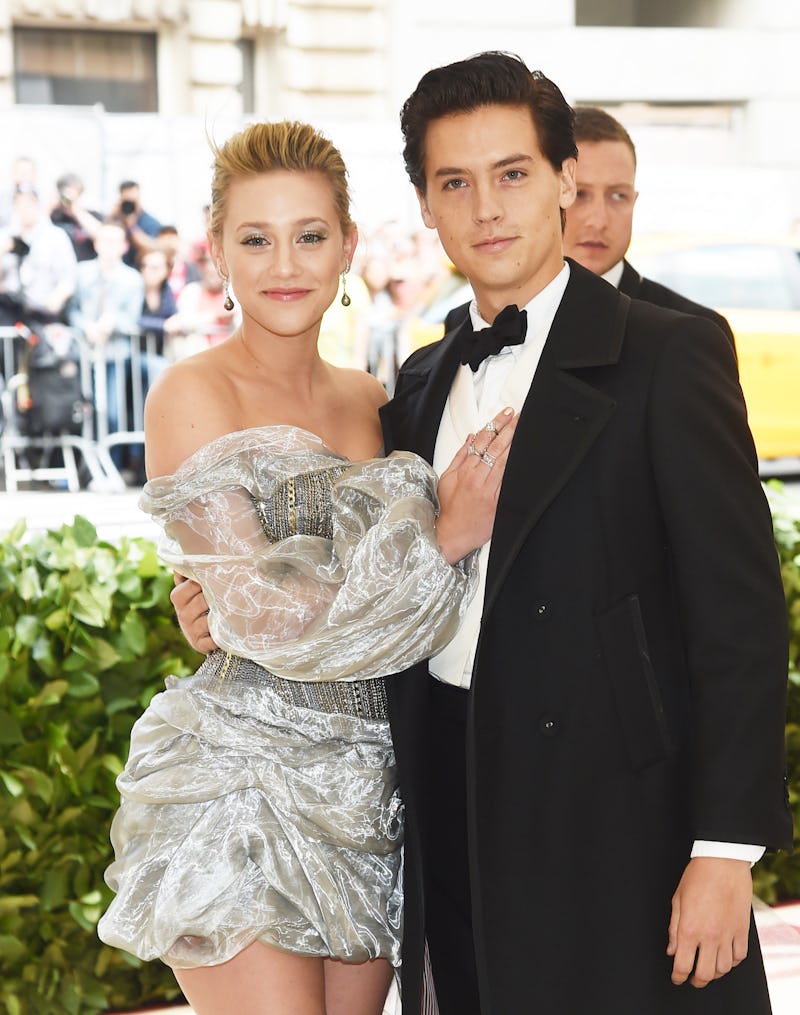 Jamie McCarthy/Getty Images Entertainment/Getty Images
Bughead is at the Met Gala. Repeat: Bughead is at the Met Gala. Riverdale stars Lili Reinhart and Cole Sprouse went to the 2018 Met Gala. Together. Arm in arm. As dates. Given how private these two are about their reported relationship, this could be the closest thing to an official announcement fans get. And hey, as far as not-announcements go, strutting out onto one of the biggest red carpets of the year together isn't too shabby.
From the moment Riverdale characters Betty and Jughead shared their first smooch, fans have been rooting for life to imitate art. And holy Chock'lit, it looks like this ship really may be full steam ahead. But you know, it will probably stay juuuust outside of the radar.
There have been whispers regarding Sprouse and Reinhart possibly being an item for over a year, but the actors who play Jughead and Betty have made a point to not open up about their rumored relationship. When Entertainment Weekly brought up the speculation surrounding him and Reinhart in September 2017, Sprouse said,
"Since the show began, people have wanted Lili and I to be together. People have wanted Lili and Cami to be together. People have wanted KJ and I to be together. People have wanted every actor on this show to be in a union that they could make real and talk about. So I think that kind of discussion, especially because it's based so much on rumor and hearsay, needs to be taken with a grain of salt."
Hey, a grain of salt is always better than a morsel of jingle jangle.
And when People asked Sprouse about Reinhart in November 2017, he replied,
"No comment. Because whether you dismiss those rumors or whether you encourage those rumors, it's giving people who are in my opinion are a bit entitled to your personal life more power, and you have to have spaces for reverence in the industry."
Sprouse praised actor Ryan Gosling for setting boundaries around his personal life early on, adding,
"So I just never talk about it because it's not anyone's right to know. People can speculate all they want, people speculate about me with every member of the cast practically, but it's really no one's right to know. It's also sexy, these parts of the relationships that are just yours."
In Seventeen's May/June 2018 issue, Reinhart echoed Sprouse's comments on keeping their private lives private. She said,
"Every time someone asks me about it, I make a decision then and there about whether I'm comfortable. It's not like I'm in some kind of contract, but I'm not in the place where I want to talk about it, and that's totally fine. It's called a private life for a reason—it's mine, and it's special and sacred. My relationships are between me and whomever I'm with, not between me and the world."
And let us not forget about the Riverdale panel at 2018 PaleyFest where a fan asked Reinhart and Sprouse if they are a thing. And let us not forget how uncomfortable that moment was. And let us not forget Sprouse acknowledging that there are a lot of rumors about him and Reinhart. And let us not forget Sprouse ending his response with a "no comment." ‌
Suffice it to say, their red carpet debut is a huge deal.
They may never talk about their reported romance, and that is more than OK. No matter how many not-so-cryptic portraits they take of one another, Sprouse and Reinhart are not obligated to open up about their personal lives. Also? Those adorable Met Gala photos do quite a bit of talking.