This Video Of Cole Sprouse & Lili Reinhart Being Asked If They're Dating Is So Uncomfortable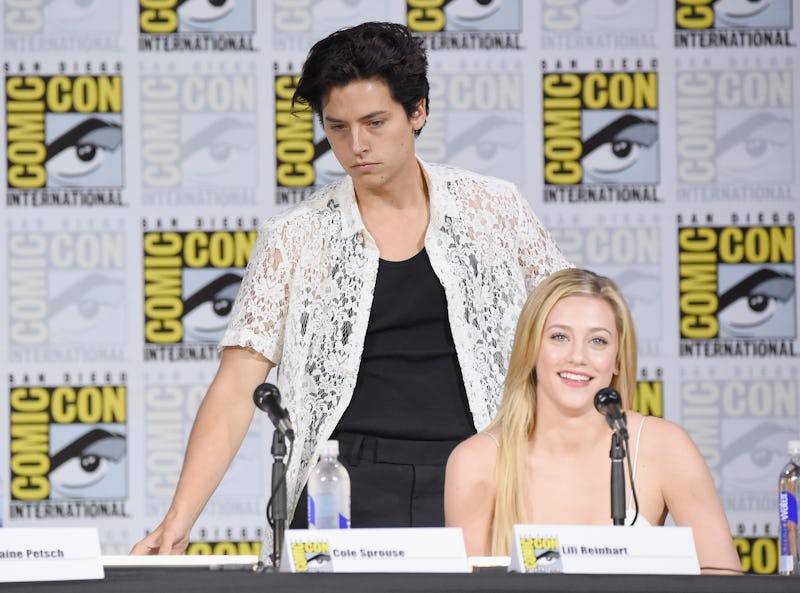 Mike Coppola/Getty Images Entertainment/Getty Images
The cast of Riverdale can't escape the spotlight and dating rumors. There are even some fans who are extremely curious about all aspects of their lives. For example, during the drama's PaleyFest panel Sunday, a fan asked Lili Reinhart and Cole Sprouse if they're dating. Seriously, she straight up asked them about their relationship status. She probably 'ships them hard and wanted a definitive answer, but if Reinhart and Sprouse's reactions say anything, it's that their personal lives are exactly that — personal.
This particular panel allows those in the audience to ask questions. So, when this fan got her chance she asked: "Um... so Cole and Lili, there's been a lot of rumors of you guys dating. Are you dating?"
As soon as the words escaped her mouth, the audience erupted, but the stage went silent. Reinhart and Sprouse were not OK with the question and you can tell how uncomfortable they were with it. Reinhart dropped her head and covered her face with her hands. Sprouse just sat there with his hand on his chin and wore a facial expression of discomfort. As for their co-stars, K.J. Apa laughed and Camila Mendes shot Apa a look of what appeared to be disbelief that someone would even pose such a question — and in front of a large audience.
Then, there is Madelaine Petsch, who totally understood Reinhart and Sprouse's pain. She uttered quietly, "That is such an inappropriate question." Clearly, they thought so too, because Reinhart didn't even address it and Sprouse first responded: "Was that a question or a statement, because you're right." To be clear, he was not confirming they are dating, he was confirming that there are "a lot of dating rumors" about them. After that, he declared, "No comment."
Here's is the exact moment of awkwardness:
The fan didn't seem to mean any harm by her question. You can tell how excited she is to be holding a microphone and talking to these two celebrities who she admires. She seems like a hardcore Riverdale fan. That said, it's important for everyone to remember celebrities are human beings and not all of them believe their private lives should be public knowledge. And just because someone is famous also doesn't mean they have to open up about who they may or may not be dating.
That's exactly how Reinhart and Sprouse feel. In March 2017, and ever since their characters, Betty and Jughead aka "Bughead", became romantically involved in Season 1, Riverdale fans have hoped they're a real-life couple. From Sprouse posting professional photos he's taken of his co-star to the two vacationing together in Hawaii, the dating rumors haven't stopped.
They'll probably never stop, because Reinhart and Sprouse most likely won't ever address them directly. In September 2017 while chatting with Entertainment Weekly, Sprouse briefly commented on the dating rumors.
"Since the show began, people have wanted Lili and I to be together," he said. "People have wanted Lili and Cami to be together. People have wanted K.J. and I to be together. People have wanted every actor on this show to be in a union that they could make real and talk about. So I think that kind of discussion, especially because it's based so much on rumor and hearsay, needs to be taken with a grain of salt. We're all still human lives that are interacting with the source material."
The fact that fans want them to be together actually pleases Sprouse — but only on a professional level. "But, truthfully, it's very pleasing that people talk about Lili and I in that way because it means that we're resonating so strongly from our character perspective that people really want that to be true," he admitted. "I think as professional actors we can pat ourselves on the back for that and go, 'This was a success.' It was such a success that people want to see it in real life."
Sprouse addressed the dating rumors again in a November 2017 interview with People and spoke about how it's "an invasion of privacy". He also provided a direct response to the reports: "No comment."
Maintaining a sense of privacy is important to both Sprouse and Reinhart. He also told People, "So I just never talk about it because it's not anyone's right to know. People can speculate all they want, people speculate about me with every member of the cast practically, but it's really no one's right to know. It's also sexy, these parts of the relationships that are just yours."
It doesn't look like Reinhart has ever commented on the dating rumors, but she has discussed how she doesn't owe anyone information about her personal life simply because she plays a character on TV. In response to fans trying to sneak photos of her while she was eating lunch in November 2017, she tweeted, "No, no, no. This is what's wrong – you think you're entitled to take a photo of me while I'm alone and eating because I'm on a tv show. So I asked for it, right? Wrong. I am a human being. I am not Betty Cooper. You aren't entitled to me. At all."
Sprouse feels the same way, as he also told People: "Because whether you dismiss those rumors or whether you encourage those rumors, it's giving people who are in my opinion are a bit entitled to your personal life more power, and you have to have spaces for reverence in the industry."
There you have it. Reinhart and Sprouse's personal lives are off limits, so it's best not to ask them about it and make them feel uncomfortable in the process.