Hold The Phone, ColourPop Is Launching An ENTIRE Skin Care Line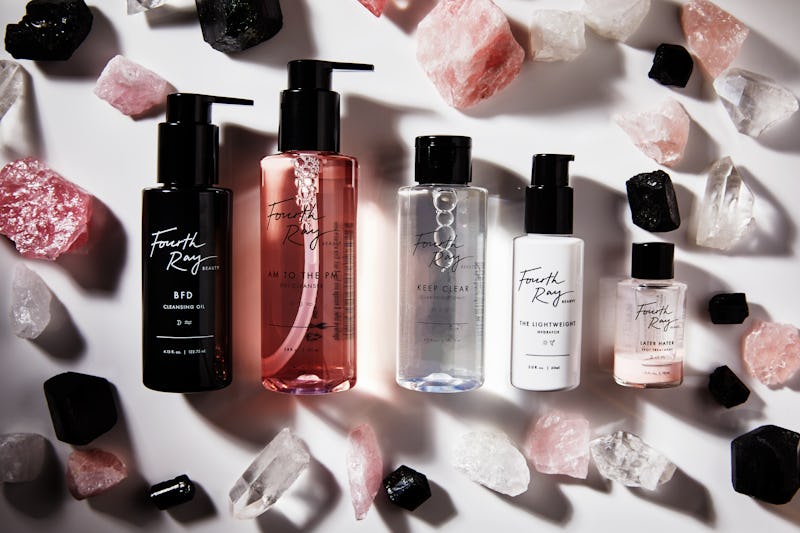 Courtesy of Fourth Ray Beauty
Watch out, skin care brands! ColourPop is coming for your neck. The affordable beauty giant is expanding in a huge way, and fans of the brand are about to be so stoked. ColourPop's skin care sister, Fourth Ray, is officially here, and it's the affordable range you need in your life.
Just when you thought ColourPop couldn't possibly get better, they've gone and launched a sister skin care line. While Fourth Ray is a separate entity from ColourPop , it is under the Seed Beauty umbrella just as they are. In fact, Fourth Ray is only the second wholly owned brand from Seed Beauty, but considering that the brains behind ColourPop are also the geniuses working on Fourth Ray, you know it's going to be good.
According to the brand, Fourth Ray is focused on a wellness based approach to beauty, embracing the idea that mind and body are aligned. Basically, Fourth Ray is your self-care meets skin care must-have, and there's a lot to go around. From cleansers to tonics and even to scrunchies and headbands, Fourth Ray is taking high-grade skin care and making it affordable and thereby accessible to everyone. How could you not already be in love with Seed Beauty's new baby?
What are the details of the new Fourth Ray skin care range that you need to know? It's all good things. First of all, they're committed to quality skin care that isn't just affordable but also ethical. For the brand, this means products that are cruelty free, vegan, and good for you. You won't find gluten, parabens, phthalates, or synthetic fragrances in their new products. Plus, they're also made in the US and dermatologist tested.
Given all of the new brand's accolades, you're probably thinking that it's bound to cost you a pretty penny, but that's just not true. Like ColourPop, Fourth Ray is here to give you quality products at an accessible price point. No singular products is above $18. If you want to save even more cash on the new goods, they do come in a bundled set of five must-have products including the BFD Cleansing Oil, AM to the PM Gel Cleanser, Keep Clear Clarifying Tonic, The Lightweight Hydrator, and Later Hater Spot Treatment for just $54. That's just under $11 per product.
As for what's in the collection? Well, it's a lot. The brand is starting with two different cleaners (one oil and one gel), a clarifying tonic, moisturizer, spot treatment, facial roller, cleansing clothes, scrunchies, and kitty headbands. Basically, everything you need to take your skin care regime to the next level for prices that won't break the bank.
If ColourPop's skin care sister, Fourth Ray, sounds like your next must-have beauty investment, mark your calendar for Aug. 23. These skin care essentials are coming at your fast, and you certainly don't want to miss your catch to pick them up. With a cruelty free and vegan promise, affordable pricing, and ultra-cute packaging, you're about to fall in love with Fourth Ray.