ColourPop FINALLY Has Foundation & The Collection Has More Shades Than Fenty Beauty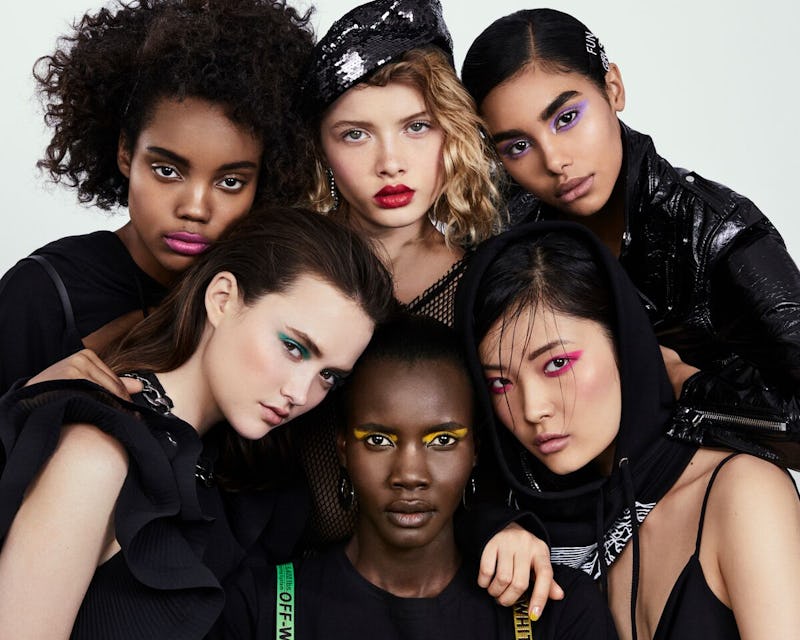 Courtesy of ColourPop
Can you even call yourself a beauty fanatic if you don't own something from ColourPop? The brand known for high-end quality products retailing at drugstore-friendly prices has just about every makeup staple. Well, except for foundation. That is until ColourPop's No Filter Complexion Foundation came into existence, just the thing that fans of the brand have been longing to see.
When ColourPop released its No Filter Concealer, the internet-based indie brand did what many complexion lines had failed to do. The creators of $6 liquid lipsticks and $5 shadows launched a whopping 30 shades that covered every end of the spectrum, from a white shade light enough for fair-skinned beauties to highlight to the deepest brown that many brands consistently failed to include. Needless to say the budget-friendly concealers were a hit.
On a mission to repeat that success, ColourPop is preparing an even bigger launch of an all-inclusive foundation line that can compete with the best of them. We're talking a collection that even out numbers Rihanna's foundation line, and that's really saying something, considering Fenty Beauty's expansive shade range set a new beauty industry standard. Here to snatch all of your coins, ColourPop's soon-to-be-released complexion essentials will have you dying to know just where you can snag the goods when it's time.
If you're in need of a spot-on foundation shade (that doesn't cost an arm and a leg, plus another leg), ColourPop just may have what you so desperately desire come June 14. The brand is launching 42 — let's say it one more time for the people in the back, four-tee-too— No Filter Foundation shades, a hefty range of hues for an initial launch.
Retailing for $12, the foundation distributed evenly into six categories (fair, light, medium, dark, medium dark, and deep dark) comes at quite a steal. Plus, it's a vegan, cruelty-free, and oil-free formula that promises to blend effortlessly.
Now the hot topic of discussion is how one gets ahold of such a must-have foundation. Your only hope is to head over to ColourPop's website when the foundation drops.
Although Ulta Beauty and Sephora both carry items from ColourPop's inventory, neither brick-and-mortar will house the foundation. It will sell exclusively on the brand's site, so there's no chance of trying it out in store before making a purchase — at least for now. One could only hope that the collection does indeed find its way inside stores really soon because there are plenty more No Filter goodies where the foundation came from.
Be on the lookout for the collection to also include $9 No Filter Sheer Matte Powders. The subtly-tinted compact absorbs oil and minimizes pores, while having a buildable formula that can stand alone or give a soft and silky finish to the liquid base. It will be available in the same six fair to deep dark shades that categorize the No Filter Foundation.
In addition to complexion perfecters, ColourPop will launch two new foundation brushes, the $9 F16 that looks to be an ideal flat brush for liquid foundation and the $8 F17 that appears to be fluffier and better suited for the application of powder formulas.
Then there's the No Filter Loose Setting Powder, also toting a $9 price tag, that locks in your foundation for stay-all-day coverage. The multi-purpose powder will come in translucent, banana, and medium deep shades so that beauties of all skin tones can set their looks to a flawless matte finish without fear of getting the dreaded "flashback".
It would seem that ColourPop really thought their upcoming launch through. The line is chock-full of the essentials for a flawless facade, not to mention there are suitable shade ranges in each product for nearly everyone.
If other brands aren't already on the same page, they should take notes. ColourPop is obviously using its No Filter collection to dish out a very important lesson on inclusivity that needs to be heard.