Comey's Probe Into Trump's Russia Ties Deepened Days Before His Firing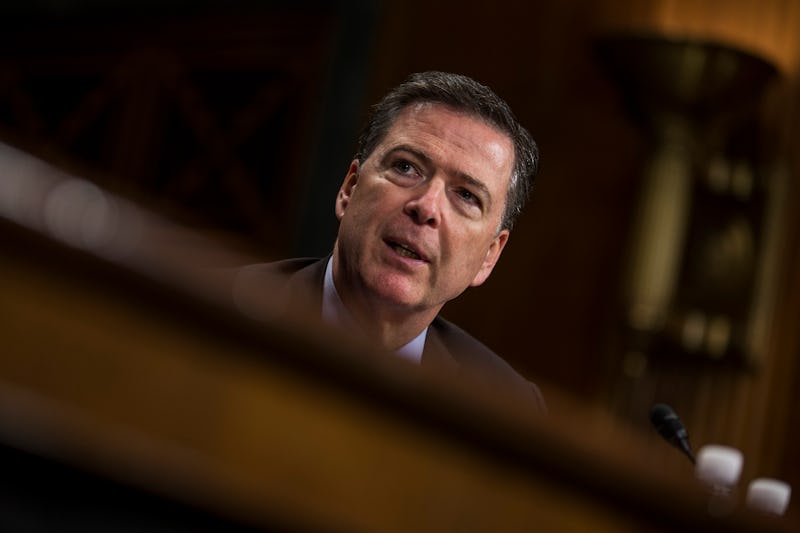 Zach Gibson/Getty Images News/Getty Images
According to multiple reports, former FBI director James Comey requested additional funding for the Trump-Russia investigation just before he was unceremoniously fired by President Donald Trump. According to the Associated Press, the New York Times, the Washington Post, and the Wall Street Journal alike, Comey reportedly asked for more money for the probe in a meeting with Deputy Attorney General Rod Rosenstein, who just days later authored a memo to President Trump arguing that Comey should be fired for his handling of the Hillary Clinton email case.
The upshot, simply put, is that this suggests Comey gave the impression that the bureau was ramping up the investigation into the Trump campaign's possible ties to Russia, rather than winding it down, just days before he was shown the door. Needless to say, that's a big story. While the Trump administration has insisted that the FBI director's firing had nothing to do with the investigation, Trump himself alluded to it in the second paragraph of his letter to Comey. The ostensible Justice Department justification for the firing, on the other hand ― that Comey had mishandled the Clinton case ― went noticeably unmentioned by the president.
According to a Justice Department spokesperson, the reports that Comey requested additional funding prior to being fired are "absolutely false." However, given the administration's well-earned credibility problems, it's getting to the point where it's nearly impossible to take such definitive assertions of fact at face value.
According to the New York Times' report, which was the first to break the news, the funding request was confirmed by three congressional sources briefed on the matter. Needless to say, administration officials are disputing this ― according to NBC News' Katy Tur, Justice Department spokesperson Sarah Isgur Flores claims she spoke directly to Rosenstein, and that no such funding request was made.
This latest news comes amid an already-jam-packed couple days of news, none of which looks good for the president or his administration. In addition to the Comey firing, CNN reported yesterday that a grand jury has handed down subpoenas relating to the FBI's Trump-Russia investigation, and according to NBC News, the Senate intelligence committee has requested documents on Trump from an anti-money laundering unit of the Treasury Department.
In short, if the hope was to navigate out of the various scandals and controversies that have embroiled the first several months of his presidency, that's not how any of this seems to be working out. To the contrary, the Comey firing could prove to be the public relations equivalent of pouring rocket fuel all over the flaming Trump-Russia affair.
Of course, if Republicans in Congress continue to fall in line, there's a strong backstop against the most serious consequences. But as far as public perception goes, it's hard to imagine that Trump and his administration have done themselves any favors over the past 24 hours.